Promotion strategies
Be seen, and turn browsers into repeat buyers.
Show the world you're up and running on eBay
Fun, free, illustrated images to celebrate your #sellerlife on social media and video calls.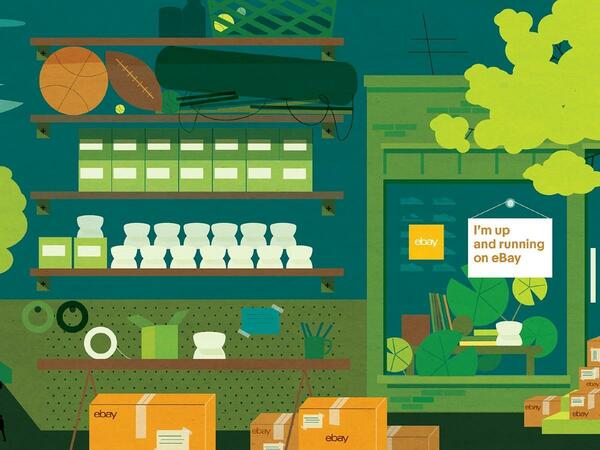 Top 5 promotion strategies
Take your marketing to the next level with these tips:
Open an eBay Store. eBay Stores subscribers get a powerful suite of tools to help build, manage, promote, and track their business on eBay. As an eBay Stores subscriber, you'll be able to showcase your listings in a fully customizable eBay Store and get special access to advanced design, marketing, and reporting features.

Get more eyes on your listings. Increase your visibility by optimize your listings for search engines. Use promoted listings to create effective ad placements in prominent locations across eBay, and pay nothing unless the ad leads to a sale.

Use Seller Hub Promotions. Create customized discounts and coupons to incentivize buyers to spend more in your store. 

Take advantage of Social Media. Millions of people use social media every day. They share their passions with the world, and they connect with what they love.

Go global. Reach buyers around the world risk free. The Global Shipping Program is a great way to expand your market and your sales. Selling across the world is as easy as selling across town.
Sell more with Seller Hub Promotions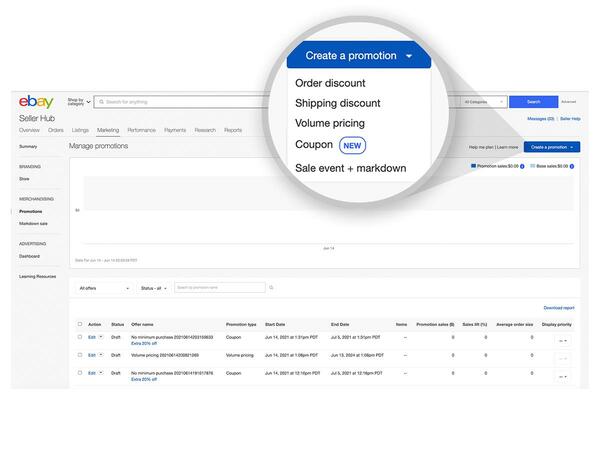 Incentivize buyers
With Seller Hub Promotions, you can create customized offers to showcase your inventory and incentivize buyers to buy and spend more.
Seller Hub Promotions is free to all eBay Stores subscribers and is available for fixed-price listings that offer electronic payment.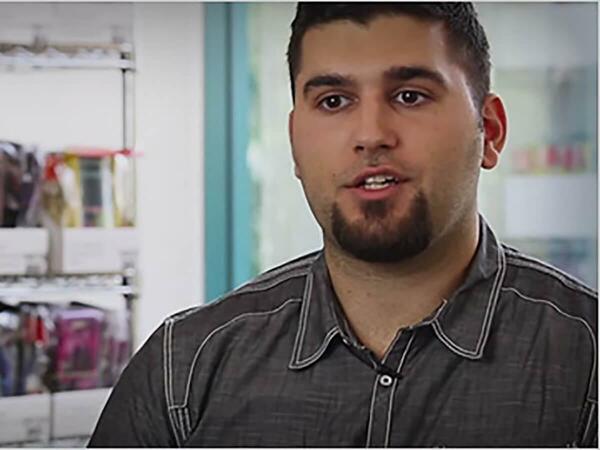 Marketing with Promotions
Learn how to offer customers order discounts, volume pricing discounts, sale events and markdowns, shipping discounts, and coded coupons. Plus, get step-by-step guidance on using your promotions dashboard.
Provide services your buyers want
Get to know your buyers
Hear what these buyers have to say about shopping on eBay.
Tina describes the importance of communication and transparency in her purchase decisions when she shops for collectibles.
As an avid vintage clothing shopper, Janet shares how listings can give her an emotional connection to the items she's looking for.
Ben, a seventh-grade science teacher, describes how he makes purchase decisions on supplies for his classroom.
Maximize your visibility
Become a Top Rated Seller
Show buyers you're a pro and they'll put their trust in you.
Learn how to become a Top Rated Seller and how it can elevate your sales.
Use Promoted Listings Standard
Take advantage of Search Engine Optimization
Including the right words, phrases, and information in your listings can get you seen by a lot more buyers.
Boost your sales
Get an eBay Stores subscription (or upgrade yours)
Discover how an eBay Store is your all-in-one online-business solution to help you get more out of the eBay marketplace and millions of buyers. Get exclusive marketing and merchandising tools, plus customization features to build a brand that keeps customers coming back.
Promotions Manager
Promotions Manager is the quick and easy tool that lets you market your merchandise like a pro! Create customized offers that encourage buyers to shop from you and spend more on each order. Best of all it's free for Stores subscribers. Promotions Manager lets you create markdown sales events that are seasonal, for specific holidays, for specific categories, or just to clear out inventory. It also lets you create and view scheduled, active, and inactive sales within your Store. You can even schedule sales for a later date, or reschedule them after they end.
Sell globally
Learn how the Global Shipping Program makes it as easy as selling across town. Tap in to international demand and sell to buyers in countries around the world.
Send offers to interested buyers
Send offers to buyers of some of your listings with the "Offer to buyers" feature in Seller Hub. By targeting buyers who are interested in your items, you may increase your conversion rate.
Track your success
Embrace Seller Hub
Learn how Seller Hub can help you manage your business and help you maintain excellent customer service. At a glance, you can:
See your current status and how you're trending.
Get timely alerts when you need to take action.
Get recommendations and personalized coaching to help you improve.
View "Start" and "End" dates for Good 'Til Cancelled listings.
Review your eBay sales reports
Your reports contain valuable information for tracking your performance and understanding your business. To see your sales and traffic reports:
Visit the Performance tab in Seller Hub or go to My eBay to view your sales reports.
Visit the Performance tab in Seller Hub to view your traffic reports.
Get average selling prices with Terapeak
Turn knowledge into profit. Subscribe to Marketplace Research by Terapeak and:
Determine the market value of products you plan to sell.
Find best-performing keywords and categories for your listings.
Track products to gauge seasonal demand.
Monitor your competition.
Determine the most effective formats and upgrades to help sell specific products.
Find previous selling prices with advanced search
See how your items have performed on eBay prior to your listings.
Keep sold-out listings active
Apply the out-of-stock option in My eBay, and buyers will only see in-stock listings, helping you avoid having to cancel a transaction. This applies only to Good 'Til Cancelled listings.
Feedback