The eBay Stores Shopping Experience
Showcase your products and build your brand.
Do more with your Store
You have more Store features than ever to help boost your business and tell your story.
From connecting with buyers to driving more traffic to your listings, see how setting up your Store can help you save time and grow your business.
What's on your storefront?
With a responsive design that looks great on any device—including the eBay app—there's even more ways for you to show buyers what you have to offer.
Tell your story with your billboard image, logo, and About tab; and show what you offer with visual categories, featured items, and customizable marketing banners.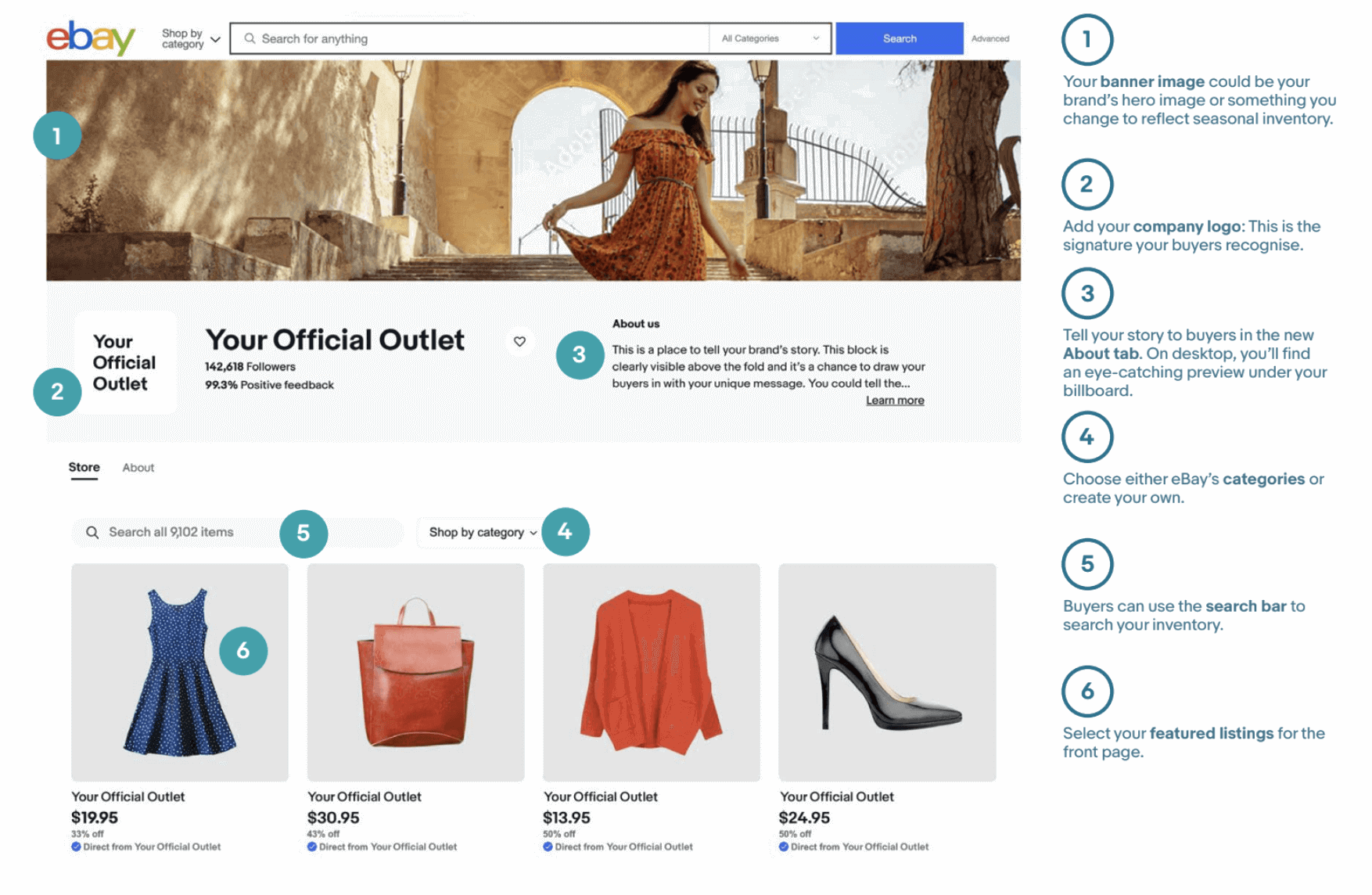 Your billboard image could be your brand's hero image or a seasonal banner.
Add your company logo.
Tell your story to buyers in the new About tab.
Choose either eBay's categories or create your own.
Buyers can use the search bar to search your inventory.
Select your featured listings for the front page.
Dig deeper into what your Store can do
Learn all the ways your Store can help you grow your business. With new and updated features, you can make your Store your own, showcase your top items, and build up a loyal customer base.
Getting your Store open—and making it look great—is a breeze. Save time, and easily set up a Store that tells your story and represents your brand with these features.
New Store tab in Seller Hub - Manage your store, and access all the latest tools and features, from your new one-stop-shop in Seller Hub.
About Tab - Share details about your business, who you are, and what you do in your Store's About tab. Soon, you'll also be able to add a video to your About tab to tell buyers more about you and your business.
Custom logo and billboard banner - Nail the first impression with your own custom branding. Upload your logo and a unique billboard banner that grabs buyers' attention and lets them know they're shopping in the right place.
Store policies - Let your buyers know what to expect around shipping, returns, and other business policies, all in one convenient place.
Feedback