Selling fine jewelry on eBay
Everything you need to know for hassle-free, confident selling.

Master your selling skills

It's a sellers' marketplace
In 2021, eight fine jewelry items were sold on 
eBay every minute.

Understand your buyer
When shopping for fine jewelry, our buyers are looking for purity, detail, size, and value.

Sell with confidence
Authenticity Guarantee ensures careful inspection and verified returns at no cost to you.
Create a winning listing
How to capture the buyer's attention.


Share multiple, clear images
The photos you upload of the jewelry make a big impact.
✔  Take photos of every angle of the pieces
✔  Take photos of the logo where branded
✔  Show any textures or stones up close
✔  The last image should be on a human or mannequin
✔  If used, images must include any type of blemish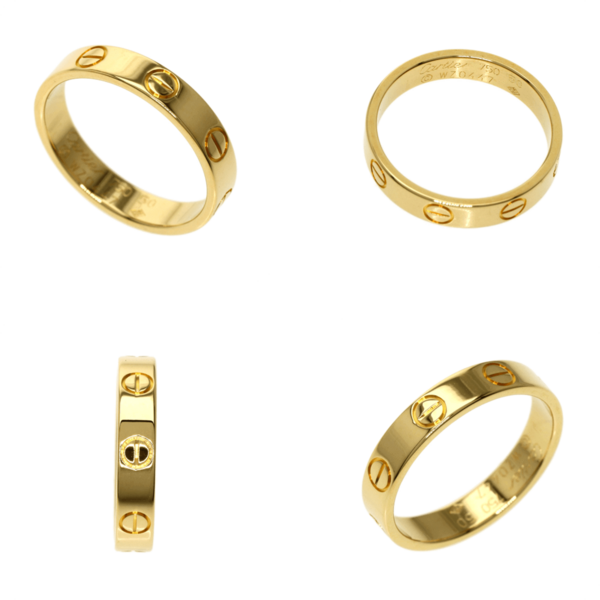 Title the pieces correctly
Use relevant keywords, organized in a readable, logical order in your title. It must also include:
Brand
Make
Model
Size
Type: Women's, men's, unisex
Metal: Gold, silver
Don't use acronyms, like NIB, that buyers may not understand.
Avoid words in all caps or characters like asterisks unless they're part of your product's name.
Here's an example: Cartier Amulette Shell Diamond Bracelet XS 18K Yellow Gold
Specify the details
Focus on accurate and correct terms for the stone, metal, and size values
Give detailed description if pre-owned, including wear and tear callouts
Add all the details you cannot call out in item aspects
If it's vintage jewelry, share the item's story or history
Ensure carat weight, gram weight, and item dimensions are within tolerance. See here.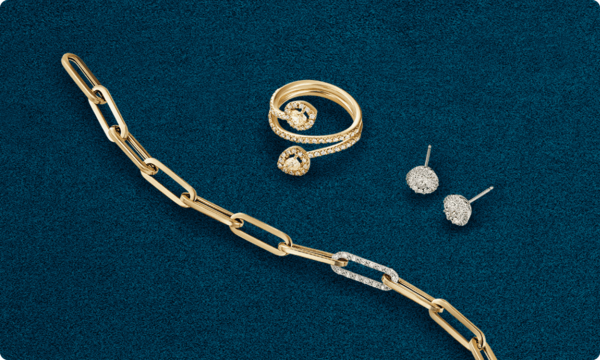 Authenticity Guarantee
Eligibility
Items that qualify for Authenticity Guarantee will automatically receive an Authenticity Guarantee check mark on the item's listing page. Check out the FAQ section to know what full eligibility means.
Tolerances
Authenticity Guarantee for jewelry is limited to a review of claims regarding item quality and characteristics listed by the seller. These claims are assessed within defined ranges and tolerances.
Returns
In the case of a return, we confirm you get back what you sent out. We also inspect all items before returning them to you. And if something happens that is out of your control, we stand behind you.
Shipping and packaging
Make it an easy process
Receive discounted shipping services by using eBay Labels and get items to your buyer smoothly by shipping them to our authentication facility. Proper shipping ensures a smooth authentication process.
Pack the jewelry container and the packing slip in a larger box and line the sides with bubble wrap to avoid shifting in transit.
Ensure that all relevant information is on your shipping label. If you use eBay Labels, everything—including the unique code that allows the authenticator to process orders smoothly—is included. If you create your own shipping labels, be sure to include the code on the third line as shown in the example.
Only include items in the original listing as sold, no extra merchandise.
Ship to the authenticator address indicated within View Order Details/eBay orders from My eBay and not directly to the customer.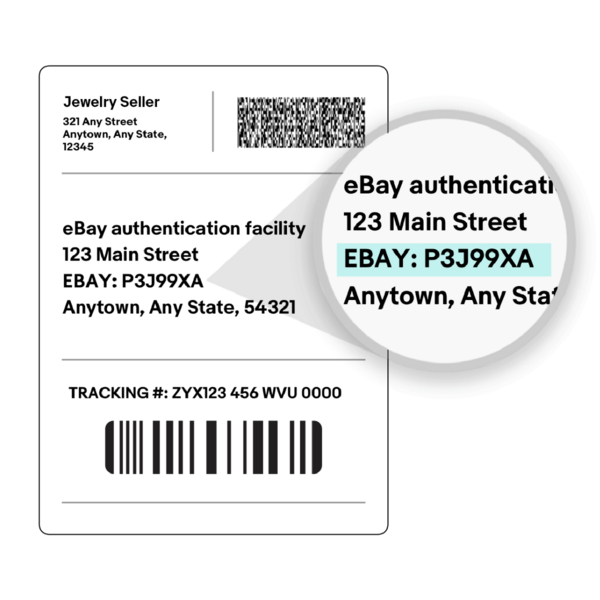 Give and get support
eBay supports you even when the transaction is complete
Feedback