What is handling time?
Handling time is the number of days between when you receive payment for an item and when your package is scanned by your shipping carrier. This can include business days only, or you have the option to include Saturdays and/or Sundays if you ship on those days.
Here's an example: If you choose 1-day handling, your sold item should be prepped, packaged, and scanned by the following day at 11:59:59 p.m. in your local time zone. If it's not, your item could be delivered late, making your buyer dissatisfied, and your seller rating could be impacted.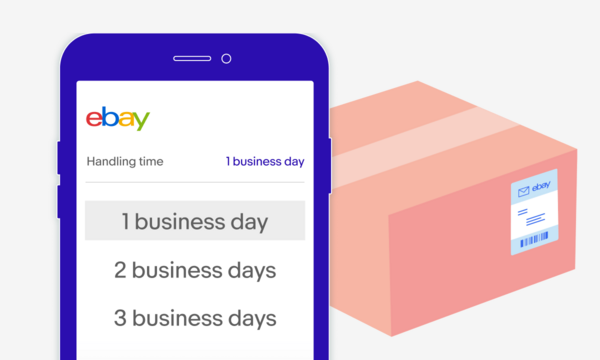 Choosing a handling time
Our advice is to choose the quickest handling time you can consistently meet. This will make your items more attractive to buyers; they expect fast and reliable delivery.
Smart ship tip: Offering and delivering same-day handling or 1-day handling, along with at least a 30-day money-back return policy, can help you qualify for a Top Rated Plus discount and seal.
How handling time impacts estimated delivery dates
Handling time is included in the shipping schedule that's communicated to your buyer. It's important to operate based on the handling time you've selected, regardless of what it is. Buyers want to receive their item on the estimated delivery date they saw at checkout—no later.
How to set my listing's handling time
In the Seller Hub, click on Listings in the top navigation, then select the listing you want to update.
Click on Edit fields and select Handling time from the dropdown menu.
When the Edit handling time pop-up window appears, go to the Handling time dropdown menu and select Change to, then choose your preferred time from the second dropdown menu. Once you have made your selection, click Save and Close.
Feedback