What the German Packaging Act means for you
About the 2019 Packaging Act (VerpackG)
The 2019 Packaging Act (VerpackG) requires business sellers to license the packaging for their products and register with the LUCID database when they sell items to customers in Germany. From July 1, 2022, we are legally obliged to make sure that our sellers are complying with these regulations. 
This law forms a part of sellers' Extended Producer Responsibility (EPR), which is a series of measures aimed at protecting the environment by improving waste management, limiting the use of landfills, and stimulating innovation in recycling. The 2019 Packaging Act applies to all businesses selling goods in the German marketplace, both domestic and international. To be compliant, you'll need to license and register your packaging when you sell products in or into Germany, including product packaging, shipping packaging, and any filler materials used.
To help make the adjustment as smooth as possible, we've partnered with Lizenzero, an experienced solutions provider. For full details of the process and a comprehensive range of support services, we recommend that you contact their team.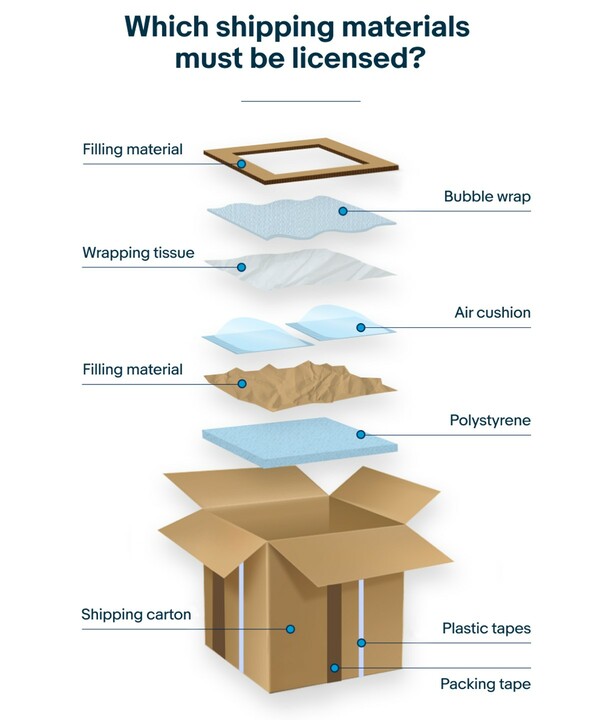 What you need to do
In order to be compliant with these regulations, you'll need to complete these steps before July 1:
License your packaging. We've partnered with Lizenzero who offers a straightforward way to license your packaging using Interseroh+ (a licensing fee will be required).

Register with the LUCID database. Enter the name of your dual system, as well as your packaging quantities into LUCID to receive your LUCID ID number.

Add your LUCID ID number to your eBay seller account and you're good to go.
FAQ
Does all my packaging have to be licensed?
Yes, the Packaging Act applies to all packaging placed on the German market. All companies, including SMEs, are now legally required to license their packaging.
Why do I have to pay my dual system a licensing fee?
Your licensing fee pays for the disposal and recycling of your packaging from the point of sale to the time it is disposed of as waste.
What is the Central Agency Packaging Register?
The Central Agency Packaging Register (ZSVR) oversees compliance with the Packaging Act by maintaining the LUCID database. As LUCID is a public-access register, compliance can also be checked by third parties. Dual systems provide regular updates of customers' licensed packaging quantities to the ZSVR. If irregularities or deviations should occur, the ZSVR can issue official warnings, impose fines, or ban sales.
Do I need to include any licensing logos on my packaging?
No, this is no longer required.
Feedback