Volume pricing
Incentivize buyers to buy more with volume pricing. It's perfect for items that people buy regularly or want to stock up on.
What is volume pricing?
How many items do you usually sell at a time? One? Sometimes two? With volume pricing, you could increase your average order size to three, four, or more. Whether they're buying multiple units to give as gifts or they just want to have a spare, your buyers will appreciate the value of volume pricing.
When you set up volume pricing on your listings, your buyer can select multiple units with one click and the reduced price is automatically applied.
Examples of volume discounts include:
Save 5% when you buy 2

Save 10% when you buy 3

Save 20% when you buy 4+
eBay Store subscribers can find volume pricing on the marketing tab within Seller Hub.
Benefits of volume pricing
Volume pricing can increase average order size and improve profit margins. Offering free delivery when shipping multiple units together in one package can be more profitable than paying for individual shipping costs. At the same time, buyers will come away knowing they got a great deal.
Tips for creating successful volume discounts
Time your sale. Consider which items peak in which months and align your promotions with sports events, Christmas, Black Friday, etc.

Consider your stock quantities and item costs. Make sure you have enough stock before putting items on sale; and pick items where you can retain a useful profit margin.
How do buyers know when there is a volume discount?
Your discounts are prominently displayed in a variety of places on eBay. After searching or browsing, the buyer can see available discounts appear in red font in the list view. This makes it easier for buyers to scan for deals while swiping or scrolling. Discounts are also displayed on the view item page, shopping cart and checkout page, your store's Promotion Page, and your store's All Offers Page.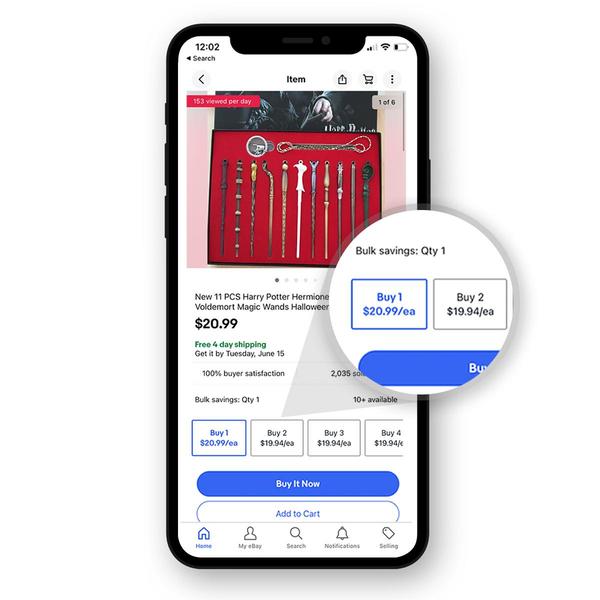 How to create a volume pricing discount
eBay Store subscribers can set up an order discount promotion by going to the marketing tab on Seller Hub. Select "Promotions" to create a promotion. Then choose "Order Size Discount" from the drop down menu.
Next, you'll need to specify which listings you want to include in your volume discount. You can apply volume discounts to multiple units of the same item or include different items that are discounted when bought together.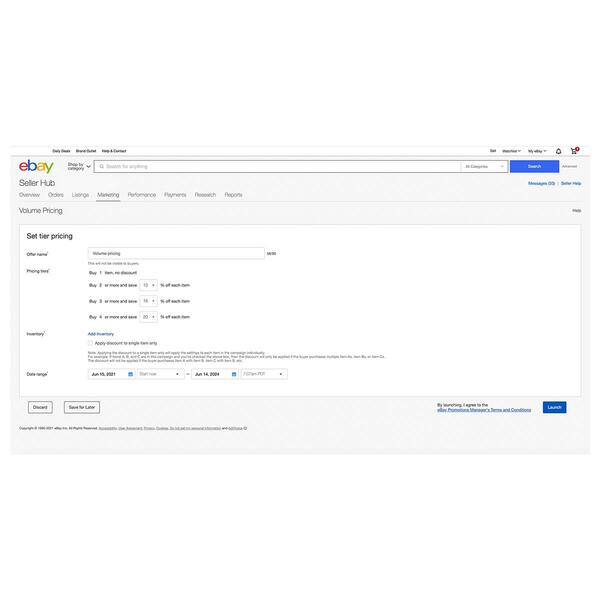 Dashboard and reporting
eBay's Seller Hub Promotions dashboard helps you understand your overall promotion performance. Here you can see your base sales (sales without a promotion activated), promotion sales (sales with a promotion activated), and sales lift (promotion sales divided by total sales). 
If you have many promotions, you can filter by offer type and status or use the search box to quickly find offers and see the performance of each promotion. You can even download reports from eBay's Seller Hub Promotions dashboard to share with others.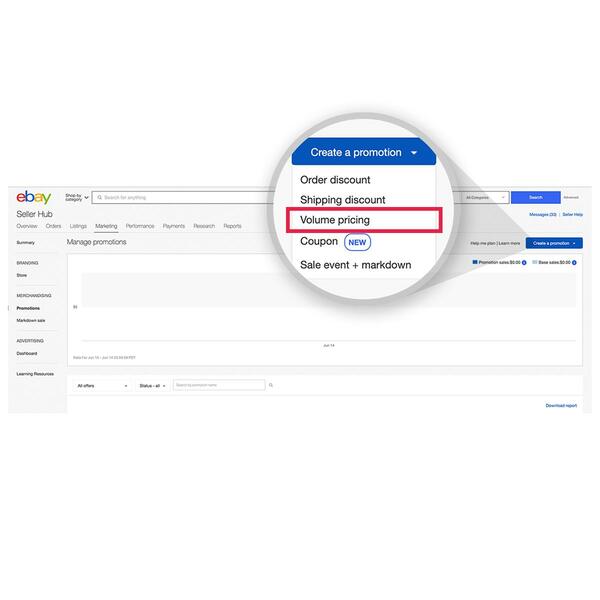 Feedback