Welcome to a better way to save on small, lightweight shipments
We understand that when you're shipping stamps, coins, currency, or trading cards, postage can impact your profits. That's why we created the eBay standard envelope service within eBay Labels. It's the low-cost shipping label that comes with integrated, limited tracking and shipping protection.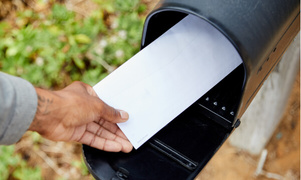 The low-cost way to ship
eBay standard envelope is better than a simple stamp. It saves you up to 70% compared to USPS First Class Package Service.
Send 1 oz. packages for
$0.60
A plain, number 10 envelope works just fine, but it's not required. You can use any envelope that fits the following specifications:
No smaller than 3.5" x 5"
No larger than 6.125" x 11.5"
No heavier than 3 oz.
No plastic, strings or closures 
Recipient address is parallel to envelope's longest side.
Uniform thickness not greater than .25"
If you need to use a thicker or more rigid envelope to better protect what you're shipping, check with your local post office to ensure your envelope fits the postage bracket and guidelines.
Need a visual aid? We've got you covered.
Ship small. Save big.
Get tracking and shipping protections on packages weighing up to 3 oz. and a quarter inch thick for about a dollar with eBay standard envelope.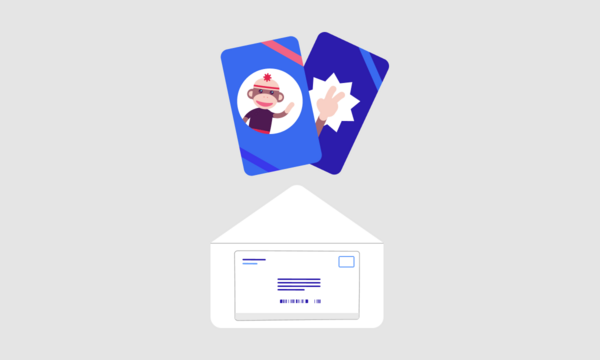 Package specifications
Trading cards
Ship no more than 15 raw cards per package per envelope
Ship no more than 2 cards in top loaders
No graded cards
Coin & paper money
Ship no more than 5 raw coins or pieces of paper money
Ship no more than 3 coins in plastic flips or pieces of money in protectors
No rolled coins
No graded coins or paper money
No bullion 
Postcards & stamps
Ship no more than 10 stamps or 3 postcards / postal history items 
Plate blocks that fit the eBay standard envelope dimensional requirements
No coils or sheets of stamps or graded stamps 
Note: These quantities meet size and weight requirements in most situations. But you should still weigh your envelope and ensure it's accepted by your local post office.
eBay shipping solutions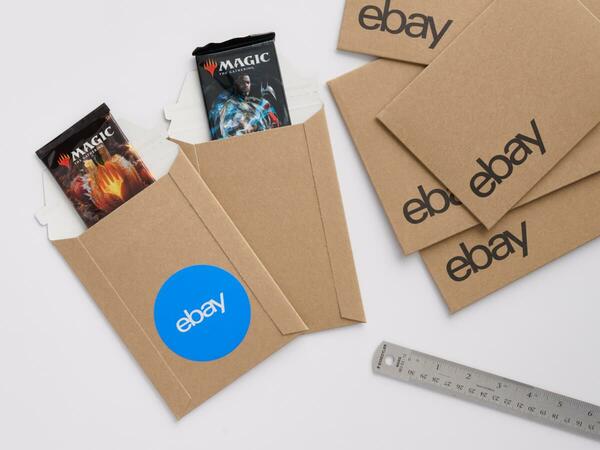 eBay shipping supplies
Don't miss a chance to level-up the branded experience for your buyers with envelopes designed specifically to be used with eBay standard envelope.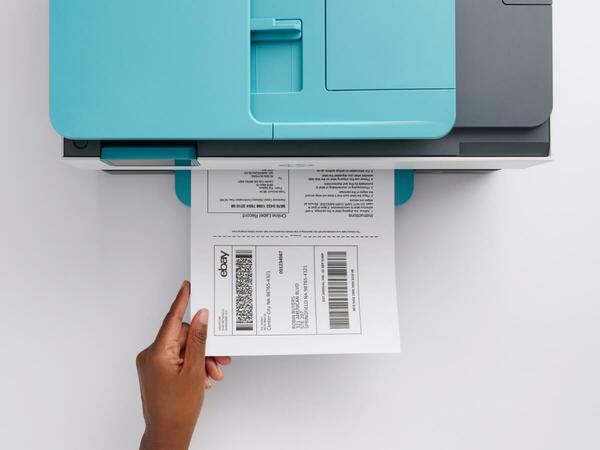 The power of eBay Labels
Our on-platform shipping service, eBay Labels, is a seamless experience that allows you to ship with a QR code, or print labels at home, schedule package pickup and more.
FAQs
Why can't I track eBay standard envelope shipments on the USPS website?
eBay standard envelope is an eBay Delivery Service and is tracked by our customers through their eBay accounts. Sellers can find the tracking information in My eBay or Seller Hub. If your buyer is asking for tracking information, please direct them to their purchase transaction history.
How do I handle an "Item not received" claim from a buyer?
From time to time, eBay standard envelope shipments unfortunately may not track all the way through delivery to your buyer. If your buyer opens an "Item Not Received" request, please work with them to issue a refund in a timely manner. In these cases, you may also consider opening a claim to recover your lost funds.
How do I file a claim on a shipment that was lost or damaged? How do I check the status of that claim?
Each eBay standard envelope shipment includes a $20 shipping protection plan on single item orders, and up to $50 on combined orders, to help in case of lost or damaged items. 
If you believe your shipment was lost in shipping, you must wait 15 days after the shipping label is created to file a claim. You can reduce the amount of the claim if your shipment was only partially lost or damaged, however the claim amount cannot be more than the item's sold price.
To file a claim, select the button below and add the following information to the form: 
1. Tell us what happened - was your item damaged, or was your shipment lost?
2. Enter the claim information and your PayPal email address.
3. Enter the following additional information:
Your first and last name 
The buyer's first and last name 
Shipment tracking number 
eBay item number
Screenshot of eBay Order Details
Screenshot of buyer's complaint message or dispute details regarding the lost or damaged item 
4. When finished, select File the claim.
Claims must be filed no later than 90 days from the date the shipping label was created. 
File shipping protection plan claim
You can check the status of existing claims here:
Contact PIP (Parcel Insurance Plan) at: 
The buyer filed a claim with PayPal but PayPal can't validate the tracked information. How can I resolve?
Respond to the PayPal claim and advise that the item was shipped using a new delivery option with eBay which does not show up on the standard shipping sites.
Include the ESUS tracking number and the following links which PayPal can use to track the shipment - https://www.trackmyshipment.co
What happens if an auction item sells for over $20?
eBay standard envelope can only be used on items selling for $20 or less. If a buyer wins an auction item that is listed with eBay standard envelope, the seller will need to ship the item via another method.
Feedback