There's a dearth of information available about the seriously cool Bradley GT fiberglass two-seat gull-wing kit car from the 1960s and 1970s. Web reports indicate that about 6,000 of the original Bradley GT cars were sold to kit builders, before the more refined but short-lived GT II was introduced. This model now listed on eBay is historical proof that Bradley offered an all-electric version when it was purchased in 1980 for $20,000,
You can find rationale for producing a petroleum-free all-electric version Bradley in the history of the 1979 Iranian hostage ordeal, which resulted in what is commonly called the "second U.S. oil crisis." In 1980, Iran's oil production screeched to a halt, leading to gasoline price spikes and panic at the pumps in America. Electric vehicle's of the time, even with limited driving range and heavy battery packs, were seen as a possible alternative to prolonged high gas prices.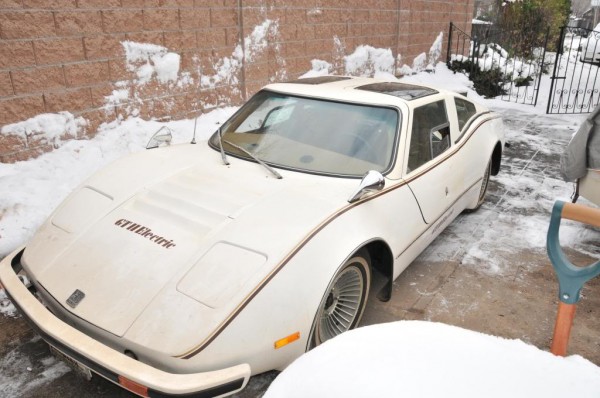 This particular Bradley GT EV was bought (original) by the seller's grandfather, who was trying to set up a Bradley franchise in Salt Lake City. "He felt like it was ahead of its time," writes the seller. That's for sure.
The seller remembers riding around the block in his grandfather's electric car. "I can still see the sun shining through the windows on the ceiling, and operating the gull-wing doors," he writes. "It was like a ninja vehicle the way it was so quiet."
The Salt Lake City dealership never materialized, and when the brakes went out on the electric Bradley in 1985, it was mothballed. Fast forward 30 years later to 2014. Lo and behold, EVs have made a comeback. Nearly 100,000 battery-powered plug-in cars were sold in the United States in 2013 — although none with the fiberglass body, gull-wing doors and historical pedigree of this Bradley GT EV.
Finding replacement parts, and getting it back into shape with the right battery pack could be a challenge, but for the right buyer, it could mean a truly unique zero-emissions vehicle in your garage. In 2008, a couple homebrew Bradley GT electric kit cars surfaced in Texas, but they are a rare sight.
More information in the auction listing: 1980 Bradley GT II EV