Likes:
First Class rear seat is equivalent to accommodations on Air Force One
Active safety technology and innovations are going to set the industry bar for years to come
Magic Body Control literally takes the bump out of your roads
Dislikes:
COMAND's controls are not immediately intuitive
Learning curve is high for the new S-Class. You need instructional tutorials to learn all of its operations.
The German luxury maker from Stuttgart, Germany, walks around with an "S" on its chest, and for many reasons. Maybe because Mercedes-Benz reigns supreme in almost every luxury and performance category when it comes to its passenger cars and SUVS? Or simply because the "3-pointed star" is represented as the status quo for high society and globally recognized as a life-enhancing achievement? To demonstrate its lofty status, Mercedes just introduced to the world the 2014 S-Class, which once again defines perfection in an opulent touring sedan.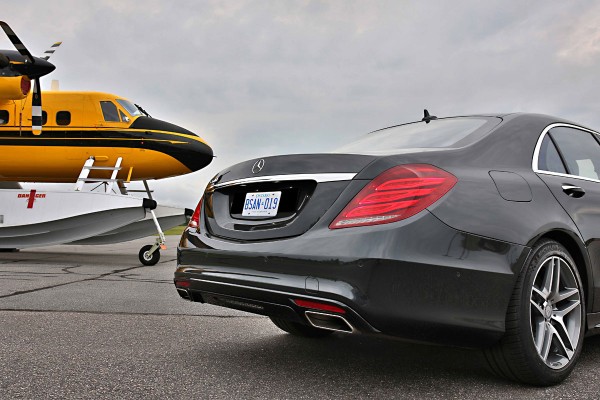 The flagship sedan has earned 110 years of brand loyalty, dating from the era in which Wilhelm Maybach developed the Mercedes Simplex 60 hp in 1903, a vehicle that opened the pathway to ultimate fulfillment behind the wheel. The S-Class has always been ahead of its time in technology, convenience, and comfort. It is traditionally the vehicle of choice for political leaders, executives, athletes, entertainers, entrepreneurs and achievers. With the S-Class at the helm, Mercedes is once again the number one luxury automaker in the United States and spares no expense to stay there for the remaining six months of 2013.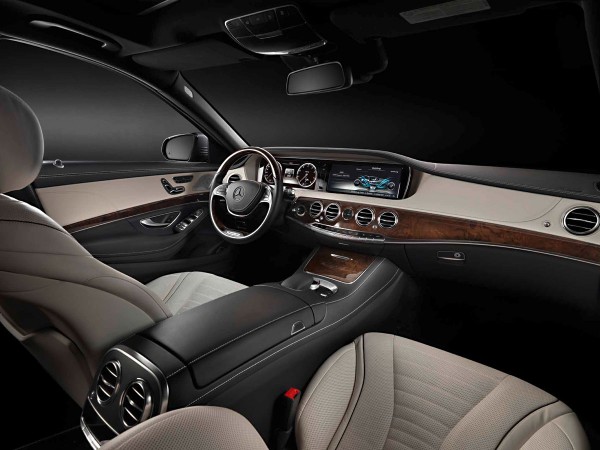 While some automakers devise ephemeral vehicles to play on temporary desires, the new S-Class is a permanent fixture in the company's stable. Additionally, it seems plausible that this vehicle will set the automotive safety bar for some years to come. We were absolutely mystified at its level of innovation, engineering and safety. For example, Active Lane Keeping Assist steers the S-Class back into its lane if the data from the stereoscopic and radar sensor detects that it crossed from its lane. The system warns the driver first by vibrating the steering wheel and then actively corrects the steering by braking the front outside wheel. Active Lane Keeping Assist is one of many driver and safety assistance technologies with the Mercedes-Benz Intelligent Drive package. The S-Class is like an owl by night and a feline by day as it's able to detect and display areas and objects with 360-degree vision. You could argue that the new S-class is a magic carpet populated with wondrous solutions for daily commuting that gratifies the soul physically and holistically.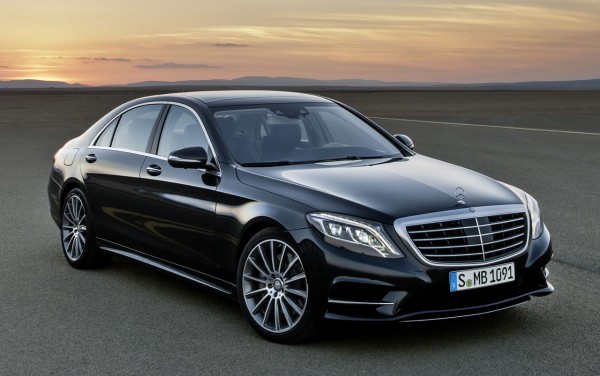 Mechanically, the 2014 Mercedes-Benz S-Class is defined by its streamlined stance and efficient and dynamic mechanics. It starts with the S500's 455-horsepower and 516 lb-ft of torque V8 engine and 7G-TRONIC PLUS transmission. Shifting between modes is accomplished by the unique column gear lever and the seven speeds can be manually shifted by paddles mounted on the steering wheel. The vehicle has power and handling, especially in Sport mode. But keep in mind this is not an SL-Class two-seater. It is long, wide and tall, and should be driven like a comfort vehicle, not a sports car. The upcoming AMG variant will handle sports duties for those who want them. There is also the option of the 306-horsepower S400 HYBRID and 258-horsepower S350 BlueTEC diesel, both  with V6 engines.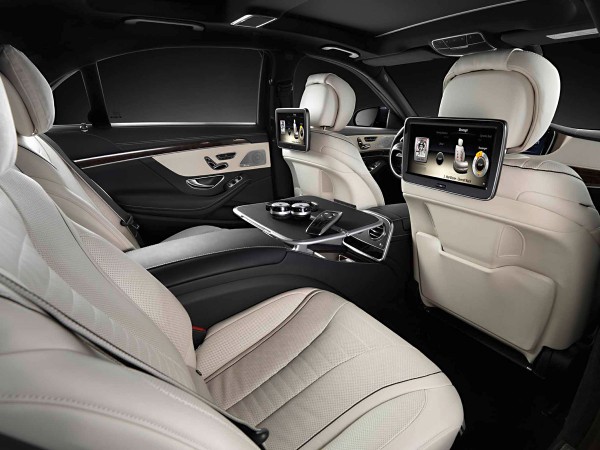 Other pleasantries and safety wizardry consist of the heated middle console, pillow-like headrests, airbag seatbelts that spread the energy load of an impact across the body, an AIR-BALANCE package for air filtering and fragrance, a powerful Burmester 3D Surround Sound System, and the First-Class rear suite which so captivated us. It's available as an option on long-wheelbase models — the only ones sent to the U.S. The executive seat has a 43.5-degree recline and a massage center that put us to sleep within five minutes. The door houses controls to move the front passenger seat forward for full extension of your legs. Or you can choose executive mode and flip out the foldable tables to work on your laptop.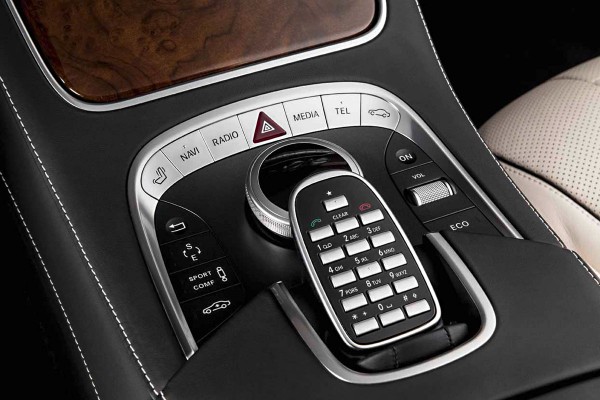 If you're spending time up front, additional highlights are at your disposal beginning with the new COMAND system developed by HARMAN, more massaging, and the aforementioned 24-speaker and 1,540 watt Burmester 3D sound system that will run you an added $6,400. When turned up the sound is similar to an iMax experience at the theatre. Two 12.3-inch TFT screens host all info and data from the digital tachometer to the highly intuitive and graphic navigation display. COMAND uses a central controller and 12 favorite control inputs.
Available in dealerships this fall, expect the new S-Class to start around the current base price of $95,000. Don't worry. This carpet is well worth its weight in gold!
2014 Mercedes-Benz S-Class
Engine: 4.7L twin-turbo V8
Power: 449 hp @ 5250 rpm
Torque: 516 lb-ft @ 1800-3500 rpm
Transmission: 7-Speed Automatic
0 – 62 mph: 4.8 seconds
Top speed: 155 mph electronically limited
EPA Fuel Economy estimates: 15 city / 25 hwy mpg
# # #
About Automotive Rhythms
A lifestyle auto network that blends your favorite new cars, trucks, SUVs & bikes with music, sports, fashion, & technology. We are "The Urban Automotive Experience!"

Follow Automotive Rhythms on Twitter: @ARtvKimatni