Celebrate upcoming occasions
Redeeming your eBay eGift Card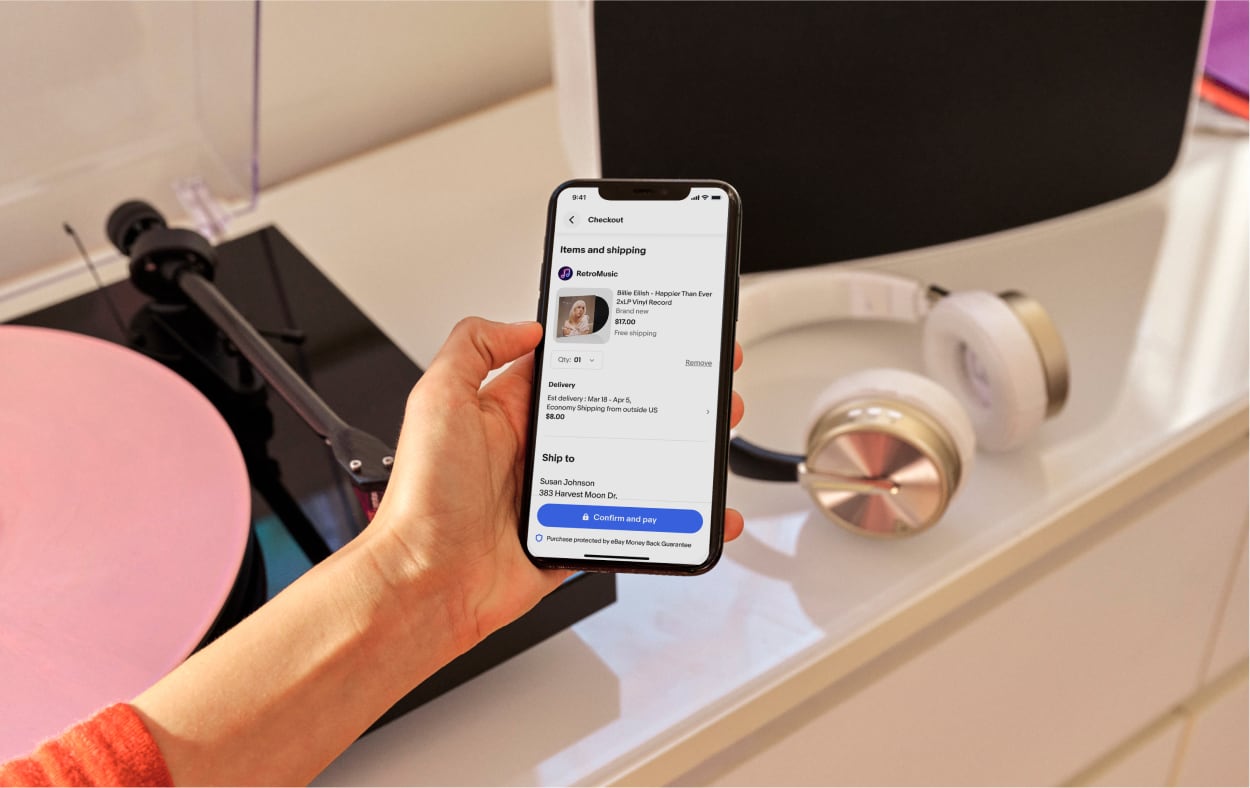 How it works
Find your item

Your eBay eGift Card can only be redeemed at eBay.com

Enter the code

At checkout, enter the redemption code in the Gift cards, coupons and eBay bucks section.

Confirm and pay

Confirm your payment and enjoy your purchase.
What can gift cards be used for?
eBay gift cards can be used to buy almost anything on eBay.com. They may not be used to buy other eBay gift cards, third party gift cards, gift certificates, coupons, coins, paper money, virtual currency, or items generally considered to be "bullion" (for example, gold, silver, and other precious metals in the form of coins, bars, or ingots).  Not refundable or redeemable for cash unless required by law.  Items purchased with eBay Gift Cards must be shipped to the U.S.  Full terms and conditions apply.
Do I need an eBay account to use an eBay gift card?
You need an eBay account registered in the U.S. and a U.S. shipping address to use an eBay gift card. You can create an eBay account at any time.
Does my gift card expire?
Your eBay gift card does not expire and there are no fees.
What if my order total is less than the amount of my eBay gift card?
After using your eBay gift card, any remaining balance is attached to your eBay account.To redeem the remaining balance, select your gift card from gift cards, coupons, and eBay bucks at checkout.
Where can I get help if I'm having trouble redeeming my eBay gift card at checkout?
If you are having trouble with your eBay gift card, review these troubleshooting steps or to contact us.

—----

Need more help? Visit eBay Gift Cards FAQs
How can I protect myself from gift card scams and fraud?
To make sure your eBay Gift Card codes are safe from scammers, follow these tips:
Your eBay Gift Card can only be redeemed at checkout on eBay.com.
Never give or send your eBay Gift Card code to anyone outside of eBay.com checkout. That's a scam.
Do not use your Gift Card to pay anyone outside of the eBay platform.
If you think you've been targeted by a Gift Card scam, Contact eBay Customer Service immediately.
Learn more about Gift Card Scams.