The Rolex watch is a status symbol, It's the Rolls Royce of all Watches. If you have a Rolex, you probably have money, It tells others that you have it. This is why it's the most copied watch in the world today. There is no better looking watch than a Rolex. The Submariner is trendy and sharp, while the Oyster is classic. One of the most copied is the Rolex Mens datejust. Probably one of the best looking watches ever made. many will argue and claim the Daytona as the best looking mens watch, I guess its personal choice.
If you buy direct from a dealer or watch store you will pay full price and get a genuine watch. However it IS possible to get a genuine Rolex watch from newspaper advertisements or better still here on E-Bay. The best deals on a Rolex watch can be found on e-bay. The GMT and Submariners can be found at 50% of retail.
Lots of the counterfeits now use mechanical movements that lets the sweep second hand glide around the dial chapters, Something common to all Genuine Rolex. Others use a quartz movement where the sweep second hand ticks every second as it steps around the dial, an obvious fake. However Rolex did make a few models that used quartz movements. The second hand will click 5-8 times per second depending on what mdoel it is. So if you look at it with a loop the second hand will jump, although very quick, from a distance it appears to sweep, but if you use a loop, you should see it actually ticking very fast 5-8 times per second. If it's doing this it's real. If it's ticking one beat per second it's fake.This was in the 1980's. They soon dropped the idea so don't expect to see this. However a very few Rolex watches again with the quartz where made in 2003, These are the Air King models, rare and quite ugly, dont expect to see one. If it has a second hand that ticks, it's probably a fake. The latest model is the Geneve Cellini, these are classic watches and although produced by Rolex in 2007 the mens versions are Hand-Wound he ladies version has a quartz movement.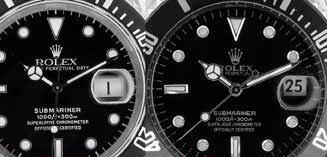 The watch on the right is fake, note short minute and second hand, they do not reach the minute markers. and they are cheaply just cut square, the genuine Rolex are rounded.
Some of the anti-counterfeiting methods are:
You can take your watch to a qualified watchmaker and let him/her determine if your watch is genuine Rolex or not. Or you can remove the watchband. Check between the lugs at the 12 position and see if it has an engraved "Registered Design" number. If you see no number, it is fake. Now check between the lugs at the 6 position. Here you should see a serial number of the case. If there is no number, again it is fake.
Small engraved Rolex crown at 6 o'clock on the crystal Most fake Rolex's now have this feature, but use a much cruder and larger crown than Rolex uses. Rolexes crown is difficult to spot with the naked eye. Most replicas have a crown so large you can spot it easily while it's on your wrist.
On gold colored watches, look for signs of wear on the lug ends and on the case backs. Fake Rolex watches will often display area where the gold color has worn off, exposing the cheap white colored base metal of the case below. Check the watch bands and look at the clasp. The Rolex clasp is nicely engraved with the old original Rolex emblem. This appears on both gold and stainless clasps on watchbands.
Another thing to look for is the weight of the watch. Gold Rolex watches are very very heavy as compared to the fakes, which are Very light for their apparent mass. This is because the weight of gold is much greater than the weight of a base metal. Stainless steel Rolex watches also has more weight to them because stainless is also much thicker and heavier than the base metal used in cheap fake watches.
Engraving on band end-links, Some new Rolex models have added model number engravings on the end of the watch end-link. This engraving includes the band model as well as two small Rolex crowns. This however has started to be copied by fake producers.

This great looking Rolex Oyster Submariner is sadly a Fake. Its such a good fake that is also has the Hack Mechanism ( Second hand stops when the crown is pulled out. A standard feature on all genuine Rolex watches produced after 1982) It even has the green Rolex sticker on the back, Hiding clasp just like the original, Gold plated, Screws in the links not pins, Infact all the correct markings in place, I was nearly fooled, but the crown was not scerw-in, and when I opened it and took the back off, It was easy to tell it was not genuine as the workings where cheap and poor quality. plus no Rolex symbol on the wheel inside. or the base plate. Overall a great Replica, only spolit by the inside. Plus a spelling mistake on the fake certificate.
The Tudor.
Rolex do also make a watch called the Tudor. They are basically the same watches, some may have fewer jewels and they are not so highly advertised, but in general the same watches, and still made by Rolex. It is VERY rare to come across a fake Tudor, but they are out there. Why? It's really like going out buying a Roll Royce and sticking a Ford badge on the front.
Most genuine Rolex owners like the name, the brand and class that a Rolex projects. Either here is a successful man/woman or someone that wants the best. The Tudor has none of this its just a great watch. Producers of fakes will not go to the trouble of copying a Tudor, when the final sales price will be lower.
When buying a Rolex on eBay, as always deal with someone who have a proven track record in selling Rolex watches. Check out the feedback. How long have they been selling on e-bay? Look at eack feedback and look at the item number, this way you can rewview what the feedback was left for. Another thing to look for are sellers who have all documents associated with the Rolex you are thinking about buying.
Always ask a seller questions about any Rolex watch that is offered for sale on eBay. A good seller will always answer any questions that you have. A new e-bay scam just started, is a seller buying a mass of 99 cent items to obtain good feedback, and then start selling expensive items and fakes. He or She could be just selling out of an Internet cafe, so always check out all the feedback. See if they have been selling for a long time. If they have great. Enjoy your Rolex, It's a great investment.
What do I do If I discover my Rolex is a fake? If you bought it on e-bay and paid by pay pal. Contact pal pal. Plus contact the local Police, they have a department to investigate fruad, and scams like this. It will help others in the future. Pal pal will issue investigate, and you will probably get your money back.
Cartier Watches and Other Fakes.
The Cartier watch is now sadly being mass produced in China. A high end watch store in Hollywood, CA had 3 of them in stock. After an insurance auditor noticed them. The store staff, many with experiance had not noticed the fakes. They had been traded in for Rolex watches. If Experianced staff at such a store ( I cant name the store, ) can be fooled what chance has the average man in the street have. Buy a Cartier only from an authorised dealer, These fakes are really good. Cartier is going to train its own staff and is producing a manual to help with checking to see if its Genuine. Philip Stein, A.Lange & Sohne, Omega and Brietling have also come onto the fake markets.
May 10th 2007 Mike Korpi from Portland Orgean came back from China with 8 fake Rolex watches. he paid $14.40 each, however when US customs found them he was fined $55,300. This was said to be the value of the counterfiet goods. Mike Korpi said they where for his children and grandchildren. Rolex can sue and demand $100,000 for each watch if they wanted. I dont think they will, but either way this should be a lesson to all. For better detals the best book you can buy and is well worth spending a few bucks is A Movement in Time with Breitling & Rolex: An Unauthorized History.
If you buy on e-bay ONLY pay by Pay Pal. Them if it turns out to be fake you can get a full refund, If this has been helpful, please let me know, just tick below, Good luck.