Buying Guide: New & Used Rolex Submariner Watches for Sale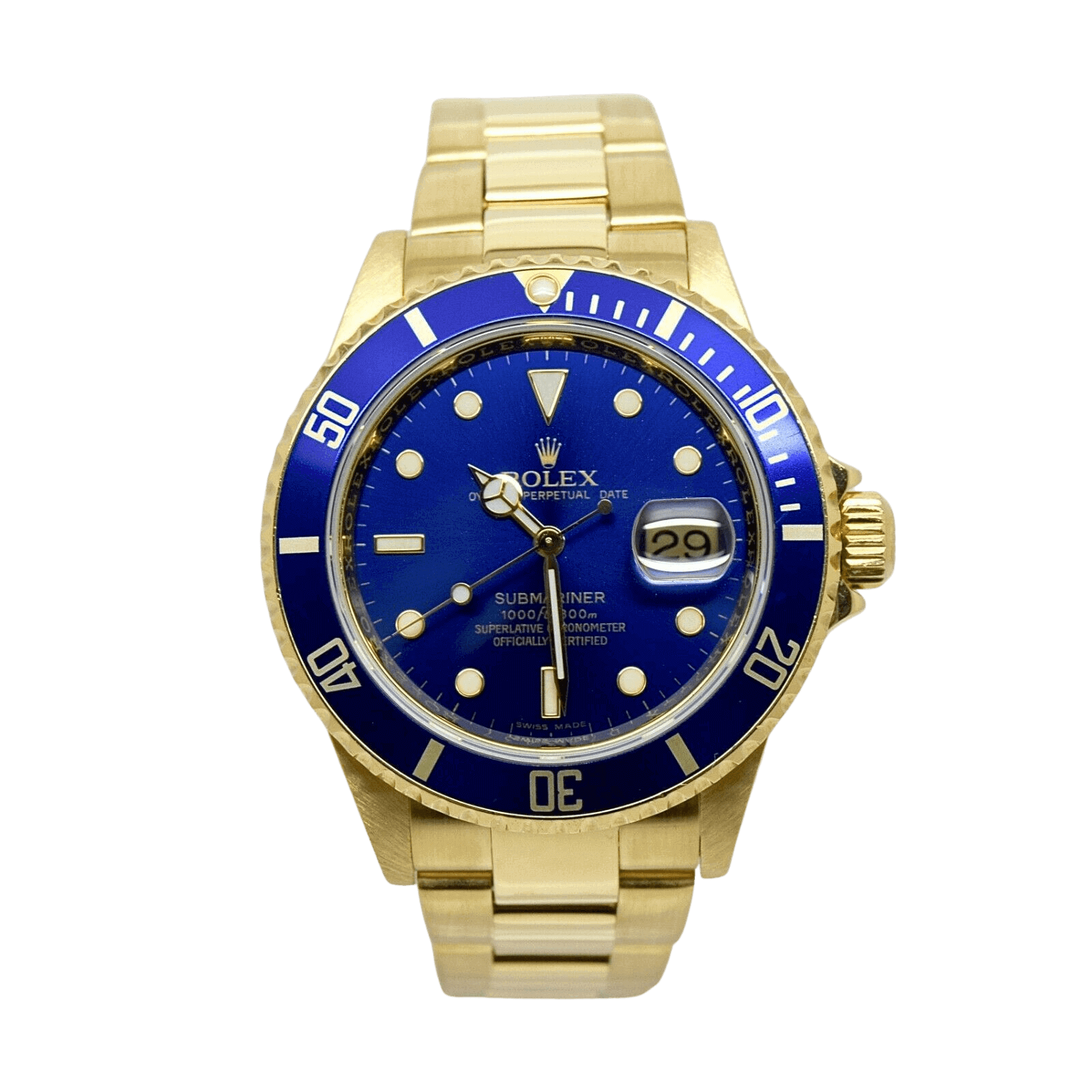 Born as a tool watch for the flourishing SCUBA diving scene in the mid-20th century, the Rolex Submariner has become one of the most sought-after high-end sports watches ever made. Whether vintage, retro or modern, used Rolex Submariner watches are in high demand, coveted by serious watch collectors and luxury brand devotees.
Rolex Submariner History

Debuting in 1953 as a purpose-built diving watch, the Rolex Submariner immediately stood out for features like:

A corrosion-resistant stainless steel case and bracelet
A rotating 60-minute timing bezel to track immersion times
A time-only dial with luminescent-coated hands and hour markers that glow in the dark
A water-resistance rating of 100 meters (330 feet)

For the first 15 years of the Submariner's history, Rolex enhanced its features with improvements in water resistance, legibility, mechanical performance and durability. Rolex also introduced crown guards (protective shoulders around the winding crown) to the Rolex Submariner in 1959.

The late-1960s marked a major milestone for the Submariner, as Rolex expanded the collection to include the very first Submariner Date model. Unlike earlier iterations that only displayed the time, the Submariner ref. 1680 included a date window on the dial at 3 o'clock, complete with a magnification lens called the Cyclops that protrudes from the crystal above it. While the no-date Submariner models have always retained their stainless steel construction and black bezel and dial colorway, Rolex developed the Submariner Date collection into a more luxurious lineup by welcoming full gold and two-tone gold/steel models into the mix.

Over the following decades, Rolex continued to improve the Submariner with updated movements, the introduction of sapphire crystals and increased water depth ratings to 300m. The next major design shift occurred in 2008, when Rolex unveiled the latest generation of the Submariner with Cerachrom (the brand's proprietary ceramic alloy) bezels instead of aluminum ones, and a new beefier case silhouette dubbed the "Supercase."
Rolex Submariner Timeline
Debut of the Rolex Submariner dive watch, ref. 6204
Introduction of crown guards to the Submariner, ref. 5512
First Submariner Date model, ref. 1680
First yellow gold Submariner, ref. 1680/8
First Submariner with sapphire crystal and 300m water-resistance, ref. 16800
First two-tone yellow gold and stainless steel Submariner, ref. 16803
40th Anniversary Submariner, ref. 16610LV
First Submariner with Cerachrom ceramic bezel and Supercase, ref. 116618
First white gold Submariner, ref. 116619
First Submariner with a green dial, ref. 116610LV
Submariner Design and Features

The newest Submariner watches feature:

40mm cases
Water resistance to 300 meters

A unidirectional rotating bezel fashioned from Cerachrom ceramic
A dial with Mercedes-style hands and hour markers filled with Chromalight luminescence that glows blue in the dark

Oyster bracelets with a Glidelock extension system

The in-house made automatic Caliber 3135 (Cal. 3035 for no-date Submariner) movement

Current-production Rolex Submariner watches belong to the 11661x reference family (the no-date Submariner follows a different reference number), where the last digit signifies the metal of the model and the letters denote the color of the bezel.

Submariner ref. 116610LN – stainless steel with black bezel
Submariner ref. 116610LV – stainless steel with green bezel
Submariner ref. 116619LB – white gold with a blue bezel
Submariner ref. 116618LN – yellow gold with black bezel
Submariner ref. 116613LN – two-tone yellow gold and steel with black bezel
Submariner ref. 116613LB – two-tone yellow gold and steel with blue bezel
Submariner ref. 114060 – stainless steel no-date model with black bezel

The previous Submariner generation with 1661x reference numbers (which are still highly popular pre-owned Rolex Submariner models today) was in production from 1988 until 2008. These discontinued Subs also feature 40mm cases water resistant to 300 meters. However, they wear smaller on the wrist than the new Submariners, thanks to their thinner profiles and slimmer aluminum bezels.
Rolex Submariner Price, Value and Collectability

Generally speaking, used Submariner watches in stainless steel are more popular than their luxurious counterparts in gold or two-tone. This popularity drives up the Rolex Submariner price—it's not uncommon to pay more than retail for a pre-owned Submariner in steel. This phenomenon supports the idea that the Rolex Submariner is a good investment. On the other hand, the price for Submariner models in gold and two-tone are typically lower for pre-owned versions compared to brand new ones.

A particularly coveted model from the current collection is the steel Submariner ref. 116610LV "Hulk" with a green ceramic bezel and green dial. Expect to pay more than retail for this Rolex Submariner if you're bidding on it. Similarly, the 40th Anniversary Submariner ref. 16610LV "Kermit" with a green bezel and black dial is highly valued in the used Submariner market.

Vintage Submariners are some of the most prized models in the pre-owned luxury watch space. Collectible vintage Rolex Submariner references include any manufactured in the 1950s, the ref. 5512 from the 1960s, the Red Submariner ref. 1680 from the 1970s, and the Milsub ref. 5513 from the 1970s, among others.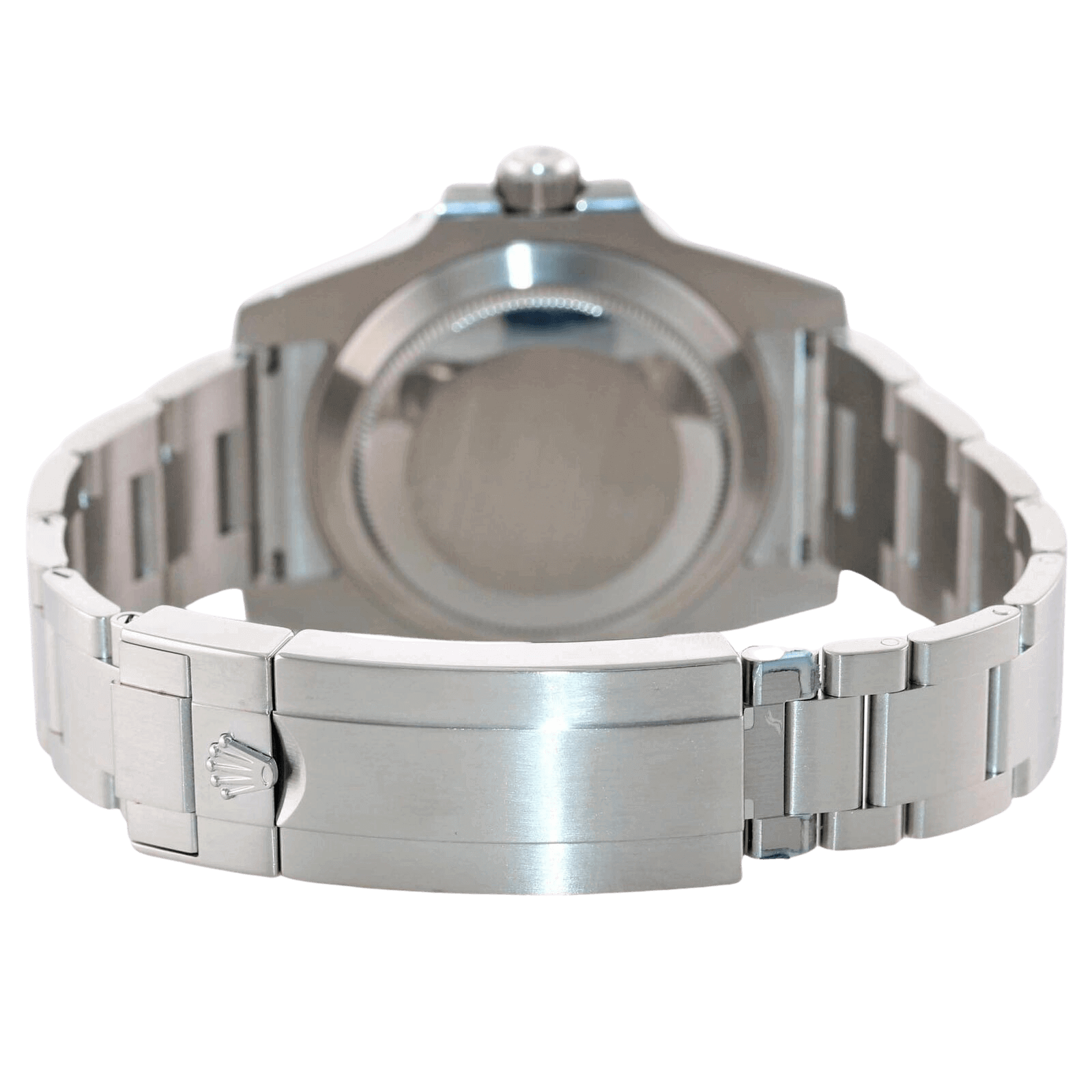 Rolex Submariner: James Bond & Fun Facts

In the 1960s, Rolex's dive watch gained worldwide acclaim as James Bond's watch when Sean Connery strapped a Submariner ref. 6538 on his wrist in several 007 films. Different versions of the Submariner appeared in numerous James Bond movies until the late-1980s.

Many Submariners have picked up catchy nicknames, typically coined by members of the Rolex collecting community:

James Bond Submariner – ref. 6538
MilSub – ref. 5513 and ref. 5517 issued to the British Military of Defense
Red Sub – ref. 1680 (with red text)
Kermit Submariner – ref. 16610LV
Hulk Submariner – ref. 116610LV
Bluesy Submariner – ref. 116613LB
Smurf Submariner – ref. 116619LB
Watchmaker's Perspective

Rolex works continuously to update its mechanical movements, resulting in a level of refinement that is rarely seen from other brands. An example of this is the Blue Parachrom Hairsprin g, introduced by Rolex in 2005 after five years of intensive research and development, and now used in the Rolex Submariner. The hairspring, when coupled with the balance wheel, forms the regulating organ of a watch movement.

To understand how important the hairspring is, consider a grandfather clock. The grandfather clock's pendulum swings back and forth, with gravity providing the restoring force. A pendulum wouldn't work in a mechanical watch, so we instead use an oscillating balance wheel. Instead of gravity providing the restoring force, a tiny spring that is barely the width of a human hair provides the restoring force. Traditionally, hairsprings have been very susceptible to magnetic fields. Just placing a mechanical watch on a loudspeaker could expose it to enough of a magnetic field to alter its performance. Because of this susceptibility, one of the most common tasks for a watchmaker is to demagnetize a watch. Rolex's Blue Parachrom Hairspring effectively eliminates this problem, as it is unaffected by magnetic fields. Quite an innovation!