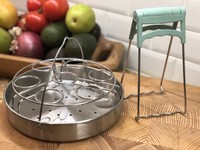 Steamer Basket Rack Set for Instant Pot Accessories - Fits Instant Pot 5, 6, 8qt
Makes perfect broccoli and eggs!
These accessories changed the way I used my instant pot. I now can confidently steam veggies, boil eggs and so much more. Love the craftsmanship and feel of the pieces. All parts clean easily and I have no complaints!
1 of 1 found this helpful