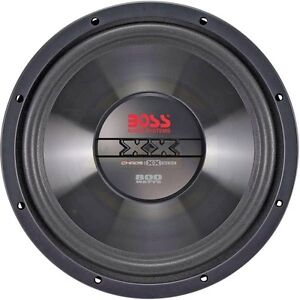 While there are numerous similarities between woofers and subwoofer speakers, there are also some very significant differences. This guide helps readers understand what each type of speaker is, its specifications, how it works, and how it compares to the other types of speakers on the market. With this knowledge, readers can then select the correct type of speaker for their audio requirements. Whether you want to install a woofer or subwoofer in your home theater for a surround sound experience, car, or an entertainment venue, you want to make the right choice.
Below is a quick comparison of a woofer and subwoofer to give you an idea before you read into the details of each one. If this information satisfies your curiosity, proceed to the bottom of the page to learn about purchasing a set for your needs.
A standard woofer is a low-pitch speaker that produces sounds between 20 and 2,000 hertz (Hz). Although a standard woofer is a versatile low-pitch speaker, the sound quality decreases as the speaker approaches either end of its attainable scale. A mid-woofer has a range similar to the woofer, but it cannot reach quite as low, with a minimum range of 200 Hz. It can, however, reach higher frequencies than a standard woofer, with a maximum range of 5,000 Hz. The mid-woofer shares the same quality loss issues as the standard woofer.
The difference between a subwoofer and other low-pitch speakers is that it focuses exclusively on a small audio range, from 20 to 200 Hz. A rotary subwoofer has a completely different mechanism than the other types of speakers; it uses fan blades, rather than a cone and coil, to create increased air pressure. Rotary subwoofers have a small range, which includes frequencies below 20 Hz. The many similarities and differences among the four types of low-pitch speakers will be outlined clearly for prospective buyers in this guide.
What Is a Woofer?
Unlike the high-frequency speakers, known as tweeters, a woofer is a speaker that focuses on the low-end of the sound spectrum. The term "woofer" stems from the onomatopoeic word "woof," as in the deep, heavy sound of a barking dog. These speakers cover a frequency range from 20 to 5,000 Hz. Woofers work via an electrodynamic system that involves a cone attached to a voice coil and a magnetic field. In the proper position, this setup creates a simple, electronic, linear motor. A current passes through the voice coil and causes it to move back and forth, which in turn pushes the speaker cone in and out. This motion is what produces the low-frequency sound waves.
The frequency range that a speaker covers determine which type of woofer it is, but the construction of each speaker is essentially very similar, and the same issues are present across the different woofer types. One concern includes distortion occurring in low-end and midrange products when loud sounds are produced. Another is stopping the speaker cone at the correct time to prevent ringing or inappropriate sound waves when the motor is cut, or the music finishes.
Speaker Enclosure
Woofers and subwoofers are commonly housed in sealed enclosures. The speaker enclosure plays an important role in the proper functioning of low-frequency speakers, as its purpose is to increase the clarity of the sound and reduce distortion. Speaker enclosures are specifically engineered cabinets used to house the speaker unit, amplifiers, and other related equipment. The specific design of the speaker cabinet prevents sound waves created at different locations from crossing and causing distortion or incorrect noises. They are also designed to minimize inappropriate vibration and to allow airflow to keep the motor cool. Often, to increase the perceived volume, part of the cabinet is stuffed with fiberglass insulation. However, the insulation should not be packed tightly, and it also should not be packed with any internal components because this can cause the system to overheat. Place the cabinet in a safe spot to ensure they are not disturbed. Although they are weighty, you do not want to risk your stereo system toppling over during a party!
Woofer Types
As mentioned earlier, there are several types of woofers, and the different versions focus on different frequency ranges within the lower end of the sound spectrum. Although their build and internal functions are very similar, there are distinct differences between the different types. The type of speaker you buy depends on which one addresses your current needs.
The woofer is a broad-spectrum, low-frequency speaker. A mid-woofer is a derivation of the woofer that produces sounds at a similar range to the woofer, but it can attain slightly higher frequencies and is unable to attain the very lowest frequencies of the woofer.
The subwoofer only produces sounds at the lowest frequencies on the scale, focusing on a rather small portion of sound waves. A rotary subwoofer is a derivation of the standard subwoofer, and it uses a rotating fan blade to produce extremely low-frequency sound waves, including infrasound, which can be felt but not heard. A subwoofer installed in a car attracts attention due to the vibrations it produces.
Woofer
Covering a range of 20 to 2,000 Hz, a woofer is a loudspeaker that produces sounds across a range of low frequencies. Unlike a subwoofer, it has a wide frequency range. This means that while woofers are able to produce a substantial range of sounds, their overall sound quality is inferior to subwoofers at the lower end of the scale. The lower the sound frequency, the greater the amount of air that has to pass through the speaker's system at slower speed to produce an audible sound. Because woofers cover a large sound range, they do not perform well at either end of their range. At the low end of the scale, the sound becomes much quieter and far less impressive than the same sound produced on a subwoofer. As a general low-frequency speaker, a decent-quality woofer is an excellent choice. Low-quality woofer models, however, can produce distorted sounds and ringing. Like subwoofers, the speaker cones on a woofer are made from bamboo, paper, aluminum, or fiberglass.
Midwoofer
A mid-woofer is a speaker with a similar range to that of the woofer. It cannot produce sounds at the lower end of a standard woofer range, but it can produce sounds of a higher frequency. Midwoofers cover a range from 200 to 5,000 Hz. Nevertheless, this type of speaker provides the best quality sound from 500 to 2,000 Hz because, like a standard woofer, it struggles to produce quality sounds across the entire broad frequency range covered, and its sound quality becomes inferior at both ends of its range.
Subwoofer
A sub-woofer, sometimes spelled subwoofer, is a loudspeaker unit designed to produce extremely low-frequency bass sounds. Subwoofers cover a small frequency range between 20 and 200 Hz. They usually contain multiple woofer drivers housed in a large speaker enclosure. Subwoofers differ from woofers mainly because they focus on only a small portion of the overall low-frequency sound spectrum. They are also able to move large amounts of air, at a high enough pressure and a slow enough speed, to transmit very low-frequency sounds without losing volume or sacrificing sound quality. Car owners occasionally install subwoofers in their vehicle to enhance car audio quality and volume.
Rotary Subwoofer
A rotary subwoofer is a less common type of subwoofer. Instead of a cone, coil, and magnetic field, a rotary woofer uses a fixed speed fan with multiple blades that change angles. This internal configuration allows the device to move the large amounts of air and to increase the air pressure level, which is needed to create very low-pitched sounds properly. A rotary subwoofer only produces sounds below 20 Hz. Human hearing is less sensitive to sounds below 20 Hz, but a rotary subwoofer can create these sounds at an amplification great enough to allow them to be clearly heard.
Similarities and Differences Among Woofer Types
The following table summarizes the features and capabilities of the four types of low-frequency speakers: woofers, mid woofers, subwoofers, and rotary subwoofers. This comparison allows readers to see the similarities and differences between each speaker type to determine which one best fits their current need.
Type of Speaker

Features

Woofer

Produces sounds from 20 to 2,000 Hz
Consists of one speaker driver in a speaker enclosure
Inferior sound at either end of its attainable range
Low-quality models produce distortion and ringing

Midwoofer

Has a slightly higher range than woofers
Produces sounds from 200 to 5,000 Hz
Best acoustic range between 500 and 2,000 Hz
Inferior sound quality at both ends of the range
Consists of a single speaker driver in a speaker enclosure

Subwoofer

Produces sounds from 20 to 200 Hz
Consists of multiple speaker drivers in a speaker enclosure
Focused on a very small audio range
Does not lose quality across its attainable frequency range

Rotary Subwoofer

Uses fan blades instead of standard cone and coil setup
Produces very low sounds from 20 Hz and below
Makes low-pitched noises audible when they are normally inaudible
Does not lose sound quality
Works by creating increased air pressure
Buying Woofers and Subwoofers on eBay
There are two routes you can take when looking to purchase a woofer or subwoofer system for your home theater or entertainment venue. Woofers, mid woofers, subwoofers, and rotary subwoofers are available from both online and brick-and-mortar electronics stores, as well as specialist audio and music stores. eBay features an extensive range of low-pitch speakers, including woofers and subwoofers. These items can be found by visiting eBay's Consumer Electronics or Musical Instruments and Gear portals. To check out the audio quality of each beforehand, search for a video that features a high-quality product demo. You should make sure you are looking at complete equipment sets to avoid the frustration of missing parts during the installation process.
With a view towards price and customer service, when shopping on eBay, you should check a seller's feedback score and the comments left by other buyers for that seller before confirming a purchase. By choosing a seller with a high positive feedback percentage, you are more likely to receive a quality product and have a good overall transaction experience. When shopping for large, fragile, or expensive items like the types of speakers described in this guide, you should ensure that the seller offers shipping insurance to cover the value of your purchase in the event of loss or damage in transit. Check the seller's product and service guarantee before you purchase.
Conclusion
Readers of this guide should be able to describe the attributes of woofers, mid woofers, subwoofers, and rotary subwoofers, and clearly, understand their choices. Although similar, each has a unique function and some key differences. Woofers and mid woofers both have large frequency ranges; as such, they suffer from poorer quality sound production as they approach the outer bounds of their attainable ranges. Essentially, some quality is sacrificed for increased versatility. Speaker enclosures are specially designed to enhance audio quality. Subwoofers and rotary woofers, on the other hand, only produce sounds within a very narrow range. Even though subwoofers and rotary subwoofers are far less versatile, they produce superior sound across their respective ranges. A rotary subwoofer operates by using a very different mechanism than the other three types of speakers, which enables it to produce audible sounds not usually heard by the human ear. Once you have weighed the choices and made your selection, visit eBay to find a reputable seller and in no time you will be installing and enjoying your new speaker system. After reading this guide, users have all the information they need to decide which type of low-pitch speaker will best suit their particular stereo or home theater system needs.