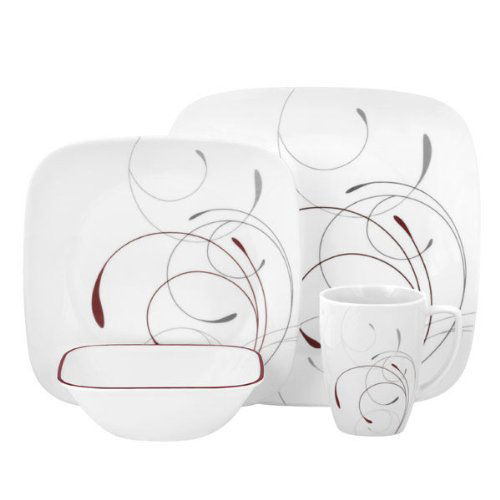 While food is undoubtedly the star of every meal, dinnerware is the frame that holds this work of art together. Having the right dinnerware can change the whole dining experience. This is why many people opt to bring out the fine china when entertaining guests in their home. While certain types of dinnerware are certainly beautiful, they can also be fragile and breakable. This can be troublesome for people who tend to knock things over or families with kids around the dinner table. Then again, some simply do not want the stress of wondering when their expensive crystal dinnerware or porcelain is going to break or get scratched beyond recognition. This is why shoppers who are looking for new or replacement dinnerware often have durability as their primary concern.

Those who are serious about buying the most durable everyday dinnerware should make sure to arm themselves with information about the different types of materials available. Buyers should know how to evaluate dinnerware sets for durability before making a purchase. Whether bought on eBay or from specialty shops, it is important that the consumer knows a lot about dinnerware before making the investment.


Overview of Dinnerware
Dinnerware, or tableware, refers to different things in various parts of the globe. When people say dinnerware in the U.S., they are talking about the dishes and glasses. The practice of elaborately setting the table with dishes and glasses in various shapes started during the Victorian age. The emerging middle class eventually became able to afford dinnerware, leading manufacturers to invent new items to offer to consumers. While some of these inventions would eventually fall out of fashion, dinnerware became a definite must-have for every household. Bowls, plates, saucers, pitchers, teapots, mugs, stemware, and water glasses are just some of the kinds of dinnerware that are available. And there are thousands of designs out there, from elegant, timeless styles, to stylish dinnerware sets that match of-the-moment flatware.

Types of Dinnerware
Before delving into the most durable type of dinnerware, it is important to get an idea of the different kinds available. Below is a brief description of the types of dinnerware available on the market.

| Type | Description |
| --- | --- |
| | Earthenware is one of the first types of dinnerware. Manufactured from unrefined clay and fired in a kiln using a low temperature, earthenware is permeable and sensitive to radical swings in hot and cold. At first glance, it appears to be heavy and solid. When held in the hand, however, it is lightweight and delicate. While earthenware gives the dining table a natural look, this type of dinnerware can be easily scratched and stained, especially if it is unglazed. It can be used in the microwave and conventional ovens. Most earthenware should not be cleaned in a dishwasher. |
| | Stoneware, like earthenware, is also made from clay. Because it is a more refined clay that is heated at a higher temperature, it is not as permeable. Another difference is that it is more refined with less impurities. Additionally, stoneware is dishwasher-safe, microwave-safe, and chip-resistant. |
| Porcelain | Porcelain, or fine china, is baked at a high temperature to make a strong surface that is similar to glass. Not only is it non-porous and easy to maintain, porcelain is also microwave- and dishwasher-friendly. |
| | Bone china is clay with added bone ash that gives it an almost transparent, white color. While it looks delicate, bone china is quite durable. This dinnerware type is dishwasher- and microwave-friendly. |
| | Glass is a type of dinnerware that is not difficult to clean but more breakable than the rest. Glass can come in a wide variety of designs and colors. Not only can it be exposed to high temperatures, it is also dishwasher- and microwave-safe. |
| Polycarbonate | Polycarbonate dinnerware is FDA-approved plastic that is top rack dishwasher-safe. Plastic dinnerware is unbreakable, and some types are scratch-resistant. When buying polycarbonate dinnerware, it is important to look for pieces that are labeled BPA-free. BPA is a carcinogen that is harmful to humans. |

These are just some of the dinnerware that can be used on one's table. Generally, all of these materials can be used in the microwave. However, make sure that the dinnerware does not have accents, banding, or decorations made of metal or any other material that is sensitive to heat. While choosing among these options often comes down to preference and budget, there are also downsides to picking a set that cannot hold up to constant, daily abuse.

The Most Durable Type of Dinnerware
Some types of dinnerware, however beautiful, are not meant to stand up to long periods of use. People who constantly need to replace their dinnerware are aware that this is a waste of time and money. When it comes to the most durable type of dinnerware that is made from clay, experts often point to bone china. Because it is fired at extremely high temperatures, bone china is strong and chip-resistant. While it may be more expensive than the typical type of dinnerware, the buyer can be sure that it is also oven-, microwave-, and dishwasher-safe. When handling any type of dinnerware that is clay- or glass-based, however, it is important to avoid sudden temperature changes to keep the pieces from breaking. For those looking for a slightly less expensive option, durable porcelain is less rare than bone china but is still very sturdy and high quality.

When it comes to dinnerware not made from clay, glass and plastic are very durable in different ways. Plastic does not shatter if dropped like glass, which is great for families and busy households where items are dropped often. However, plastic can melt if placed on the bottom rack of the dishwasher, and some flimsy plastics can even melt in the microwave if heated for long periods. Glass does not generally melt, although it can get very hot. That is why glass is often used in bakeware, whereas plastic never is.

How to Evaluate Dinnerware for Durability
Many manufacturers use particular terms to describe the strength of their dinnerware to prospective clients. More often than not, people buy break-, chip-, and scratch-resistant dinnerware and automatically assume that their plates are now invincible from these common dinnerware problems. Just like water-resistant is different from waterproof, these kinds of dinnerware often have special coatings or materials that keep them from breaking, chipping, or scratching under normal conditions. However, when pushed to its limits, most of these still break, chip, and scratch. When purchasing china like porcelain and bone china, another thing to consider is the type of clay used to make it. Good chinaware should include quartz, feldspar, or silica.

Dinnerware Brands
There are many brands that offer durable dinnerware. Among these are the following: Corelle, Heller, Zak, Le Cadeaux, Precidio, Pottery Barn, Lifetime, and Base, among others. Products from these manufacturers are available online and from traditional retail shops. Many shoppers prefer purchasing these brands online, mainly because they do not have to leave the comfort of home to acquire new dinnerware.
Shopping for Durable Dinnerware on eBay
When shopping online for dinnerware, consider searching on eBay. Go to eBay's homepage and locate the Search bar, which can also be found on every page of the site. Type in "dinnerware" and press Enter to display thousands of product listings related to dinnerware. If you are looking for something more specific and prefer not to wade through irrelevant results, you can type in "bone china dinnerware" or "stoneware plates" as an example. This helps narrow the search so you only get the products that are relevant to your needs. Another way to narrow down the search results is by using the filters on the sidebar. These filters include the condition, seller, category, shipping, price, and location, among others.

You can also use the Advanced Search function. You can type in the search term along with additional parameters that help filter out irrelevant results. One way that Advanced Search can help you is by showing products that only offer free shipping. If you are worried about fragile dinnerware that can break while it is in transit, you can also search for local sellers who may allow you to pick up the items personally. This is a great option for those who want to save on the shipping fee. The Advanced Search function is also helpful in sourcing both brand new and used dinnerware. As always, before purchasing anything on eBay, it is important that you ask as many questions as needed of the seller. This can be done by clicking on Ask a Question link on the seller's product listing.

Conclusion
When selecting dinnerware for the kitchen, newbie buyers often go for the design instead of its durability. Only after countless of plates or glasses are chipped, scratched, and broken do these buyers realize the importance of durability. There are many types of dinnerware, which include earthenware, stoneware, porcelain, bone china, glass, and polycarbonate plastic, among others. Shoppers who are interested only in the most durable should go for white porcelain or bone china. However, since this is typically the most expensive type of dinnerware, having dinnerware that is break-resistant, chip-resistant, and scratch-resistant helps boost buyers' feelings of security.

Additionally, make sure that the dinnerware set is safe to use in the microwave, oven, and dishwasher. Some brands may use materials that are normally fragile but have applied treatments and proprietary technology to make it stronger. When shopping for durable dinnerware, do some research, and do not simply judge a particular material by its general definition. Last but not least, instead of shopping at brick and mortar stores, consider buying online. Whether the buyer is working with a budget or shopping for something unique to give to newlyweds, there are a lot of great deals and one-of-a-kind dinnerware to be found online.