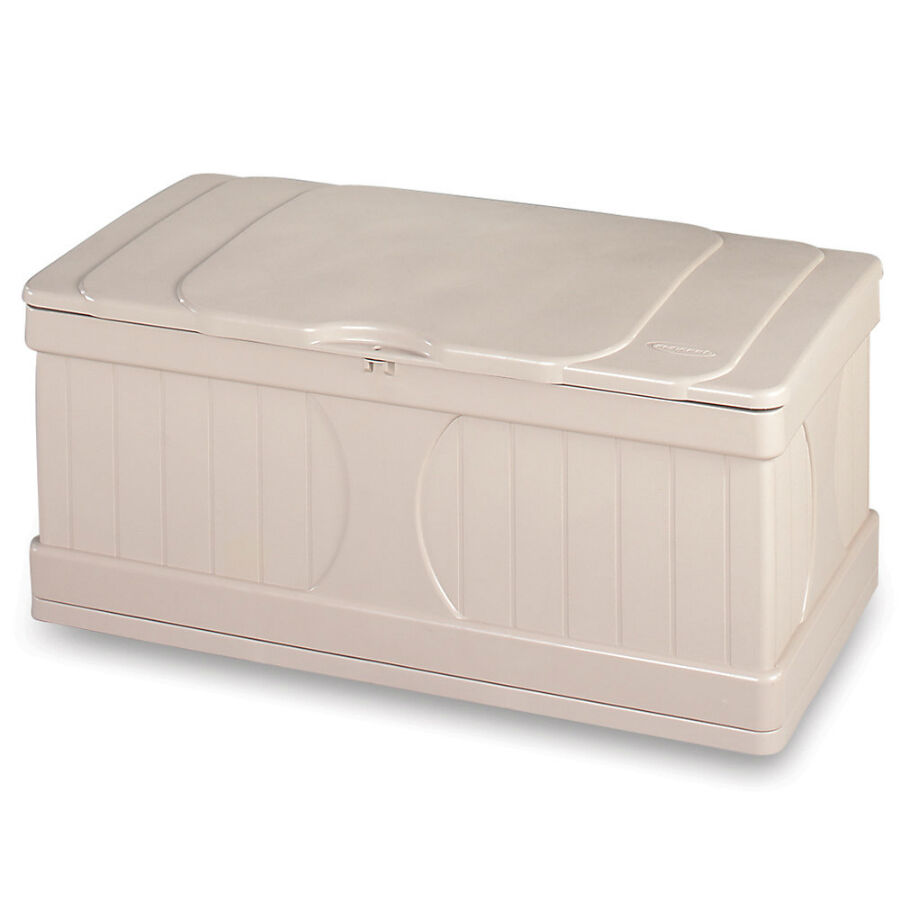 Often, there is so much going on in the garden that having a space to store all of the many items that are used there can be a good way to keep everything organised. When looking for a suitable way to store items outside, look no further than an outdoor storage box. The choices in style, material, size and colour are almost endless, so finding something that suits the circumstances and lifestyle is easily achievable.
Why Buy an Outdoor Storage Box?
Any person with a garden will have a reason to need outdoor storage. These storage boxes are sturdy, relatively inexpensive and versatile. They can be used as general storage as an alternative to a garden shed or garage, or for something more specific, such as a place to store bikes, firewood, garden utensils, chemicals or wheelie bins. Outdoor storage boxes are an ideal way to keep the garden free from clutter, to provide some security for valuable items that may be at risk and to protect items from the elements. As a general rule, storage made out of all material will be suitable for use outdoors; however, some materials and finishes are more durable and will last longer than others. As with most purchases, doing the research first is essential. Garden furniture of this type is designed to be used for a long period of time, so before purchasing it is necessary to make sure it is exactly what is required. This guide explains a little bit more about the different kinds of outdoor storage boxes that can be purchased online.
What Is an Outdoor Storage Box Used For?
Depending on the size and shape of the box, this type of storage can be use to store virtually anything. Garden furniture that needs cover during the winter, valuable items such as bikes that need a secure unit, as a disguise for wheelie bin units or simply as a place in which to store clutter that cannot be kept in the house, these storage solutions are versatile and functional. Ideal storage items:
| | |
| --- | --- |
| Bikes | Chairs, tables and cushions |
| Firewood | Lawnmowers |
| Garden tools | Garden chemicals |
| Play equipment and children's toys | Wheelie bins and recycling boxes |
| BBQs and utensils | Picnic Equipment |
| Car equipment | Pool/hot tub equipment |
Where to Find an Outdoor Storage Box
To purchase an outdoor storage box, head to the eBay homepage. Use the search box to type in the keywords including the material of the storage required, and the eBay search engine will raise an assortment of results. Since storage solutions can be found under several categories, including Home, Furniture & DIY and Garden & Patio, using the search box will raise the largest amount of possible options. Some sellers specialise in the sale of such items and may have many different types in their own online shop.
Choosing an Outdoor Storage Xox
Some outdoor storage will come pre-built; others will be flat packed, which may reflect the price. For the DIY enthusiast, building an outdoor storage box can be cheaper and relatively easy as tools are not always required. Since outdoor storage comes in a wide variety of styles, some of the most common are explored here below.
Storage Styles
There are many different ways to store your possessions outside.
Chests
A basic chest is functional, practical and comes in a variety of sizes, colours and materials to suit any need. Some chests have lockable lids for extra security, or have wheels or handles to assist movement. Lids can be fully removable or with hinges complete with built-in props so both hands can be used to remove and place items.Outdoor storage chests are useful particularly in smaller spaces.
Seats and benches
These types of outdoor storage are useful if somewhere to sit on a sunny day is required, as well as for storage under the seat, particularly in smaller gardens, and can be more visually attractive. Generally these are found in plastic or wooden materials, and bear in mind that cushions may also need to be purchased. Outdoor storage benches are versatile products where the need for storage can be disguised as simply the need for somewhere to sit.
Cabinets
Ideal for storing smaller items such as chemicals or small tools, the larger versions of this type are also useful for wheelie bins and bikes as generally they are taller than they are wide. Most often found in either plastic or metal materials. Outdoor storage cabinets are most often used in commercial settings, given that they are usually fireproof. There are three primary materials used for outside storage, plastic, wood and metal. All have their own attributes and advantages, but all are used primarily because they are weatherproof and attractive in a garden space. A more detailed description of these three different types of storage material is explored here below.
Materials Used for Storage Boxes
Storage boxes can be made from various different materials. Below are some examples.
Plastic
This type is commonly found either in the form of green and white plastic or plastic rattan resin. Plastic outdoor storage tends to be the cheapest option although may not be as aesthetically pleasing. Rattan plastic is designed to look similar to wicker, but more watertight and long-lasting. In style plastic storage comes in the form of basic storage boxes with lids, or as benches, or larger stores with opening doors. They have the advantage of being more lightweight than other materials and, therefore, more portable should they need to be moved.
Wood
This material is more traditional in style and looks more natural in certain types of garden. Wooden storage boxes also allow for more elaborate means of storage, for example wooden storage cages for wheelie bins. Storage areas can even be made into shelters as well as seating, even suitable for BBQs. The storage could be solid wood, which is likely to be more expensive but gives a unique appearance. Because it is natural, solid wood is likely to change shape slightly according to the temperature or humidity. Be aware that some wooden storage may require treating if it is to be left outdoors at all times of the year. Wood veneer storage is made from thin layers of wood, which allows for a more decorative finish and are less prone to movement than a solid wood product. However, they look very similar to solid wood and are generally less expensive.
Metal
Similar in style to plastic storage, but in close comparison these are much more durable and tough. This extra durability reflects the price, however, as metal storage boxes are among the most expensive. Metal is more fire-proof than other materials, and provides a higher level of security for valuable items. Metal outdoor storage is not always metallic in colour; some types are painted green instead to better reflect the colours of the garden, while others have a wood grain effect to make them look more like natural wood. The style can be open door, which is more traditional, or roll-top shutters, which is easier and more appropriate for use in a smaller space.
How to Find the Best Deal on eBay
Some sellers will offer free shipping, which can be useful as these items are usually bulky and/or heavy. Alternatively, using the search box to prioritise those sellers who are local can save on transport costs. Some listings will also offer items as part of a bundle, including accessories to the main purchase. Before making a purchase, read the item description very carefully. Ensure the dimensions of the product and its capacity is suitable. If there are still questions, contact the seller, as the majority will be happy to offer further information regarding the product being sold.
Conclusion
Outdoor storage boxes can be an ideal way to store items for use in the garden without cluttering the house and for storage during cold winter months. The requirements of the storage will be individual to every purchaser, so do research beforehand to ensure the correct storage is bought at a reasonable price. If done correctly, a useful and durable storage box solution can be found on eBay to last a long time.