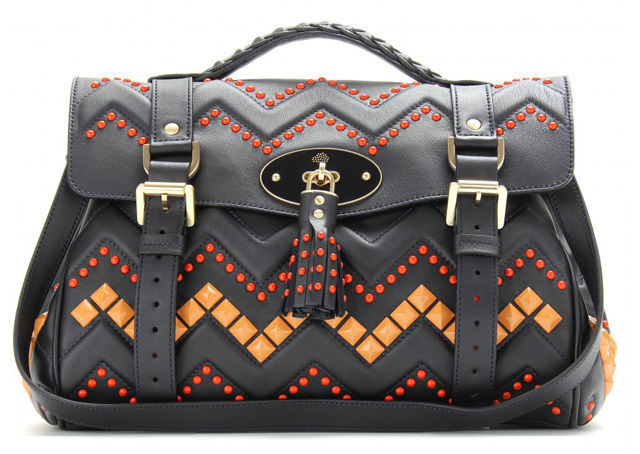 In 1971, the mother-son team of Joan and Roger Saul opened up a leather goods factory in Somerset, England. The factory, whose products went under the brand name Mulberry, became known for its high-quality goods which included footwear and bags. Even though Mulberry was popular throughout the years, it wasn't until 2007 that the brand really took off. That is when fashion designer Emma Hill joined the company, and her designs helped transform Mulberry into an internationally-recognized fashion brand. Mulberry bags are especially popular with celebrities, and many famous people, like Katie Holmes, the Duchess of Cambridge, Jennifer Lawrence and Olivia Palermo, have all been seen carrying them. Before buying a designer bag from Mulberry, you will want to make sure you acquaint yourself with the various types of bags available, collections, and leather options.

Types of Mulberry Bags
Mulberry makes four different types of handbags for women and also messenger bags for men. Most of these bag types are available in many different styles and a wide range of colors.

| Bag Type | Description | Use… |
| --- | --- | --- |
| | A mid to large-sized bag which has straps for wearing over the shoulder | As an everyday bag for carrying more items and accessing them quickly |
| | A cross between a shoulder bag and a briefcase; has straps for closing a flap | As an everyday bag for carrying basic items |
| | An oversized bag with one large main compartment | For carrying large or heavy items |
| Clutches | Small bags or wallets meant to be clutched or held in the crook of the arm | As an evening bag or wallet inside a larger bag |
| | A briefcase-style bag with a long strap for wearing across the shoulder | As an everyday urban bag for men |

Mulberry Bag Styles
Mulberry releases its women's handbags in "families" (collections). The family will generally have many different types of bags (satchels, totes, clutches, and shoulder bags), all designed with a uniform style. Some of the most popular families of Mulberry bags are the Alexa, Bayswater, Primrose, Del Ray, and Willow.
Regardless of which collection of Mulberry bag you choose, there are some style characteristics which are common throughout. One of these is the iconic postman-style clasp in silver or gold colors. Mulberry bags are also usually sleek with clean, curving feminine lines and without excessive detailing. Only a few bags have showy decorative features, like the gold chain on the Lily evening bag.
Even though Mulberry bags are designer bags, they are still made with functionality in mind. The leather is incredibly durable, the closures (including zippers on many totes) help prevent theft and loss, and interiors are often lined with suede. Many Mulberry bags also have features like discreet interior pockets and hidden padlocks.
Vintage Mulberry Bags
Mulberry bags are made out of quality leather with fine craftsmanship so they can hold up for many years. Thus, it is possible to find vintage Mulberry bags in very good condition. Some people even prefer vintage bags over the new ones, not only because they appreciate the older styles, but because the leather becomes softer and more unique with age.
Mulberry bags were not very popular on the international market until the 2000s, so it is can be a bit difficult to find vintage Mulberry bags for sale in the US; however, there is a very large selection of vintage Mulberry bags for sale in the UK. Many of these UK sellers list on eBay and will have no problem shipping the bag internationally, but buyers should be prepared to pay higher shipping costs for the international item.

Types of Leather Used on Mulberry Bags
After choosing a style, one of the most important decisions that buyers will have to make in choosing with a Mulberry bag is leather type. Most modern Mulberry bags, even ones in the same collection, are available in several different types of leather. The type of leather will impact the texture of the handbag, how it looks as it wears down, and how soft the bag will be.
Exotic Leathers
Oxblood mixed: Has noticeable hairs which give leather a soft, textured look; requires more care
Ostrich: Very soft with deep colors; leather has varying texture
Calf Hair and Suede
Hair calf: Has delicate cow hairs which make it soft and glossy; harder to care for
Suede: Has a soft, velvety feel and becomes softer with age
Oxblood suede: Similar to classic suede
Natural Leathers
Classic calf: Very smooth with a silky finish
Shrunken calf: Textured finish which is shiny and hard
Grainy calf: Shrunken calf leather which is very soft and flexible
Micrograin calf: Very soft with slight texture
Glossy goat: Textured finish which is very shiny; becomes softer with age
Soft grain: Calf leather which has been shrunken; is soft with textured grain
Printed and Textured Leathers
Lizard Print: Calfskin which is printed to look like lizard skin; is very shiny softens with age
Grainy: Calfskin which is embossed to enhance grain; is shiny and softens with age
Spongy Pebbled: Calfskin which is treated to give it a pebbled texture; is very soft and lightweight

Mulberry Bag Authentication Cards
When you buy a new Mulberry bag, it should come with an authentication card which shows that the bag is genuine; however, buyers should not always take the lack of an identification card to mean the bag is fake. With secondhand Mulberry bags, for example, it is very common for the original owner to have lost the card. Likewise, dealers can also lose the cards.
If you are concerned about the risk of buying a counterfeit Mulberry bag, the best way to protect yourself is to educate yourself about the features of the bags. All Mulberry bags should have a tag which states "Made in England", "Made in China" or "Made in Turkey". They should also have the official Mulberry label which will contain a serial number for the bag.

Mulberry Accessories
Mulberry not only makes bags but also many other leather products, like phone sleeves, iPad cases, boots, and belts. When the brand releases a new product, it is usually part of a collection that goes with other matching products, so you could very likely find a matching iPad case and pair of shoes to match the Mulberry purse you want. If you are interested in matching your Mulberry leather accessories, make sure that you research which products are available before you buy. You might be able to get better deals by purchasing them as a set or from the same seller.

Caring for Mulberry Bags
Mulberry bags are made from genuine leather, and they must be properly cared for if you want them to last. For starters, owners should take care to avoid damaging the bag, such as by keeping them from getting wet or dirty. Only special gentle soaps should be used for cleaning leather. Make sure that you know which type of leather your Mulberry bag is made out of so you can pick the right leather cleaner.
Leather handbags should also generally be conditioned and treated a couple times per year. This can help keep the leather supple and also protect the leather from water and dirt.

How to Buy Mulberry Bags on eBay
To find a Mulberry bag on eBay, start by locating the search box which is at the top of every page. Type in "Mulberry bag", along with any other descriptive features of the bag you are looking for, such as "Mulberry Alexa bag". After performing your search, you will see many options for narrowing down products by Color, Material, Condition, and Price. With these refinements, you can easily find the perfect Mulberry bag that you want.

Conclusion
When selecting a Mulberry bag, you will want to take into consideration the material, size, and type of bag as well as the style. By keeping all of these factors in mind while shopping, you will be able to find a Mulberry bag which suits your lifestyle. Regardless of whether you are looking for a brand-new Mulberry bag or deals on a vintage Mulberry bag, shoppers on eBay are sure to find plenty of options.