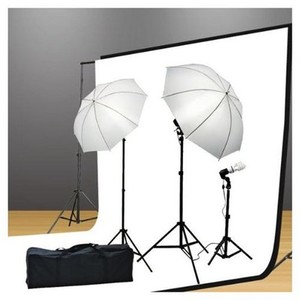 Whether photography is a hobby or a profession, those who want the best picture possible understand that lighting is a key element. Using photography lighting kits allow the photographer to carefully control the look of the subjects by way of artificial light.
Lighting may be as simple as setting up a few lights, or as complex as using dozens of strobes with other light modifiers. Having a lighting kit offers products that allow for a basic set up for lighting a photography session.



Main Uses for a Lighting Kit
When choosing a photography lighting kit, first determine the main purpose for lighting, as well as the need for portability. Studio or commercial lighting needs are quite different than outdoor lighting needs. Also, a mobile photographer will have different needs than one who works solely out of a studio. This will also factor into whether the lighting kits will draw power from batteries or electrical outlets.
Different lighting may also be needed when shooting video compared to photos. Videos require steady lighting rather than flash, and still photos may use flash or constant lighting.

Continuous Lighting Kits
For the digital photographer, continuous lighting is far less complicated to use than flash or strobe lighting. The photographer simply turns on a steady supply of warm, high quality lighting for as long as it is needed. This type of lighting is commonly used by professionals for portraits, product shots, and may be used for video production, too.
Most continuous lighting kits will include the following pieces of equipment:

Flash and Strobe Lighting Kits
Flash and strobe lighting kits are more commonly used by professional photographers than amateurs. This type of lighting is similar to the flash on the camera. Professionals choose these kits for the capability to generate bursts of timed lighting that can freeze an action shot.
To optimize the flash or strobe timing, it's important to synchronize the digital camera with the flash or strobe. This can be achieved with a synch chord or wireless transmitter.
Most flash or strobe lighting kits will include a basic studio setup:
Light stands
Umbrellas
Softboxes
Barn doors
Advantages of Strobe and Continuous Lighting
The following are the advantages of strobe and continuous lighting:

| Strobe/Flash Lighting | Continuous Lighting |
| --- | --- |
| Long life | Easy to use |
| Does not generate heat | No camera connection needed |
| True color temperature | Less expensive |

While there are advantages to both types of lighting, there are disadvantages as well.
Disadvantages of Strobe and Continuous Lighting
The following are disadvantages to each type of lighting:

| Strobe/Flash Lighting | Continuous Lighting |
| --- | --- |
| More difficult to learn to use | Generates heat |
| Must be activated by the camera | White balance required |
| More difficult to bring to locations | Replacement bulbs needed more often |

As previously mentioned, a large part of the decision of one type of lighting over the other is how the equipment will be used. For example, if strobe lighting is the best type for the job, then it is worth the additional cost and inconvenience of portability.

Types of Lights in Lighting Kits
There are three main types of lights used in lighting kits: halogen, fluorescent, and tungsten.
Halogen
Halogen photography lighting kits may be used in commercial, studio, or outdoor settings. Halogen kits are available in continuous lighting and flash lighting, and it is common to offer a mix of the two kits for best results.
Halogen lighting burns brightly and can generate a significant amount of heat, especially when used in a confined area. For this reason, it's recommended to keep a fan nearby.
Halogen continuous lighting uses more electricity than other lighting devices. This type of lighting has lost some popularity among photographers, as it is no longer viewed as practical or economical.
Fluorescent
Continuous fluorescent lighting kits include lights that can be set up quickly, making it a popular choice for amateur photographers as well as professionals. Photographers need only to set up the fluorescent lighting kit, position the lights, and turn them on to prepare for a photo shoot. Unlike halogen lights, fluorescent lights remain cool and require less energy expenditure.
Fluorescent continuous lighting has increased in popularity for its ease of use and economical operation. In addition, fluorescent light bulbs last considerably longer than halogen, typically with a life rating of 10,000 hours.
Fluorescent lighting is used for photographs, product shots, and video production.
Tungsten
Tungsten lighting kits use lighting with tungsten bulbs, which tend to be relatively inexpensive. However, tungsten lights are not long lasting, lasting only 15 to 18 hours.
Photographers need to use special tungsten film, or a tungsten filter on the light or camera lens in lieu of special film, to ensure the most natural color in photographs.
Tungsten lights, like halogen, tend to give off more heat than fluorescent lights.

Basic Lighting Kits
There are a number of basic lighting kits on the market for the photographer just getting started. Even the basic kits range in what is included, as some may contain small camera-mounted LED lights, while others may contain larger fluorescent lights. Manufacturers like Lowel Light sell kits with a minimum of three lights, which include the main light, fill, and hair, and offer an optional background light. More extensive kits may also include light heads, stands, frames, gels, a carrying case, and more.
Because the kits themselves are available with a wide range of components, they are also priced along a wide range.
Other manufacturers include Arri, Chimera, Dedolight, Photoflex, Smith - Victor, and Westcott.

Speedlight Kits
A speedlight is a flash unit that utilizes xenon-filled gas tubes. Speedlights are much faster than traditional flashes. Its name is derived from the fact that this type of lighting has the ability to freeze motion, due to a quick light output duration.
Photographers who are starting out and only plan to shoot stills or high-speed photography may consider purchasing a speedlight set.
A small speedlight set may include:
3 small speedlights
3 lightweight stands
2 small accessory shoe adapters
1 small (30-40 inch) silver reflector umbrella
1 small (20-30 inch) shoot-through umbrella
2 small clamps
Assorted filters
2 photo eye triggers
1 roll Gaffer's tape

Monolight Kits
Monolights are small strobes that are self-contained and include a reflector, power supply, umbrella, light stand holder, and AC power cord. The benefits to monolights, among others, are that there is no need for a separate power generator and it includes a built-in photo eye. Monolight kits are usually used in studios.
Bowens and Westcott are among the makers of monolights and monolight kits.
A standard monolight kit may include:
3 monolights, at least 150 watt-seconds each
3 light stands
2 small clamps
1 roll Gaffer's tape
1 barn door
1 snoot
Extension cords

Additional Lights and Accessories
As mentioned, a basic kit should include one broad source light, hair light, and a general purpose light, as well as an umbrella or softbox. This is a good start, but when a photographer is ready to expand, there are other lights and accessories available.
Light stands (a minimum of 4)
Gaffer's tape
Seamless paper background
Extra bulbs (depends on fixture)
Cloth work gloves if using halogen or tungsten lights
An assortment of colored gels and diffusion material
Clothespins for holding the gels

How to Buy Photography Lighting Kits on eBay
eBay carries a variety of photography lighting kits to meet every need and budget. You can find the kit you're looking for in a number of ways. First, you can search for the particular kit by typing in generic terms, such as "halogen lighting kit" or "speedlight kit," or you can type a specific kit name by manufacturer in the search box in the upper left corner of the home page. Or, you can begin your search by browsing the Cameras and Photo section of the site.
Once you've narrowed down your search to the type of photography lighting kit you're looking for, browse the listings to find just the right one for you. Click on the items that are of interest to you. Be sure to carefully read the description of the item to determine if there are any issues, or to learn if the item has previously been used. Also, take an opportunity to get to know the seller. By clicking on the seller's eBay handle you will be able to read feedback from past customers to determine the seller's reliability. eBay's most trusted sellers are listed as PowerSellers, as they sell at least USD 1,000 in goods every month and maintain a 96 percent or higher positive feedback rating.
Once you've purchased and received your item, you have the opportunity to rate the seller as well. The seller, in turn, can offer feedback to you based on your sales transaction.

Conclusion
Photographers looking to get started with lighting beyond their camera's flash should consider purchasing a basic photography lighting kit. These kits offer the basic tools upon which a photographer can build as he or she develops within the craft. It's OK to start small and expand as needed.
There are lighting kits for every purpose and to fit every budget. Photographers can choose from different light sources as well as kit sizes. Continuous lighting and flash or strobe lighting are the two main types of kits, each offering different advantages and disadvantages in their use. Speedlight kits also are available, but are mainly used for still photos and high-speed photography.
Halogen, tungsten, and fluorescent lighting are the top types of light sources used in the kits on the market.
Choosing the right photography lighting kit will depend in large part on how the photographer plans to use the lighting. Also, the photographer must decide whether or not he or she needs to factor in portability, as some lighting kits require AC power while others run on a battery pack. Budget, of course, is also an important factor. There are kits available to suit most any budget and need.