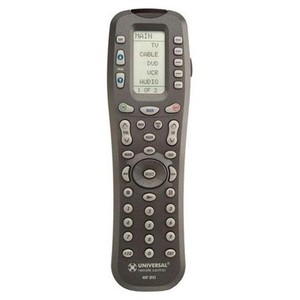 Most people know what it's like to open a drawer filled with remotes and not know which remote works with the device they wish to control. With the wide variety of consumer electronic devices available on the market today, users have a tendency to be overwhelmed with remote controls that come standard with these devices. With remote controls available for televisions, VCRs, DVD players, stereo systems, cable boxes, and other devices, many users turn to universal remote controls in order to reduce the number of extraneous remotes in their houses. These handy devices provide users with the convenience of having one control that provides easy access to a number of household devices and systems. While it is not necessary to know how a universal remote works in order to use it, knowing how these devices work can help users more effectively control their systems.
Overview of the Remote Control
While remote-controlled devices were first patented by Nikola Tesla in 1898, none of the first televisions featured remote controls. The first wireless television remote control was introduced 1956, several decades after television was first developed in the 1920s. These early remote controls were very basic and only allowed the user to change the channel and volume through the use of ultrasonic frequencies.
The first infrared remote control hit the market in 1980 and proved an immediate success. By the late 1990s and early 2000s, however, most home theater systems included a TV, a VCR, a DVD player, and a cable or satellite receiver, in addition to stereo systems and audio amplifiers, each of which had a remote. This proliferation of devices led to the widespread adoption of universal remotes, which allowed users to control multiple devices with one remote. Now, universal remote controls have expanded to include several types, each with special features for specific types of devices and uses.
Types of Universal Remote Controls
There are two main varieties of universal remote controls: pre-programmed remotes and learning remotes. Pre - programmed remotes come with a list of brands and devices that they will work with, while learning remotes mimic the signals from an existing remote. Pre-programmed remotes are the older and less expensive of the two, while learning remotes have a wider field of use. In addition to these two basic types of remotes, there are a number of extra features that are available for an additional price on many models.
Pre-Programmed Remotes
As mentioned above, pre - programmed remotes are designed to work with a limited number of devices and brands, usually between four and 12 different devices from most of the major manufacturers. While this may seem like a limitation, most manufacturers do not change the remote control codes for their products. For instance, this means that a Sony television purchased in the mid-1990s can still be controlled by a modern universal remote. All of the codes for the devices a given remote supports are provided to users on a code table, which they can use to program their remotes.
Programming a code into a remote is a simple matter of putting the remote into programming mode and entering the device code into the keypad. After inputting the code, users should try to control the device using the remote. If it does not work, they should continue entering codes for that manufacturer and trying the remote until they find one that works. Many of these remotes also have an auto-program feature where they cycle through all of their available codes until they find one that works before saving that code in memory. Universal remote manufacturers also provide codes online, if users have a device that is not listed in the code table.
Learning Remotes
As their name implies, learning remotes can learn and store signals from an existing remote. While they are extremely flexible and able to control a number of different devices, these remotes do require a teaching remote. Typically, to program a learning remote, users put the learning remote into programming mode, press the key they wish to bind a function to, and then press the equivalent key on the teaching remote. A major benefit of learning remotes is that they can be programmed with only the selected functions a user desires.
Additional Varieties
Many models of universal remotes, both pre-programmed and learning, offer a number of other features that make them easy to use and extremely customizable. Some remotes are PC - compatible, which allows users to connect the remote to a PC via a USB cable in order to program in device codes. Wi - Fi - enabled remotes allow users to access their wireless networks on their remotes, which lets them view channel listings, news, and sports updates directly on the remote.
LCD touch - screen remotes feature a customizable screen that allows users to control which virtual buttons appear on their remotes. Last, radio frequency remotes use radio waves to overcome interference from walls and other obstacles. Infrared remotes only transmit in a direct line, and they are easily blocked by walls or distance. RF remotes allow users to transmit through walls and over longer distances to the RF controller on the television, DVD player, or other device.
How a Universal Remote Works
A universal remote is an extremely simple device. Like most remotes, universal remotes use infrared light to transmit instructions to a receiver built in to an electronic device. Commands are usually transmitted through signal modulation, which is interpreted by the device as a given set of commands. Each manufacturer uses a different signal strength and modulation to transmit commands to each individual device. A universal remote features programmable memory, which allows a number of different codes to be saved and accessed. By accessing the proper set of codes, a universal remote can transmit the proper commands to a given piece of technology. Some high-end models feature touchscreens and customizable keymaps, which allow users to tailor their remotes to meet their individual needs.
Benefits and Drawbacks of Various Remote Types
Both pre-programmed and learning universal remotes have benefits and drawbacks to their use. While both types of remotes fulfill the same functions, each type is better for specific users. Pre - programmed remotes are best for users with a few devices and who may have older electronics, as the codes rarely change and the remotes' memory cannot hold a large number of codes. However, the limited memory space of pre-programmed remotes is also a drawback, especially for owners who purchase additional components which put them over the total available space. It can also take a while to find the correct code for certain manufacturers' products, which can be something of a hassle.
Learning remotes are best for users who have a large number of unique devices in addition to their home theater setups, such as remote-controlled lights and heating systems. These remotes are also extremely customizable, as they can be programmed one button at a time. They also sport a larger memory capacity, which is helpful for users who own a high number of devices. However, learning remotes require a functioning remote for each device in order to learn the correct signals. In addition, some remotes put out signals that are at higher frequencies than universal remotes can duplicate.
Purchasing a Universal Remote on eBay
Users who wish to replace multiple remotes with one universal remote can find these devices at a number of stores, including department stores, electronics stores, and manufacturers. One of the most cost-effective means of purchasing universal remotes is from online marketplaces like eBay. Shoppers can find thousands of universal remotes in the Remote Controls category within the Consumer Electronics portal.
Potential buyers can browse the selection of remotes by using the site's Search function to find a particular model or feature. Shoppers can also narrow their results by using the Categories tabs on every page to look at listings sorted by brand, compatible brands, price, condition, and more.
After finding an item that meets their needs, buyers should always take the time to research their seller. eBay's Feedback feature provides buyers with a convenient means of comparing sellers and seeing how they conduct business with shoppers. Buyers can rate their experiences with sellers and share comments on how the sellers acted, which helps provide future buyers with insight into the character and conduct of eBay's sellers.
Conclusion
With the increase of consumer electronic devices, users can quickly find themselves overwhelmed with remote controls. The average home theater owner has at least four devices, each with its own individual remote. The universal remote control allows users to consolidate their remote controls into one convenient device, which facilitates their use.
Universal remotes are either pre-programmed or learning devices. Pre-programmed remotes can only be used with certain devices, which are listed in the remote's code table, while learning remotes can duplicate the signal from any remote, so long as the universal remote can view the teaching remote's signal. Users who wish to reduce the number of remotes in their houses can purchase universal remotes at almost any store or at online marketplaces like eBay.