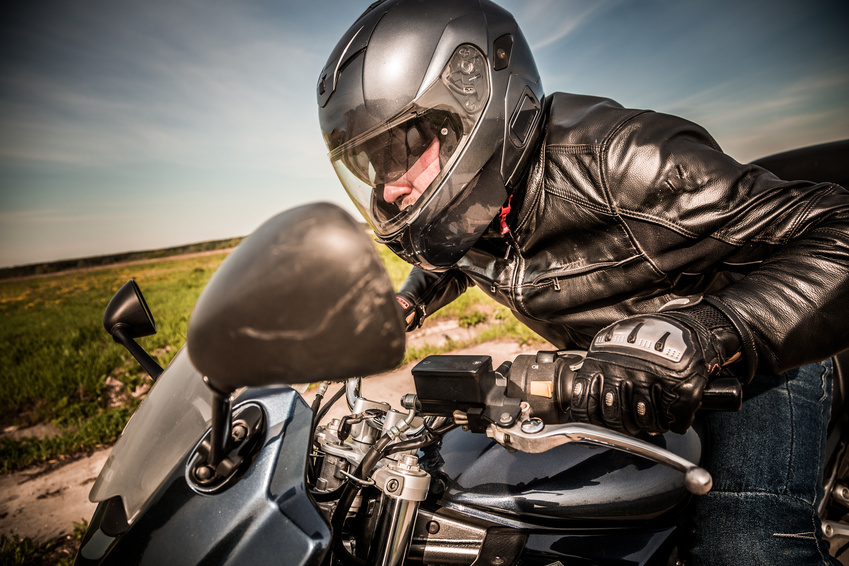 You can buy safety – at least when it comes to motorcycle jackets. There is a very wide selection of models available, and it isn't always easy to find the right jacket for your individual needs. Besides personal taste, you'll need to pay attention to some general criteria. That's the only way you'll be able to enjoy your ride in comfort and safety.
The 10 Most Important Criteria For Buying a Motorcycle Jacket
It's easy to find and buy motorcycle jackets on eBay. If you don't carefully select this important piece of protective clothing, you might regret your purchase later. The following 10 point checklist is intended to help you invest in the right piece of clothing, so you can be guaranteed comfortable, carefree riding fun.
1. Choose a Jacket to Match Your Riding Style
The first decision you need to make is whether you really need a separate motorcycle jacket, or if it might be better to buy a one-piece motorcycle suit.
One-Piece Suits
A one piece suit is full body protection which fits close to your skin and won't flap in the wind while you're riding. If you like to race your bike or sail through traffic on the freeway on your sport bike, you might prefer purchasing a one-piece motorcycle suit.
Two-Piece Suits
The combination of a motorcycle jacket and pants is ideal for people who want flexibility. If you're just taking a casual ride, you won't have to take along both pieces of your outfit. You can simply pull off your jacket and replace it with an everyday coat when you get to your destination. Furthermore, motorcycle jackets offer more storage space than one-piece suits, and usually have enough pockets for your wallet and documents. If you want the most flexible option, you will do well to buy a separate motorcycle jacket
2. Choose Quality Material
Bikers argue over the basic question of whether a motorcycle jacket made of textile or one made of leather is a better choice. These materials differ greatly from one another, but they do have one thing in common: the performance of the jacket will depend greatly on the quality of the material and how it's manufactured. It takes a lot of experience to recognize this type of quality. That's why it's helpful for less experienced or entry-level riders to seek advice from more experienced riders.
Leather Motorcycle Jackets
Motorcycle jackets made of a high quality leather have good abrasion resistance and offer excellent protection from injury if you do get into an accident. If you choose a jacket made of goat leather or calfskin, you need a thickness of at least 1.2 to 1.4 millimeters. That's just a fraction of an inch, but if your leather is any thinner it will have only limited protective properties. Kangaroo leather is another interesting material; because of its sturdiness you can get away with a jacket just 1 to 1.1 millimeters thick.
Leather and Textile Motorcycle Jackets
More and more manufacturers are offering jackets made of a combination of leather and textile materials. Leather usually covers the most vulnerable parts of the body, including the upper back, shoulders, and bottoms and tops of the arm. The textile weave offers better comfort by creating extra ventilation.
Textile Motorcycle Jackets
Jackets made of a fabric like nylon includes many abrasion resistant varieties like Armacor, Kevlar, Dynatec and 500 to 2000 denier Cordura. These materials often offer excellent breathability, protection from the cold, and waterproofness.
Tips for Making Your Choice
Cruisers, weekend riders, and touring bikers usually choose motorcycle jackets made of a textile like nylon or polyester, since they generally offer the best comfort. Sportier riders place a little more emphasis on safety, especially if they take bigger risks in traffic or racing, and tend to choose sturdier leather jackets. Motorcycle jackets made of a combination of leather and textile are a sensible compromise.
3. A Motorcycle Jacket's Age is a Factor
When choosing a motorcycle jacket, you should note the model's age. Older jackets typically don't offer the same safety or comfort common in the industry today. This means the outer material as well as the protective padding might not give a rider enough protection from injury in case of an accident.
4. Look At the Jacket's Color
Most motorcycle riders have the same favorite color: black. In low light environments, however, a black motorcycle jacket can be very difficult to notice in traffic. That's why you should choose a jacket with an easy to recognize color. You can buy jackets in signal yellow or orange, or even ones that use large panels of reflective material. These will be visible when other drivers or riders shine their lights your way. This ensures good visibility and safety.
5. Find a Well-Made Motorcycle Jacket
Your motorcycle jacket needs to be well-constructed to ensure the best possible safety and comfort. That's why you should pay attention to the following points when making your purchase:
Seams
A motorcycle jacket's seams should always be inside the jacket, so they don't cause abrasion in case of an accident. Leather jackets should have very few seams, since more seams compromise the stability of the material. In addition, the chest and back should be made of a single piece of material and not of smaller pieces sewn together. This can have a negative effect on the jacket's safety.
Zippers
Zippers on motorcycle jackets can be made of plastic or metal. They need to be easy to open and quick to close. Furthermore, they should be covered with a flap of fabric so they don't pose extra risk of injury in a crash. Coverings over a zipper also offer extra, effective protection against moisture in textile jackets.
6. Safety Should be Paramount
When choosing a motorcycle jacket, you should always keep safety in the forefront of your mind. Because of its texture, leather is more dense than textile weaves. As soon as the leather is placed under mechanical strain it undergoes a process of load distribution by stretching slightly. This protects the material from ripping easily. Textile materials perform worse than motorcycle jackets made of leather in this respect. It's easier to tear the weave, causing unprotected areas of your skin to slide across the pavement. That's why you should be sure that motorcycle jackets made of a textile weave are reinforced with materials like leather or kevlar.
7. Protectors
Motorcycle jackets should have integrated protectors. These are pieces of protective padding typically on the arms, back, and chest of your jacket. Good jackets will indicate they are "CE approved," and there are both CE1 and CE2 levels of approval available for jackets. CE2 is a better level of protection.
Criteria for Choosing Protectors
Protective padding needs to be elastic and large enough to efficiently distribute the energy in a crash.
Close-fitting motorcycle jackets should have protectors attached to the outside of the jacket.
If the motorcycle jacket has a looser fit, the protectors should be larger and fit close to the part of the body they are intended to protect.
Protectors shouldn't restrict your comfort, but should cover a large enough surface area to protect your upper body.
Elbow protectors should always protect your ulna from injury.
8. Choose a Comfortable Jacket
A high quality motorcycle jacket doesn't just need to protect your body, it also needs to offer great comfort.
Weight and Storage Space
Leather motorcycle jackets are typically heavier than jackets made of a woven textile. They also have less pockets where you can store your money or possessions. Which characteristics will be most important to you depend primarily on your individual needs.
Rain Protection/h3>
Leather needs to be equipped with a special, waterproof membrane in order to be waterproof. Otherwise, the material can absorb moisture, making your leather jacket even heavier. This has a negative effect on your comfort. Textile fabrics won't let in any moisture at all if they have a waterproof treatment. This is often applied to the interior of the jacket. Evaporating water, however, can cause materials with water resistant coatings to cool down rapidly.
Overheating
Leather doesn't have any way to balance out heat from your body or from the sun. It can only keep the wearer warm to a certain extent and only offers some protection from the heat. Motorcycle jackets made of leather are perfect for temperatures between about 55 and 75 degrees Fahrenheit. Some models are made using high quality processes, however, which allow their material to be more breathable. To avoid damaging the stability of the material, it's best to avoid ventilation openings like velcro or zippers. Motorcycle jackets made of textiles use different lining materials. These allow the jacket to keep you warm even in high winds. You should know, however, that extra linings can limit breathability. That's why it's good to get a jacket with a removable liner.
9. Get the Best Fit
Motorcycle jackets are sold in typical sizes for men and women. Some will be labeled as unisex sizing, but sizing can differ widely from manufacturer to manufacturer.
Perfect Fit
The jacket needs to fit your body perfectly while you're standing and while you're sitting. That's why riders should try on the jacket in the position they will be sitting on their bikes.
Sleeves
Your sleeves need to be long enough. They should reach to your wrists when you have your arms extended and bent as they will be while you're riding.
Zippers
The cuffs of the sleeves should have a zipper. This helps the motorcycle jacket avoid slipping up over your wrists in an accident. The zipper should be covered so it doesn't increase your risk of injury.
10. Care for Your Jacket Correctly
You need to regularly clean your motorcycle jacket, which may have some effect on the type of jacket you choose to buy. Good care increases the lifespan of a jacket, helps it retain its functional properties, and helps it look good longer. Of course, it's also important for good hygiene! How much time a rider will need to spend cleaning a motorcycle jacket will depend on the material it's made from.
Cleaning and Caring for Leather Motorcycle Jackets
Motorcycle jackets made of leather have to be regularly treated with a leather balm, leather oil, or vaseline. This will stop them from hardening and drying out. The oil also protects the leather from penetration by water. Before you treat your jacket, you should spray it with a waterproofing spray. Then rub the oil into the jacket with circular motions. You can use a soft cloth to do this as well. Using only a little oil will protect your jacket from extra residue. Depending on the color of your jacket, you can use a transparent product or a black grease.
Cleaning and Caring for Textile Jackets
Textile motorcycle jackets should give lots of helpful information for their care on the tag. You'll need to follow these instructions. It's often possible to wash this type of motorcycle jacket in the washing machine on a delicate cycle and with delicate detergent. You should be sure the water temperature isn't higher than about 85 degrees. If your jacket has serious stains, you can use detergent boosters.
Finally, you should rinse out your jacket twice with plain water to make sure no detergent remains in the fabric. You can't use any softeners. Many models also can't be dried in the dryer. After three washes, you should treat the jacket with a waterproofing spray that encapsulates the fibers in the outer material. This improves protection against not only water, but also dirt. There are also manufacturers which recommend having your jacket professionally cleaned and waterproofed. This ensures the waterproofing spray is distributed evenly across the whole surface of the jacket.
Buying Motorcycle Jackets on eBay
eBay offers a wide variety of motorcycle jackets. Look under the category "Apparel & Merchandise" within motorcycles to find a huge array of brands, sizes, and designs. Browse through the many listings and choose a particular type of clothing, like "Jackets & Leathers" from the options. You can narrow your results down further by choosing extra options like a particular material, gender, or size. You can also search for particular features like "waterproof" or a material like "Kevlar." eBay also offers all the other accessories you'll need for safety on your bike. Look under the categories "Gloves," "Boots," and, of course, "Helmets" to find everything you need.
Conclusion
Besides looking good, a motorcycle jacket needs to offer plenty of protection and functionality. This means there are some things you need to pay attention to when making your purchase. If you watch out for the 10 points explained in this buying guide, you'll find the perfect motorcycle jacket for you. When you purchase one on eBay, you can use the various search filters and options to find exactly the jacket you've been looking for. You'll also be protected by eBay's buyer protection program.