Nike SpongeBob Shoes Offer Comfort, Style, and Fun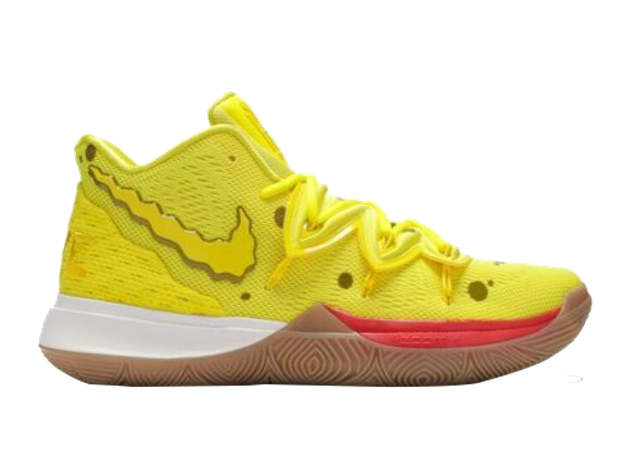 Nike Kyrie sneakers are some of the brand's most popular shoes, and SpongeBob SquarePants is a favorite cartoon of children and adults alike. It makes sense, then, that Nike decided to combine these two concepts. Nike Kyrie SpongeBob sneakers were first released in 2019, and these shoes, also sometimes called Curry SpongeBob shoes, became instantly popular.
What styles and colorways are Nike SpongeBob shoes available in?

Nike's Kyrie SpongeBob pineapple shoes are available for adults, kids, and toddlers. The shoes are high-top and feature laces for a secure fit. A stylish lace guard also helps to ensure that the laces stay tied and in place.

Nike Kyrie 5 SpongeBob shoes are available in three different colorways. The most popular is the yellow SpongeBob shoe, which features a brown sole, red accents, dark spots to mimic SpongeBob's porous texture, and a wavy Nike swoosh at the side which resembles a kelp. A pink and yellow colorway represents Patrick Star, and Squidward is represented with a pale blue and green colorway.

The Nike Kyrie 2 SpongeBob collection is available in two colorways, paying homage to the SpongeBob SquarePants characters Sandy Cheeks and Mr. Krabs. The Mr. Krabs shoe is a bold red with green, seaweed-like accents, and the Sandy Cheeks colorway is a white and rich brown with pink flower accents at the ankle.

Kyrie sneakers aren't the only SpongeBob shoes Nike has released. Special SpongeBob Jordans, featuring a high-top design and a yellow, white, and blue colorway, was also released.
Are Nike SpongeBob shoes good for athletic activities?
Nike's Kyrie shoes were originally designed as basketball sneakers, and a playful design doesn't stop these SpongeBob shoes from being suitable for athletic activities. The shoes feature an internal shank and heel counter for support and stability while making fast, precise movements. The soles of the shoes are thick and grip the basketball court, but they also provide traction on other surfaces such as pavement.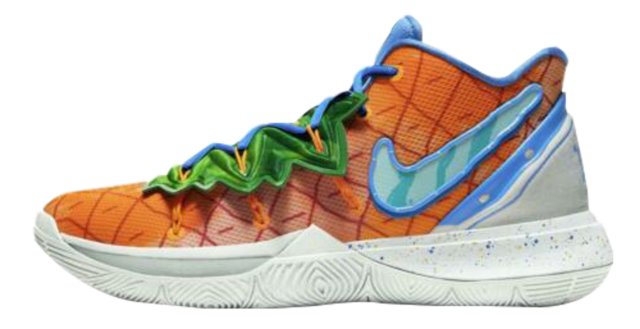 What comfort features are available in Nike SpongeBob shoes?
Nike Kyrie sneakers include a Nike Air unit. This unit, located in the sole of the shoe, usually near the heel, is a tight bundle of stretched fibers and air that contracts when it's stepped on. This makes running, jumping or walking more comfortable, as it reduces shock, absorbing impact, and providing excellent cushioning. It also helps to return energy to the wearer, offering a bit of extra spring.
Inside, the sneakers are lined in soft materials that help to reduce rubbing and decrease the risk of blisters.
What's the history behind Nike SpongeBob shoes?
As the name suggests, Nike Kyrie shoes are a collaboration between Nike and NBA star Kyrie Irving. The shoes were first released in 2014, and when it came time for the fifth generation, Kyrie wanted to do something a little different. As a huge fan of SpongeBob SquarePants , Kyrie decided to create tribute to the show's unique cast of characters. The first three colorways were released as part of the Kyrie 5 line in August of 2019, and two additional colorways were released for the Kyrie Low 2.
Nike Kyrie 5 SpongeBob Sneakers vs. Nike Air Zoom Spiridon Cage 2
| | Nike Kyrie 5 SpongeBob Sneakers | Nike Air Zoom Spiridon Cage 2 |
| --- | --- | --- |
| Fit | True to size | True to size |
| Generations | 1 | 2 |
| Closures | Laces | Laces |
| Available Colors | 3 | 3 |
Content provided for informational purposes only. eBay is not affiliated with or endorsed by Nike, the NBA, or Nickelodeon.