Casual Comfort Looks Good With the adidas Samba Shoe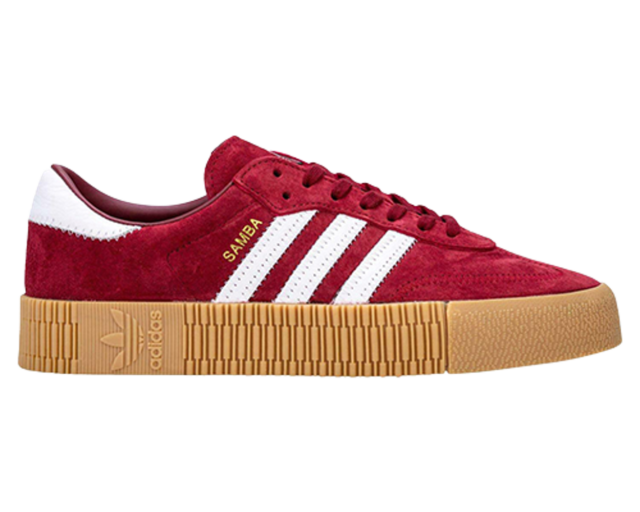 adidas Sambarose shoes for women are ideal for casual activities and come in a variety of retro styles.
What are the signature style elements of the adidas Samba shoe?

The three stripes on the sides of the uppers are one of the most easily recognizable elements of this women's streetstyle adidas shoes. While this pair of shoes aren't cleats, some of the aesthetic elements are inspired by soccer shoes. For instance, the strip of material on the toe is carried up from the lower portion of the upper. This shoe has a thick sole and uses a lace closure, both to conform to the soccer-style and to provide a comfortable fit, so it can be adjusted depending on how tightly you tie them. It's also a low-top just like soccer cleats.

The women's adidas Samba shoes come in many classic and feminine colors. For instance, some of the classic colors include black with white stripes; all black; white with gray stripes; gray and white; black and gray; and tan. Some of the less common color schemes include silver, rose pink, lilac, teal, magenta, burgundy, and neon yellow.

adidas samba women - Black with white stripes

adidas samba women - Rose pink

adidas samba women - Silver

There are two types of materials that are used for the uppers. Leather is one of the most common materials. However, these shoes can also have uppers made from primeknit, a type of mechanically knitted material that offers great strength while still providing flexibility for the toes underneath.
What is the sizing on the Samba women's shoe like?
The Samba shoe, like most OG casual sneakers for women, is available in women's sizes 4 to 11. Additionally, the women's version of the Samba shoe is cut to fit a woman's feet, so while you can buy and wear a man's Samba shoe, the fit might be a little different. The Samba shoe is a low-rise shoe that runs true to size for most people. These shoes are only available in standard width. See the manufacturer's site for details.
What else should you know when choosing a pair of women's street style adidas shoes?
There's a platform sole made of rubber, which adds height. These shoes easily coordinate with a variety of outfits.
Content provided for informational purposes only. eBay is not affiliated with or endorsed by adidas.