Save on Samsung Galaxy Mega Smartphones
Showing slide {CURRENT_SLIDE} of {TOTAL_SLIDES} - Best Selling
Showing slide {CURRENT_SLIDE} of {TOTAL_SLIDES} - Top Rated
About Samsung Galaxy Mega
Showing slide {CURRENT_SLIDE} of {TOTAL_SLIDES}
Galaxy Mega performance.

Power is nearly non-stop. Both phones run on the Android 4.2.2 software and 1.5 GB of RAM. The 6.3 model is upgradable to 4.4.2 KitKat OS.

Two versions for more choices.

Watch your shows with ease. Available in 5.8-inch and 6.3-inch screens, the screens have rounded corners and are thinner making them easier to handle.

Camera capacities.

Both versions have 8MP rear and 1.9 MP front cameras. They include an LED flash, autofocusing, and a CMOS image sensor.

A personal assistant you can depend on.

With S Voice, you have an assistant to navigate for you and perform actions at your request. The app can make appointments, open other apps, or update your social media accounts.
eBay has provided more information about this product above and is not affiliated with or endorsed by Samsung.
Price Trends
Samsung Galaxy Mega - Price New and Used
New Price*
from $78 to $170
Used Price*
from $69 to $86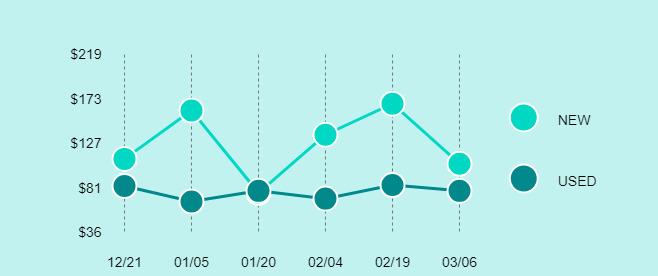 *The average sold price is calculated based on "Buy It Now" items sold within the 90 day period described above (excluding shipping and handling). Each interval represents a 15 day period. There is no guarantee that items will always be listed at a price within the provided range.
Compare Similar Models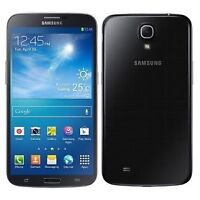 Samsung Galaxy Mega
Operating System
Android 4.2 (Jelly Bean)
Camera
8 MP Rear / 1.9 MP Front
Chipset
Qualcomm Snapdragon 400
Dimensions
6.59 x 3.46 x 0.31 in
Showing slide {CURRENT_SLIDE} of {TOTAL_SLIDES}
Top 5 High ratings
Top 5 Low ratings
Replacement phone

Replaced a Mega I had that got wet. Vision impaired, and I like the large screen and large number pad. Battery lasts two days between charges. My safety case fit like a glove from my old phone and this one came with a screen saver screen already on the front face. I thought I would have to buy a new one. Had trouble getting the phone turned on to my old number and I lost all my contact info. when I got my old phone wet. AT &T service centers hard to come by; out here in nowhere Kansas.

Verified purchase: Yes

Saamsung Mega 6.3 - Still big and still the best!

This is my second Samsung Mega 6.3. The first one got it's face shattered after 6 years and needed replacing. I'm a big guy 6'4" and holding tiny phones with tiny keyboards and tiny number keys is just inefficient as hell. The Samsung Mega has style, heft, and a great display. It's easy to use and is pretty dam rugged. I've dropped mine from the second floor and it survived fine. 6 years as my daily truck driving phone, with all the jostling and banging around and it still worked great. And the camera is incredible! It takes pictures good enough to be used on real estate websites unedited! And the closeups of the kids and grandchildren are amazing as well! There's just nothing about the Mega 6.3 I'd change, which pretty much explains why, when I stumbled and fell and crushed the display on the edge of my desk, I just got right back onto eBay and found another one. (Getting the original fixed as well!) Very well done Samsung - the Mega 6.3 is a great product. Maybe big guys like it more than little guys, but man it's a whole lot of fun in one sweett mega-sized phone! (BTW: Still fits into my pants pockets without a case - AND even with when it's wearing the OtterBox Defender case it still fits into the side pocket of my Dickies work pants). Get some guys!

Verified purchase: Yes

A super smart phone

This 3 year old(released 2013) phone, is a bargain on the market. Its superior to the newer Note 4&5 in many aspects, as I've found on the "phone arena" web site. It comes pre-loaded with several useful apps, and fairly little bloat ware. It comes with a neat stylus, that inserts into the bottom for storage, that is useful for many features. The stylus almost acts as a mouse for a computer, with a button that allows you to make selections to copy an paste. The screen is pretty big at 5.7 inches. It has a great battery(3200mAh) life at 25 hours of talk time. Its also able to run multiple apps on the same screen, like note pad and calculator for example. It even has a user removable battery (anyone who's had a phone that didn't have it knows how frustrating it can be), , The down sides of the phone; it has the weird USB 3.0 double port, however a standard USB 2.0 will work with it as well. Its a large phone for one handed use, though there is a one handed use mode in the software., , I made the comparisons between the Note 3,4,&5 for specs; I chose the Note 3 Because the Note 4&5's specs weren't much better, and some were worse (its 3072mb of RAM vs the Note 5's 2048mb for example.) If you're a fan of the Samsung Galaxies, you won't be disappointed in this phone.

Verified purchase: Yes

My favorite phone so far

I use my phone all the time, it goes everywhere with me. It is my phone, directory, messages, clock and alarm, calculator, weather report, email, camera, and so much more. At age 68 it is my connection with my family and friends, and we all text and email constantly. I found this very easy to set up, very similar to my previous LG. With how much this phone is on, I charge it only every 2 days. The size of the screen is amazing. I showed it to a friend and he said, this must be an android. I said no, it's a Samsung. He was impressed. I am showing all my techie friends.

Verified purchase: Yes

Great phone for my needs

I purchased this phone because of its size. I had the Note 2 for about a year and a half. It was good but, I'm far sighted and the mega screen is amazing. To my surprise, there are a variety of cases out there for it. Yes, it's an adjustment to handle, but after a couple days, the other features out way the size adjustment. I'm not really tech savy, so when I say, " for my needs" I mean exactly that....I text, take pics, play games, browse the web, read books, and newspapers online. It fits me perfectly. Bonus...it arrived sooner than expected. The seller Bidallies, is great with questions. I'll purchase from them again

Verified purchase: Yes
Tell us what you think

- opens in new window or tab