Introduction to the Rolex GMT-Master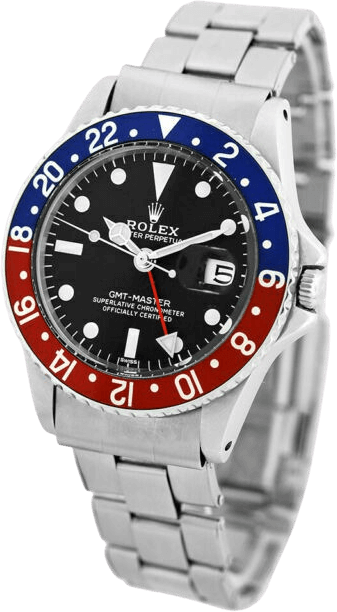 Originally created as a way for pilots to keep track of two time zones, the Rolex GMT-Master has grown to become one of the most famous luxury sports watches of all time. Although Rolex no longer produces them, used GMT-Master 1 models remain popular in the pre-owned market with both seasoned collectors hunting for desirable references and newer buyers looking for a good deal.
History of the
Rolex GMT-Master

Following the 1953 release of the Explorer watch for adventurers and the Submariner watch for SCUBA divers, Rolex built another tool watch for a specific audience a few years later. The Rolex GMT-Master made its debut in 1955, conceived explicitly for pilots. To avoid any confusion, pilots follow a standard time, which was Greenwich Mean Time (GMT) during that era. Rolex created the GMT-Master watch to allow pilots to read GMT and local time simultaneously.

Equipped with a rotating bezel graduated to 24 hours, the wearer simply had to turn the bezel so that the correct hour aligned with the fourth hand on the dial to display the second time zone. One of the distinguishing characteristics of the first GMT-Master watch was its bi-colored red and blue bezel, which later picked up the nickname "Pepsi." The use of two colors served to distinguish between daylight and night hours of the second time zone.

Along with becoming the official watch of Pan American World Airways, the Rolex GMT-Master was also used by British and French pilots during the final tests of the Concorde. Yet, the appeal of the GMT-Master watch quickly spread beyond the aviation crowd. It became a favorite among frequent travelers since they could set the second time zone to home time whilst away. Over the next four decades, Rolex expanded the GMT-Master watch collection with updated models in an assortment of materials and bezel colors. By the end of the 20th Century, Rolex phased out the original GMT-Master 1 collection and replaced it with the GMT-Master II.
GMT-Master Timeline
Pan Am asks Rolex to create a pilot watch that displays two time zones
Rolex introduces steel GMT-Master ref. 6542
Yellow gold GMT-Master ref. 6542
Yellow Gold GMT-Master 1675/8
Concorde pilots wore GMT-Master watches during final test flights
Two-tone steel/gold GMT-Master 1675/3 "Root Beer"
All black bezel introduced as an option
Rolex discontinues GMT-Master model in favor of GMT-Master II
GMT-Master Design Over Four Generations
Regardless of the specific model, the essential design traits of any GMT-Master watch include:
Round Oyster case with screw-down winding crown
Bi-directional rotating bezel marked to 24 hours
Traditional hour hand that makes one full rotation every 12 hours (first time zone)
Arrow-tipped GMT hour hand that makes one full rotation every 24 hours (second time zone)
Hour hands are coupled; when adjusting the local time, the GMT hand moves too
Date window at 3 o'clock magnified by Cyclops
Dial with round, baton and triangular hour markers (most precious metal versions have the so-called "nipple-style" dial characterized by raised gold markers)
Automatic movement
When considering all the bezel colors, dial variations and material options, there are many different used Rolex GMT-Master watches to choose from. However, the entire lineage can be segmented into four reference families spread over four decades.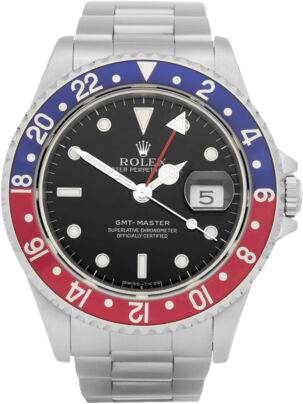 First Generation: GMT-Master 6254 (1955 – 1959)

38mm case without crown guards
Stainless steel, yellow gold
Bakelite bezel
Bi-colored red/blue bezel with steel models
Burgundy bezel with yellow gold models
Acrylic crystal
Caliber 1036, 1065, 1066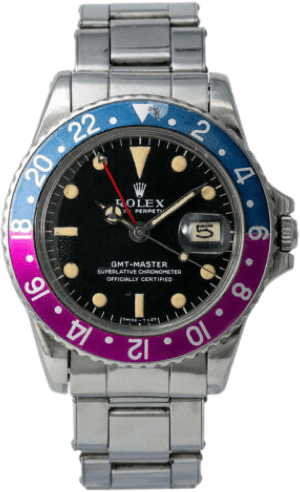 Second Generation: GMT-Master 1675 (1959-1980)

40mm case with crown guards
Stainless steel (1675), yellow gold (1675/8), two-tone steel and gold (1675/3)
Aluminum bezels
Bezel colors: Red/blue, burgundy, brown/yellow, black
Acrylic crystal
Caliber 1565, 1575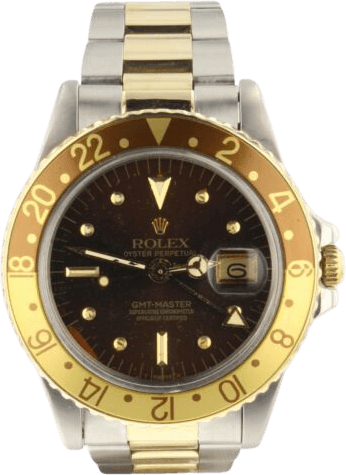 Third Generation: GMT-Master 1675x (1981 – 1988)

40mm case with crown guards
Stainless steel (16750), yellow gold (16758), two-tone steel and gold (16753)
Aluminum bezels
Bezel colors: Red/blue, brown/yellow, black
Acrylic crystal
Caliber 3075 with quickset date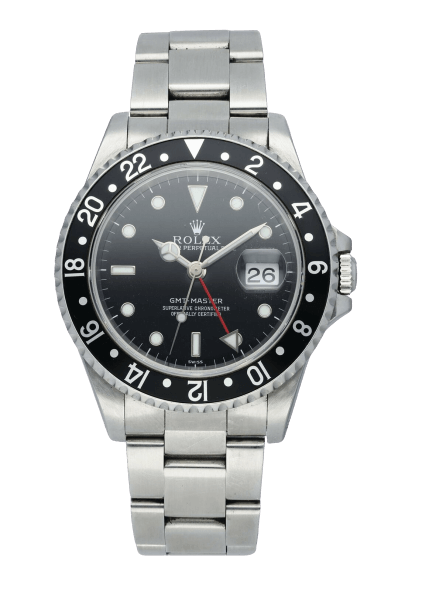 Fourth Generation: GMT-Master 16700 (1988 – 1999)

40mm case with crown guards
Only in stainless steel
Aluminum bezels
Bezel colors: Red/blue, black
Sapphire crystal
Caliber 3175 with quickset date
A watch is considered vintage if it is at least 30 years old. Therefore, the majority of the GMT-Master 1 watches are indeed vintage—or less a decade from being so. Vintage Rolex GMT watches may require more frequent servicing due to their age, and it is never recommended to submerge them in water.
GMT-Master Price and Collectability

Similar to most Rolex sports watches, vintage GMT-Master watches are popular with Rolex collectors and can be very expensive. The first reference, GMT-Master ref. 6254, is particularly collectible and is increasingly difficult to find with the original Bakelite bezels.

Since the Rolex GMT 1675 was in production for so long, there are plenty of variation within the same reference family. For instance, used GMT-Master 1675 examples from the early-1960s will have pointed crown guards and glossy dials with gold text (referred to as "gilt dials") while later examples have matte dials with white printed text and rounded crown guards.

Generally speaking, the cheapest pre-owned GMT-Master steel model is the ref. 16700—which also happens to be the newest—with prices starting at $10,000. Exclusively made in stainless steel, the 16700 combines the classic Rolex GMT Master Pepsi style with modern touches like sapphire crystal and quickset date. However, Rolex GMT two-tone models, such as the ref. 16753, can be less expensive, with prices starting at around $7,500.

The two-tone yellow gold and steel Rolex GMT-Master ref. 1675/3 with a brown and yellow "Root Beer" bezel is also known as the "Clint Eastwood" because the actor wore his personal one in several films.
Watchmaker's Perspective

When Rolex introduced the GMT Master in 1955, it contained a revolutionary mechanical movement: the Caliber 1036. At first glance, Caliber 1036 appears to be a somewhat normal mechanical movement from the 1950s. It has a bi-directional automatic winding rotor, 25 jewels, date indication and shock protecting jewels for the balance wheel assembly.

But there's more to the Caliber 1036; flipping the movement over to the dial side reveals that it is the first to be able to display two time zones simultaneously. The way that Caliber 1036 accomplished this feat is different than what Rolex does for its modern GMT movements. Namely, the GMT hand is attached to the hour hand, meaning that it cannot be adjusted separately. Instead, the second time zone is indicated by rotating the bezel on the watch.

In 1959, Rolex upgraded the movement in the Rolex GMT Master, using the new Caliber 1565. Caliber 1565 improved on Caliber 1036 and was able to adjust the GMT hand independently from the hour hand. All modern versions of the Rolex GMT Master now benefit from this innovation, making it quick and easy for the wearer to see the time in two time zones.