Introduction to the Rolex Cosmograph Daytona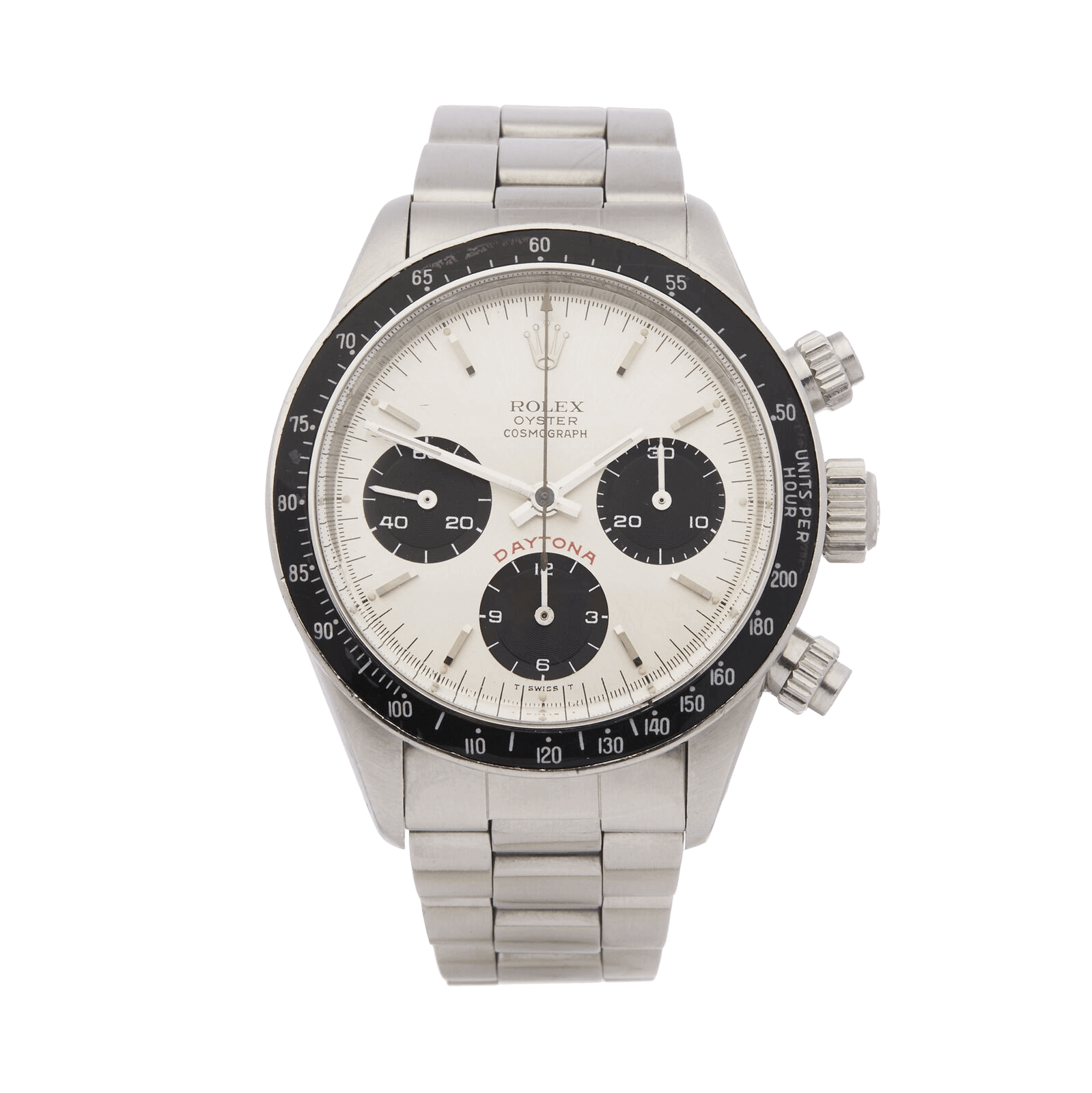 Characterized by two chronograph pushers on the case, a tachymeter scale on the bezel and three registers on the dial, the Rolex Cosmograph Daytona is the world's most coveted chronograph watch. Whether vintage, retro or modern, nearly any used Rolex Daytona for sale in the secondary market is highly valued thanks to its booming demand.
History of the Rolex Daytona


The Cosmograph made its debut in 1963 as Rolex's flagship chronograph model. Shortly after, Rolex added the name "Daytona" to emphasize the brand's partnership with the Daytona Speedway in Florida. Now more commonly known as the Rolex Daytona, the history of the watch can be segmented into three generations:

1963 – 1988 — First Daytona generation with manual-winding movements and four-digit reference numbers 62xx
1988 – 2000 – Second Daytona generation with Zenith El Primero-based automatic movements and five-digit reference numbers 165xx
2000 – Present – Third Daytona generation with in-house made automatic movements and six-digit reference numbers 1165xx

It may come as a surprise given the demand for them today, but vintage Daytona watches were not great sellers during their era. They were considered old-fashioned due to their manual-winding movements (automatic chronograph movements were invented in 1969) and smaller 38mm case sizes. What's more, the dial designs were deemed somewhat out-of-date—particularly the "exotic" dials with Art Deco style font. The Daytona "exotic dials" later became known as the Daytona "Paul Newman" dials when it was discovered that the famous actor wore one.

In 1988, Rolex introduced a completely redesigned Cosmograph Daytona collection. The watches now featured larger 40mm cases, a refreshed dial design and most importantly, an automatic movement called Caliber 4030. However, to construct Caliber 4030, Rolex outsourced the base movement from Zenith and modified it. The then-new automatic Daytona models were a huge hit and Rolex expanded the lineup with an assortment of material options and dial designs over the following decades. In 2000, Rolex unveiled a revamped Cosmograph Daytona collection. While the watches looked similar to the previous generation, inside the cases was the brand new Caliber 4130. Unlike Caliber 4030, Caliber 4130 was entirely designed and built by Rolex. A major design shift happened in 2011 with the introduction of the first Daytona fitted with a Cerachrom (Rolex's proprietary ceramic alloy) bezel. Following several precious metal versions with ceramic bezels, Rolex finally introduced a stainless steel and Cerachrom Daytona, the ref. 116500LN, in 2016, which is now one of the most popular luxury watches ever made.
Rolex Daytona Timeline
Rolex introduces the Cosmograph Daytona


First automatic Daytona with in-house movement
First Everose gold Daytona
First Daytona with Cerachrom ceramic bezel
First steel and ceramic Daytona
First Daytona models with Oysterflex bracelets
Daytona Design, Features and Maintenance
A chronograph is a watch that features a stopwatch function. On a Rolex Daytona, the two chronograph pushers flanking the winding crown activate the chronograph hand at the center of the dial. The top pusher starts and stops the hand while the bottom pusher resets it back to zero. The Rolex Daytona also includes a tachymeter scale on the bezel (except for gem-set bezel versions) that allows wearers to track average speed or distance traveled of a moving object, such as a racecar.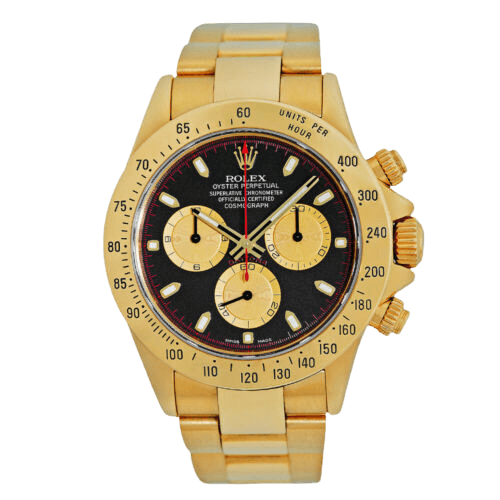 Vintage Daytona

38mm cases in steel or yellow gold
Metal bezels or black plastic bezel inserts. Some rare gem-set bezels
Pump or screw-down chronograph pushers
Valjoux-based manual-winding movements
Three registers (30-minute counter at 3, 12-hour counter at 6, running seconds at 9) in a solid color that contrasts with the main dial
Standard vintage Daytona dials or Exotic (aka Paul Newman) style dials
Acrylic crystals
Three-link Oyster bracelets
References: 6239, 6241, 6240, 6262, 6264, 6265, 6263, 6269, 6270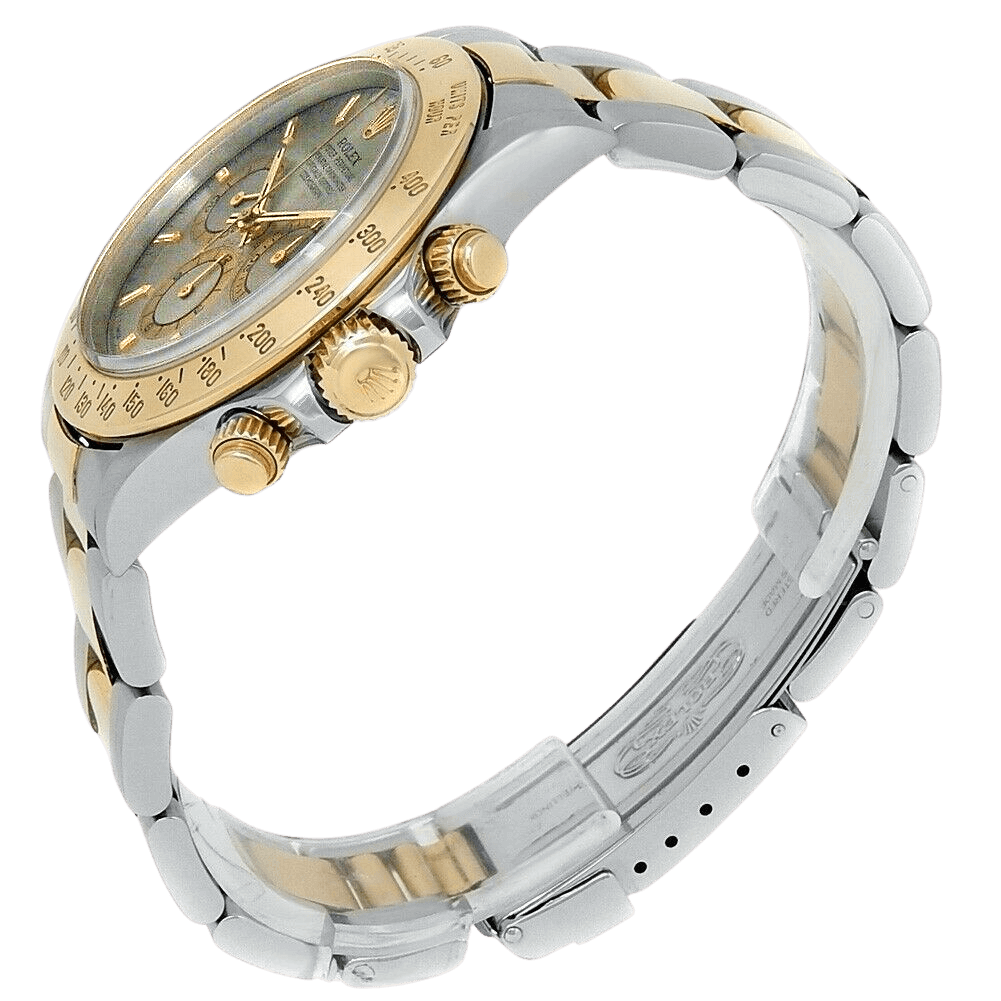 "Zenith" Daytona

40mm cases in steel

, yellow gold, white gold,

Everose gold

, two-tone steel/yellow gold or platinum
Metal or gem-set bezels
Screw-down chronograph pushers
Zenith El-Primero-based Caliber 4030 automatic movement
Rings around the three registers (30-minute counter at 3, 12-hour counter at 6, running seconds at 9)
Sapphire crystals
Three-link Oyster bracelets or leather straps
References: 16520, 16523, 16528, 16518, 16568, 16519, 16588, 16589, 16599, 16559, 16598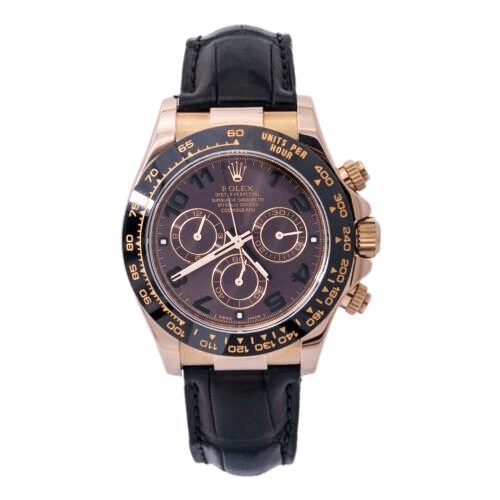 In-House Daytona

40mm cases in steel, yellow gold, white gold, Everose gold, two-tone steel/yellow gold or platinum
Metal, Cerachrom, or gem-set bezels
Screw-down chronograph pushers
In-house Caliber 4130 automatic movement
Three registers that are either solid or with rings around them (30-minute counter at 3, running seconds at 6, 12-hour counter at 9)
Sapphire crystals
Three-link Oyster bracelet, leather straps, or Oysterflex rubber bracelet
References: 116520, 116523, 116528, 116518, 116519, 116515LN, 116568, 116598, 116599, 116589, 116598, 116599, 116576, 116595, 116578, 116588, 116509, 116505, 116506, 116500LN, 116503, 116508, 116518LN, 116519LN, 116515LN
Rolex recommends that you service your Rolex watch at least every 10 years to ensure timekeeping accuracy and water-resistance. However, note that vintage Daytona watches are no longer considered water-resistant and should never be exposed to water.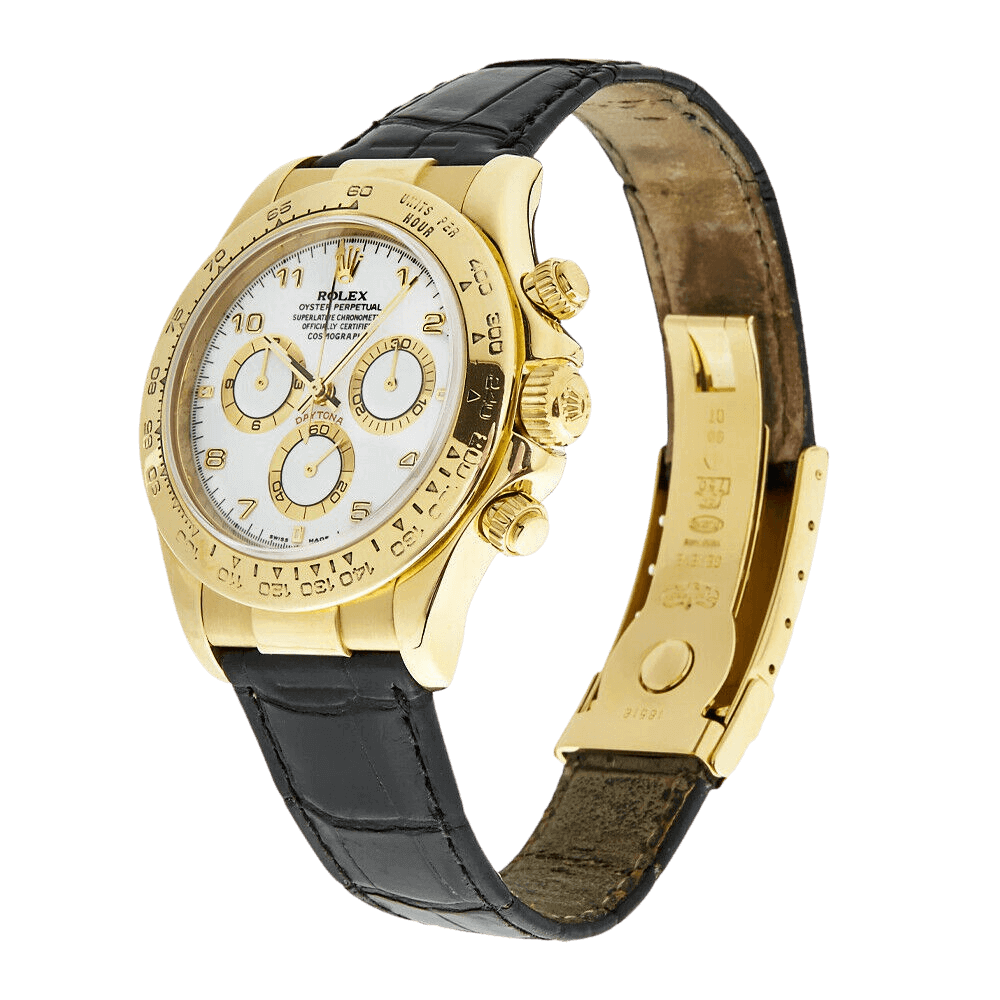 Rolex Cosmograph Daytona Value and Collectability

The Rolex Daytona is highly sought-after by serious watch collectors and regular Rolex fans alike. They are also considered to be a good Rolex watch to invest in, given their tendency to retain or increase in value.

Generally speaking, vintage Daytona watches are the most expensive pre-owned Rolex watches you will find in the market. Vintage Rolex Daytona models with standard dials start at $50,000, while those with "Paul Newman" dials can be valued around five times that. Automatic Rolex Cosmograph Daytona price points in the pre-owned market are substantial too. Interestingly, pre-owned Daytona models in stainless steel are priced above retail, while precious metal and two-tone variants are usually (there are exceptions like the famous Rolex Daytona "Rainbow" models) slightly discounted when secondhand. For instance, due to the high demand for the current-production stainless steel Daytona ref. 116500LN, it is not uncommon for these to be valued around double its $12,400 retail price in the secondary market.

When Paul Newman's own Rolex Daytona "Paul Newman" went up for auction in 2017, it sold for an incredible $17.8 million. This is the most expensive Rolex watch ever sold.
Watchmaker's Perspective

The Caliber 4130 in the Rolex Cosmograph Daytona sets the standard for automatic chronograph movements, and for good reason. When you press the start/stop pusher on any chronograph, the movement's clutch does its job to start or stop the chronograph mechanism. It does this by engaging the stationary gears in the chronograph mechanism with the constantly running gears in the movement's gear train.

The Caliber 4130 uses a special clutch, called a vertical clutch, which offers a number of improvements over the traditional lateral clutch. With a traditional lateral clutch, the balance wheel loses amplitude while the chronograph is engaged. This lowers the timekeeping precision of the movement. The vertical clutch in the Caliber 4130 eliminates this issue, allowing the balance wheel to run at full amplitude, regardless of whether the chronograph is engaged or not. In addition, the traditional lateral clutch mechanism often causes a stutter of the chronograph seconds hand when it is engaged. Again, the vertical clutch in the Caliber 4130 eliminates this issue, allowing for a higher degree of precision when measuring elapsed time.

The years of research and development that went into the Caliber 4130 is evident in the real-world improvements that the Rolex Cosmograph Daytona offers.