PUMA Speed Cat Sneakers
for Men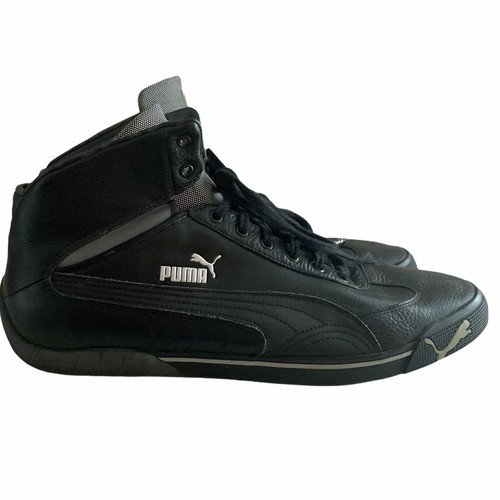 PUMA makes their sneakers with the latest technology, design, and style. These sneakers allow you to run long distances due to their incredible characteristics. PUMA Speed Cat sneakers for men have a wide variety of shoes at a broad range of prices. The PUMA Speed Cat sneaker was originally released as an F1 racing shoe. The appearance is sleek and simple. These sneakers represent a long-standing competence in motorsport.
What are the models offered by PUMA Speed Cat sneakers for men?

Puma cat sneakers have models each specified by different features. These models have different shapes. The Puma speed cat sneakers for men come in different colors. The models available are:

PUMA Blaze of Glory: The PUMA Blaze of Glory is unique casual footwear that delivers a great fit. It is one of the brand's classic silhouettes. You can't get enough of the swagger when it comes to this model. The PUMA Blaze of Glory features a new sock-like construction for a snug fit. It has a cleaner vamp over its trinomic tooling. This version has a suede, leather and unbuckle upper. It features a lace closure for a snug fit. There is a heel pull tab for easy on and off. This sneaker has a midsole featuring throwback PUMA Trinomic technology. The model provides a rubber sole for cushioning, stability and motion control. There is a PUMA logo label at the tongue. These model has many varieties and comes in different sizes. See the manufacturer's site for more details.

PUMA RS-X: PUMA RS-X collection contains cushioning technology. This model has a bulky silhouette design, material mixes and bold color palette. PUMA RS-X has a mesh upper with leather and suede overlays. This features a molded sock liner and lace closure for snug fit. There is a lightweight PU midsole for soft cushioning. The model has a rubber outsole for most traction and grip. PUMA RS-X embosses a textile heel piece. This model also has a PUMA RS-X branding.
What are the benefits of using PUMA Speed Cat sneakers for men?
PUMA Speed Cat Sneakers for men have a tough sole hence handling the tough terrain of sporting grounds. These shoes have lateral and vertical stability. The sneakers have durable exterior and interior features. These sneakers have a comfortable slip-on fit hence good for training. A bulky silhouette gives the shoe a modern edge taking sports to a new height. Their knitted upper solution provides customizable lacing while maintaining a sock-like feel.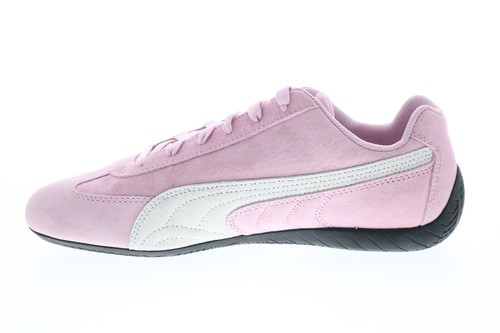 What are the collections of PUMA Speed Cat sneakers for men?

PUMA Speed Cat sneakers for men offers many different collections. They differ in their activities and the different models. The different collections are:

Low-top athletic racing shoes: These shoes are fit for a marathon, competition, morning run or a long-distance race. The shoes can be worn with sweat-wicking shirts and shorts. They have a leather and nubuck upper. These shoes have perforation on the toe providing ventilation. These low top athletic racing shoes are padded on the tongue and have a collar for comfort. The shoes are lightweight enough for a race. These low top athletic racing shoes have arch support for stability. These shoes have deeper forefoot flex grooves for flexibility. This also prevents easy tearing of the shoe material.
European streetwear sneakers: Streetwear has made its way into luxury fashion. A pair of PUMA sneakers and a hoodie is a great combination. This fashion is comfortable and convenient without compromising on style. PUMA European streetwear sneakers are breathable, lightweight, and cushioned. These sneakers have arch support. Some of them glow in the dark.

Fashion sneakers: These fashion sneakers are made from lightweight, ultra-breathable materials. They are inspired by the classic trainer design trends of the '80s. These sneakers come in different colors and sizes. Remember to see the manufacturer's site for more information.
Motorsport shoes: These shoes are designed to provide grip for use with vehicle controls. The motorsport shoes have a soft leather inner. The pebble sole spread across the full length and width of the shoe boosts flexibility. These shoes come in different, but limited, colors.
Suede racing low-top sneakers: The suede racing low-top sneakers have a textile inner material. These sneakers have a gum rubber sole and a flat heel type. The upper material is suede. The shoes provide the comfort needed for racing. Their lower top style allows freedom of movement. These racing shoes have a flame retardant liner, padded ankles and arch supports.
PUMA Speed Cats vs. Motorsport shoes
| | PUMA Speed Cats | Motorsport shoes |
| --- | --- | --- |
| Shoe shaft style | Low top | Low top |
| Closures | Laces | Laces |
| Available Colors | 9 | 9 |
Content provided for informational purposes only. eBay is not affiliated with or endorsed by PUMA.