PUMA Roma Sneakers for Men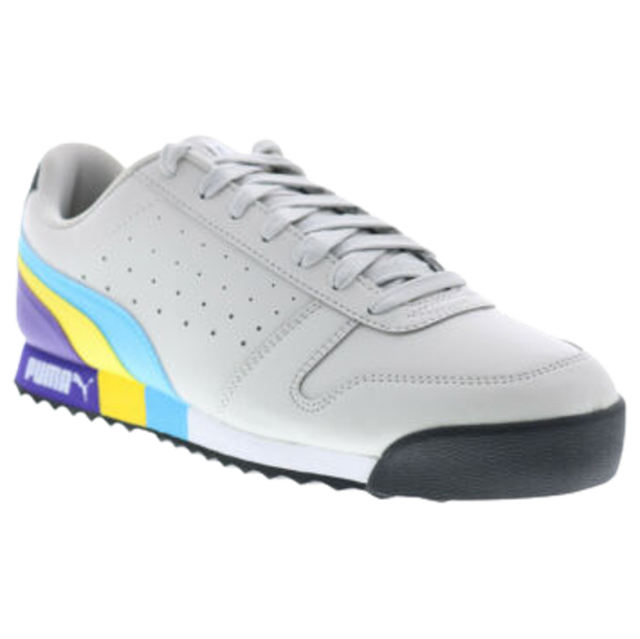 When and how was the Puma Roma born?
Originally the Puma Roma was an all-white track training shoe. Its first release occurred in 1968 and sought to celebrate the Union of European Football Associations Championship, which was in Italy that year. It rode the wave of surging trainer shoe popularity in the 1970s, bolstered by its clean and sporty look. The terrace culture of the '80s, comprised largely of European football fans, still embraced the look of the Puma Roma. On the original shoe's 40th anniversary in 2008, Puma re-released the classic Roma as the Italia 68. This version's colorway is white with a red stripe. Minimal trimming in Azurri blue and the Italian National football team logo on the tongue once again commemorate the 1968 champions.
How are Puma Roma athletic shoes stylish?

Puma Roma sneakers for men, like numerous other athletic shoes, rose to popularity through their stylish looks rather than their performance. The Roma has a sports-inspired design with white uppers and a wide red or blue stripe on the side. With a ridged rubber outsole and a prominent heel tag, Romas are '80s-reminiscent retro-style sneakers that appeal to a wide range of generations. The low top shoe has a gold-scripted Roma inscription on the uppers. It has earned a spot among the '80s Casual Classics collection. A puma stripe is a broad swoop that merges three strips and widens from the heel to the forefoot.

You most often see Puma Romas paired with jeans. The '70s matched Pumas and tracksuits while the '90s paired the sneakers with boot-cut jeans. Casual wearers tried to emulate their Britpop idols. These kicks feature several colorways highlighting just a few as follows:

White with blue
White with red
Black with black
Red with white
Puma - Black with black; White borders and white midsole

Puma Roma - Red with White

Puma Roma - Black with White

Puma Roma - Green with White

A notable collaboration was the revival of the Roma 68 in 2017. Puma cooperated with Thomas Maier, a big-time German designer, to model the shoe which has white uppers in a palm tree motif and a black formstripe. Another collaboration occurred with Ferrari. Ferrari x Roma shoes have the car brand's logo and are in seven colorways featuring various arrangements of red, white, and black.

Several models add character to the Puma Roma:

Natural Warmth
Basic Holographic - Black shoes
Basic
Basic Geometric Camo - Lime green soles

Another version of the Puma Roma uses leather suede in the uppers. This makes for classic suede sneakers.
Are Puma Romas good running shoes?

The Puma Romas are lightweight training shoes that have several specifications that make them suitable for running:

Roomy - T toe overlay
Comfort - EVA midsole and medial arch support
Traction is excellent - Spiked rubber outsole
Extra support - Padded collar and tongue
Leather uppers with textile lining - Breathable

Puma Romas leather lifestyle sneakers run a little small, so weareres usually need to go up a half or full size.
Puma Roma vs. Puma Asix
| | Roma 68 | Asix |
| --- | --- | --- |
| Closures | Laces | Laces |
| Fit | A little small | True to size |
| Main Sport | Lifestyle | Running |
| Available Colors | 18 | 8 |
| Specs | EVA midsole, T toe | EVA midsole, TPU heel |
Content provided for informational purposes only. eBay is not affiliated with or endorsed by Puma, Ferrari, adidas, or ASICS.