Savor Startling Color Combos with Puma RS-X Sneakers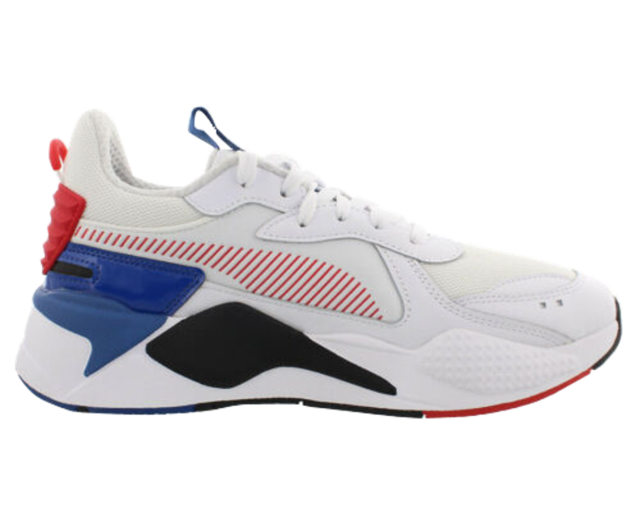 For many people, sneakers are an extension of their style, which means that footwear with bright colors and interesting shapes is sometimes favored by sneakerheads. The Puma RS-X sneaker is one such shoe, and it stands out when combined with just about any ensemble. These streetwear shoes are part of the reinvention of the Puma brand, and as a result, have their unique sense of style. The shoe definitely combines retro styling with a modern aesthetic that emulates what someone from the 1980s or '90s might expect of a shoe from the future. This unique aesthetic has created a shoe that has its share of fans.
What is the history
of the Puma RS-X?

The Puma RS-X is the updated version of Puma's Running System sneakers, which were referred to as the RS line. The shoe uses the same Running System sole, which originated in 1986. This technology uses high-quality cushioning intended to make the foot feel comfortable even when walking long distances. This high level of cushioning also provides shock absorption to minimize the chance of long runs causing damage to the ankles, other bones, or tendons of the feet and legs.

There's also a higher degree of bounce-back while running, which some users describe as similar to running on the foam pads that are often found in playgrounds. The RS-X version of the sneaker was recently reintroduced for the fans of the original line. The upper is much more complex than the original, with a more varied color palette used in each iteration. As a result, these multicolored running shoes are quite interesting to look at, and they make for a unique fashion statement.
Are these Puma RS-X sneakers breathable enough for exercise?

When looking at these lifestyle sneakers, one of the first things you might notice is how they are primarily made of mesh. This is a lightweight, vented material that makes it easy for air to come into and flow out of the shoe when you're exercising. This breathability is absolutely critical for anyone working out since air flowing into the toe box of a shoe helps to cool this sometimes stifled area.

Additionally, when a shoe can breathe easily, the incoming and outgoing air also helps evaporate or "wick away" moisture that may have found its way into the shoe. This evaporation produces a similar cooling sensation, and when moisture within the shoe evaporates, it prevents certain water-loving bacteria from forming colonies within the sneaker. These bacteria are typically the reason why shoes smell bad after extensive wear. For these sneakers, these important mesh areas are directly above the toe area, along the sides, and around the tongue and ankle cup.
Why are the Puma RS-X often
referred to as "toys?
This comes down to the aesthetic of the sneaker. Rather than shooting for the more aesthetically simple design of the original RS series, with the RS-X, Puma decided to create a visually compelling shoe. As a result, you'll see many straight lines, geometrical shapes, and curves throughout the design of the sneaker. This, combined with the unique color swaths throughout the shoe, has earned the RS-X the nickname of "toy."
This is because of how much the shoes fit the aesthetic of toys from the '80s and '90s. These are fashion leather sneakers that use multiple materials to create a varied toy-like look: There's mesh throughout the upper, but there's also leather and a polyurethane midsole that's designed to be walking- and running-friendly.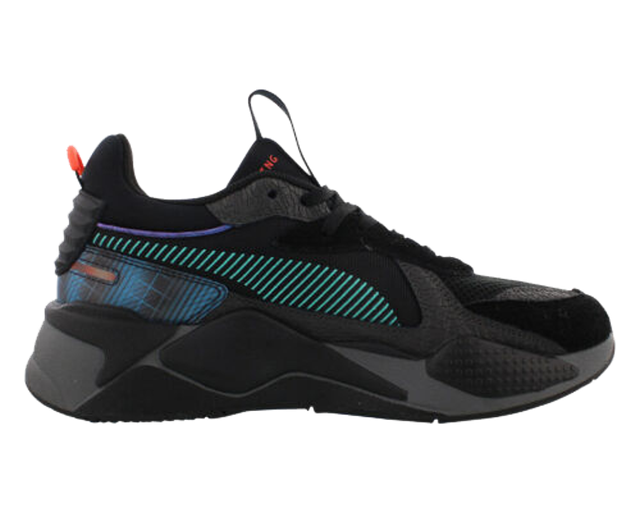 Do these Puma RS-X sneakers have good traction?

These are sneakers that are designed to grip most surfaces. Along the bottom outer side of the outsole, there is a section with a thin wave pattern that is designed to provide a good level of grip on hardwood or paved surfaces. Along the rear portions of the sole, you'll find gridded sections that also provide a good degree of grip.

These sections are all-important because these sections of the heel and sole are particularly thick so that you can pivot on most surfaces with relative ease. From a shaping perspective, this area of the shoe is relatively flat, save for the toe. This design makes walking and running feel more stable and supported and assists by helping you have a more natural-feeling gait.
Puma RS-X vs. Skechers GOrun OG Hyper
| | Puma RS-X | Skechers GOrun OG Hyper |
| --- | --- | --- |
| Colorways | 7 | 3 |
| Materials | Suede, Leather, Thermoplastic Polyurethane Midsole | Clouded Mesh, Rubber Outsole |
| Closures | Cloth Laces | Cloth Laces |
Content provided for informational purposes only. eBay is not affiliated with or endorsed by Puma or Skechers.