PUMA Ducati Shoes for Men: Credibility in the Motorsport Industry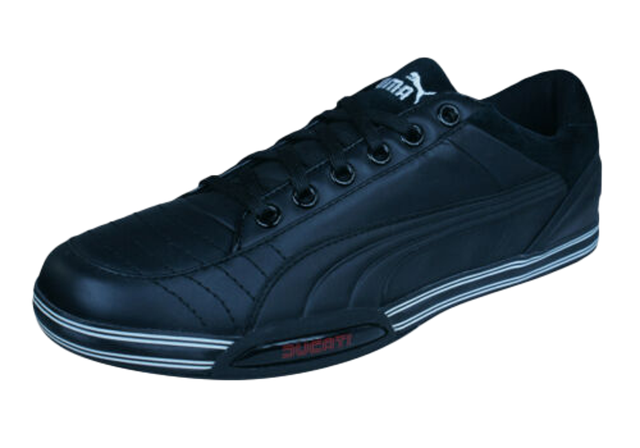 The PUMA Ducati athletic shoes for men have been a motorsport shoe since 2006 and are a result of a collaboration between PUMA and Ducati. These sneakers were designed to raise sustainable equity in the motorsport world and have become a desirable sport lifestyle sneaker as they offer a secure and comfortable fit. PUMA Ducati shoes for men offer unparalleled grip and cushioning regardless of your athletic needs. They are also great with heel stability in defense mode and lateral support.
What collections are offered in PUMA Ducati shoes for men?

The PUMA Ducati shoes for men offer many significant collections, including:

The PUMA Ducati Testastretta 3 men's shoes: These have a CPU shank that adds extra stability and support. PUMA Ducati shoes for men have a household leather upper for lightweight reasons and have a lace-up closure for a snug fit. They have a padded midsole for support and the comfortable rubber outsole with bike peg relaxation provides traction and stability.
The PUMA Hyper 2 Ducati casual shoes: These have a round-toe with a mid-top styling. PUMA Hyper 2 Ducati shoes come in a suede upper with textile overlays and stitched detail. These shoes have an adjustable strap across the midfoot with Velcro closure and have a soft padded footbed with branding at the heel. The outsole is tough and textured with deep grooves.
The PUMA Ducati Xelerate NM Lo: These shoes are implanted with a Ducati shield at the heel. They also have a soft PU-covered leather upper with synthetic trims. The closure system is laced up and the outsole is made of rubber. These shoes have PUMA branding on the tongue and feature a tire print detail of PUMA at the lateral sides.

The PUMA Xelerate Low Ducati NM: These shoes are round-toed. They have a low-top lace-up fastening and combine a modern style with classic mid-top construction. PUMA Xelerate Low Ducati shoes have a soft PU-coated leather upper with synthetic trimmings. They also have branding on the tongue and outsole. They have a rubber outsole with textured grooves and branding as well.
The PUMA Xelerate Mid Ducati: These have a new two-wheel silhouette with a more elaborated look. These sneakers have a lace-up closure system and upper leather. The width offered is medium to standard. You can pair these sneakers with jeans and a T-shirt.
What features do PUMA Ducati shoes for men have?
These sneakers have various features that play a role in the product's success. PUMA Ducati shoes for men has a super sleek design that pairs seamlessly with anything in your wardrobe. The upper synthetic provides a clean and street-smart look and has an eco ortholite insole with a padded ankle collar for added comfort. The Ducati branding and jumping cat logo is attractive to consumers. With a lace-up closure system and a low top shaft style, these shoes have a printed detail at the midsole. and the ankle height makes them a great sneaker for any motorsport fan. Also, these PUMA Ducati sneakers come in different colors, themes, characters, and sizes. See the manufacturer's site for more details.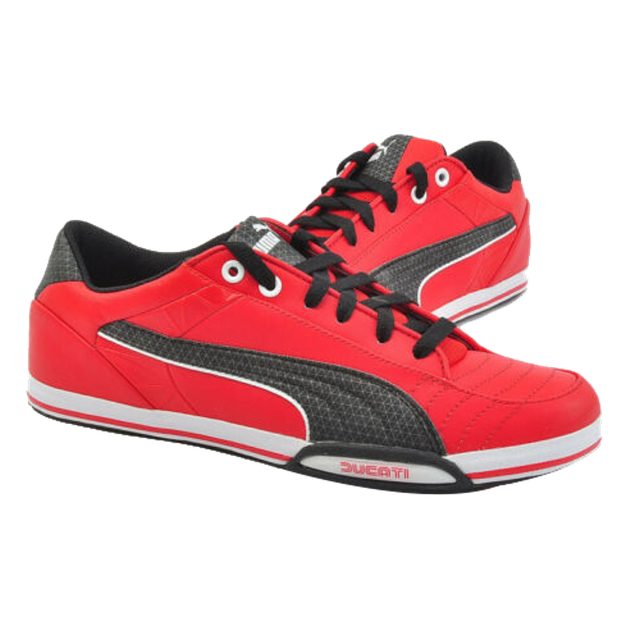 What types of PUMA Ducati athletic shoes for men are in the market?

Fashion sneakers: These come in different colors like PUMA red, PUMA silver, and white. These shoes have a synthetic sole and have a TPU shank that adds extra support and stability. Fashion sneakers feature a household leather upper with a padded midsole and rubber outsole. They go well with the brand's tees and some old jeans.
Motorsport sneakers: These have a standard shoe width, rubber outsole, durable, and offer a secure fit. The motorsport sneakers have a low-top shaft style and upper leather material making them suitable for different activities like gym, walking, and baseball. These sneakers offer cushioning and have great traction. You can get motorsport shoes in different themes and characters allowing them to pair well with denim jeans and tracksuits.

Racecar sneakers: These have upper leather, carbon optic heel construction, and fit true to size. Racecar sneakers have a tread pattern that allows air to flow between the car's feet and floor area while offering high traction. These shoes also come in different colors and patterns.
Motorcycle shoes: These are great for pushing on the pedal and offers excellent traction. The rubber outsole provides support and comfort for your entire foot.
Sport shoes: These offer unparalleled grip and excellent traction, protecting you from ground impacts. These shoes are lightweight with perforations made in the body of the shoe for better airflow and have a lace-up closure type. These shoes also have a panel and stitch detail which makes them durable. These shoes come in various sizes, so remember to see the manufacturer's site for more details.
PUMA Ducati athletic shoes versus Racecar sneakers :
| | PUMA Ducati | Racecar sneakers |
| --- | --- | --- |
| Shoe shaft style | Low top | Low top |
| Closures | Laces | Laces |
| Available Colors | 6 | Variety |
Content provided is for informational purposes only. eBay is not affiliated with or endorsed by PUMA or Ducati.