PUMA Clyde Sneakers Have
a Colorful History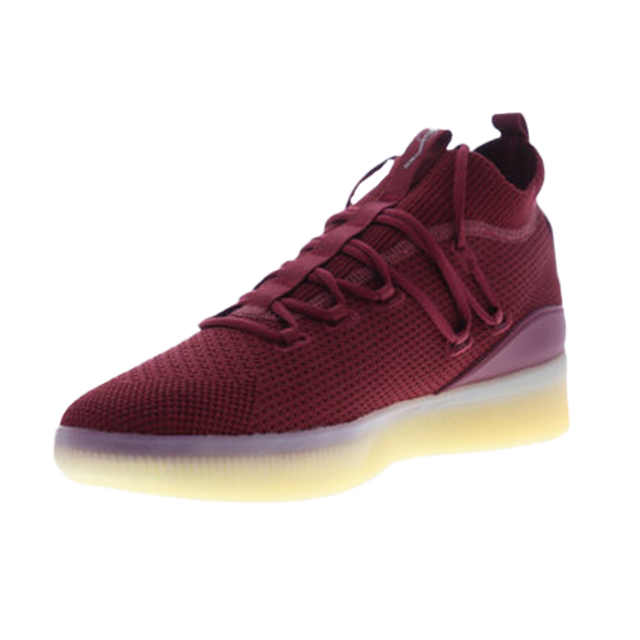 The PUMA Clyde sneakers for men have been an extremely successful line for the brand, and when you understand the story behind the sneaker line, it all makes sense. PUMA was already making huge inroads into the world of sports by the 1960s, having made shoes for football, running, and other sports. Basketball was the one area that they were still waiting to make a splash.
At the time, Knicks player Walt Frazier was making headlines as an extremely talented player as well as one of the hippest dressers on the scene. When he added a wide-brimmed hat to his ever-growing arsenal of stylish gear, people laughed. When the hit movie "Bonnie and Clyde" came out and Robert Redford's character wore the same style hat, Frazier earned the nickname "Clyde." Frazier's signature line with PUMA was launched in 1973, and it was called the "Clyde." The Clyde was the very first shoe named after a basketball player.
What types of Clyde shoes are there?

Many people think that because Walt Frazier played basketball, only Clyde basketball shoes were developed. In fact, there are many different types of Clyde sports shoes. In addition to the Clyde basketball shoes like the PUMA Clyde Court basketball shoes or the PUMA Clyde Hardwoods, there are other types of Clyde shoes.

There have been releases of PUMA Clyde men's golf shoes. There are also PUMA Clyde tennis shoes. The "Clyde" name is less about the sport, and it's more about the man behind the line. PUMA has honored and worked with Walt Frazier over the years to create a line of shoes that signifies elegance, flash, and that classic Walt Frazier style. One day Walt could be wearing something extremely flashy and attention-getting, and the next day he could wear something more subdued and elegant. All of the Clyde shoes reflect these aspects of Frazier's style. Some of the shoes are functional, while others are street style shoes.
What are the Big Sean sneakers?
Rapper Big Sean's collaboration with PUMA was released in 2018. They followed up that debut launch with a second collection of fashion sneakers that celebrated the PUMA Clyde and PUMA Suede silhouettes. The Big Sean PUMA Suede release has bright "Melon" and "Jellybean" colorways, while the Big Sean PUMA Clyde features a sleek, refined black colorway. The Clyde low-top sneaker has Big Sean's initials scrolled into the insole. The shoe comes with black laces, and there are pull tabs in the back of the heel that makes it easy to slip the shoes on and off.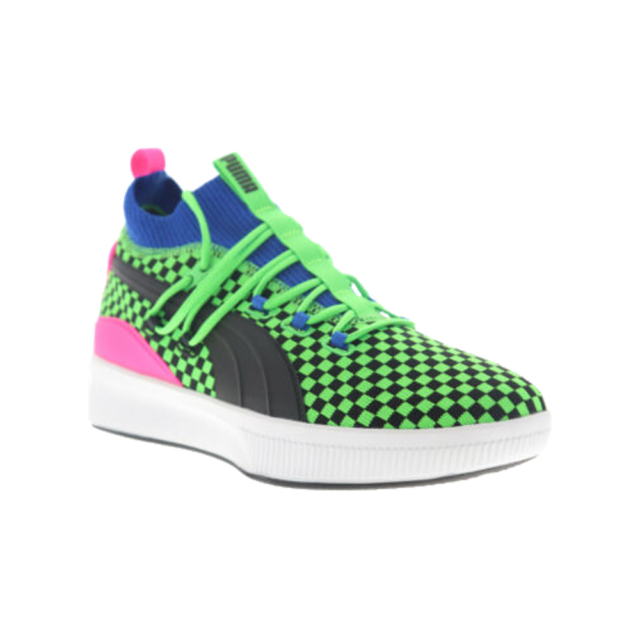 What is the PUMA Clyde GCC?

The PUMA Clyde GCC is a reinterpretation of the original PUMA Clyde shoe. The very first Clyde shoe was specifically designed for Walt Frazier, and it featured a suede upper with a thick rubber outsole that gripped the court perfectly. This re-issue of the shoe has an embossed, soft leather upper that's interspersed with a range of beautiful green, red, and black colors. The shoelaces feature the same colors. It has a flexible, comfortable outsole that helps provide a comfortable walk, and it has a rounded tip. These PUMA Suede shoes are suitable for someone who is looking for retro, old-school style with updated and upgraded features. These are lightweight street-style sneakers that are easy to pair with all types of outfits.
What are the characteristics of the PUMA Coogi Clyde?

The Puma Coogi Clyde shoes are low-top fashion sneakers that came about in 2017 as a result of a collaboration between PUMA and Coogi, the Australian fashion brand. Coogi sweaters were known for their bright, wild colors, and they were extremely popular within the hip-hop community. The PUMA Clyde had its own stylish history, so the collab made sense. The shoe has a knitted sweater upper that is an explosion of Coogi's bold hues. The white outsole provides beautiful contrast, making the upper stand out even more.

The outsole has a good amount of traction that helps prevent slippage. Coogi branding in 18k gold is located on the eyelets and lace tips, while PUMA branding is located on the tongue. One key feature of this shoe is that every single pair has a different pattern. This has made the shoe a collectible among street fashionistas and collectors alike. Due to its bold look, it can help dress up a simple outfit.
PUMA Clyde Court vs. PUMA X Big Sean Clyde
| | PUMA Clyde Court | PUMA X Big Sean Clyde |
| --- | --- | --- |
| Style | Low-top | Low-top |
| Closures | Laces | Laces |
| Available Colors | Multiple | Multiple |
Content provided for informational purposes only. eBay is not affiliated with or endorsed by PUMA.