Introduction to the Omega Seamaster Collection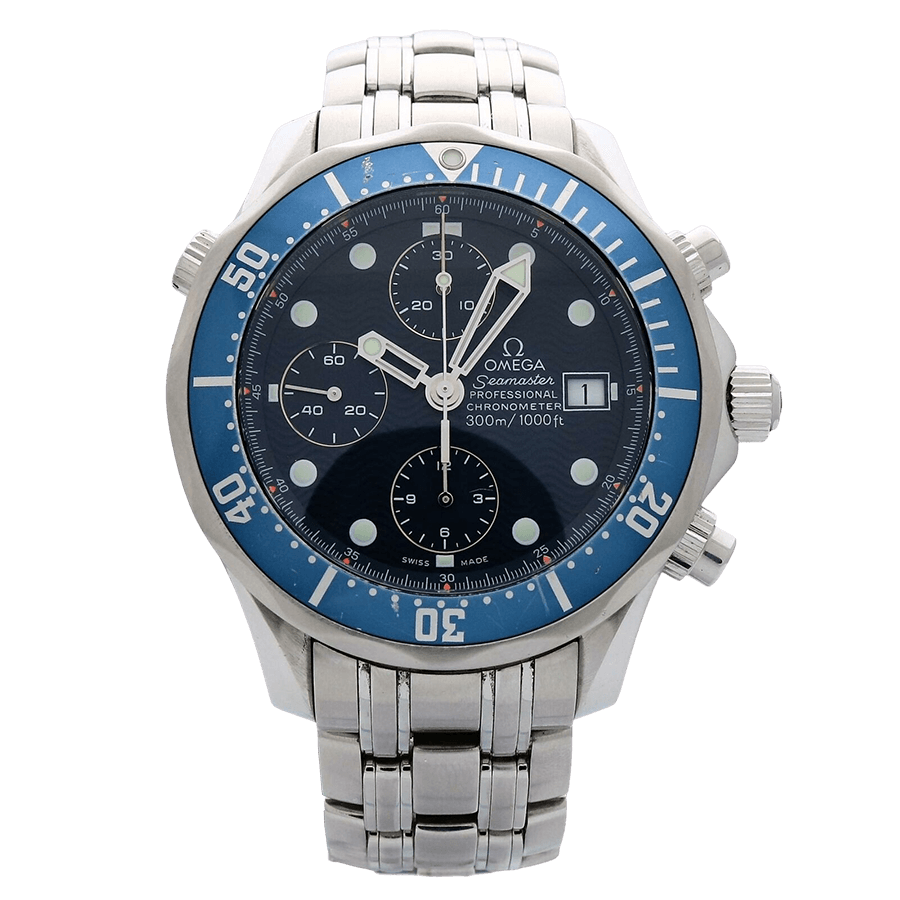 The Seamaster is a versatile dive watch built to be submerged, but equally suited for dress and casual wear. With hundreds of variations produced over eight decades, the Seamaster collection is among the most popular and collectible series produced by Omega.
Seamaster History and Timeline

First introduced in 1948 to celebrate Omega's centennial, the Omega Seamaster watch has been in production longer than any other Omega collection. It was inspired by the watches Omega produced for the British Royal Air Force during World War II. Early Seamasters were marketed as dress watches and advertised as having "more ruggedness built into the Seamaster than you are ever likely to call for."

By incorporating a rubber gasket to seal the case and crown, even the earliest Seamasters were certified for water resistance to 60 meters. This innovation pointed Omega in the direction of building the Seamaster 300, a true dive watch, which was squarely designed to compete with the Rolex Submariner. The 300 debuted in 1957, along with Omega's legendary Speedmaster line and the Railmaster. Ironically, the 300 was only certified waterproof to a depth of 200 meters, not 300 as the name implies. Since the first 300, the Seamaster has held the position of a tool watch that naturally doubles as an all-around, everyday timepiece.
Key examples of the evolution of the series include:
Omega Seamaster (ref 2482) introduced
Seamaster 300 (ref 2846) debuts
Second generation Seamaster 300 (ref 165.024)
Seamaster 600 Ploprof (ref 166.0077)
Seamaster Professional Chrono (ref 378.0504)
Seamaster Diver 300M (ref 2541.80) first appears on James Bond's wrist
Seamaster Aqua Terra Debuts
Seamaster Planet Ocean introduced
Seamaster Professional Diver 300 (ref 210.30)
Seamaster
Features and
Design

The Seamaster family includes hundreds of variations with automatic and quartz movements. All Seamasters are built with a rubber gasket which, depending on model, ensures water resistance at depths up to 1,200 meters. Seamasters generally have a low profile that makes them easy to wear under shirt sleeves and a jacket.

The vintage Seamaster style features:

Highly legible luminous dial markers
A rotating bezel
A naiad crown with a spring-loaded seal that tightens as depth increases
Either baton or sword hands

Seamasters have been produced with and without a date window, featuring a variety of complications in several case materials. Stainless steel remains the most popular and collectible metal, while titanium and ceramic versions are widely available on the new and pre-owned market.

Over the years, Omega has offered a variety of special edition Seamasters, many of which feature innovative and unusual case designs and shapes, carrying the space-age flair of the late '60s and early '70s. The 42mm case is most common, though the range includes models as small as 36mm and as large as 46mm. A variety of bracelet and strap options are available, and since the 42mm case has a standard 20mm lug spacing, swapping styles is easy.

Most vintage Omega Seamasters are powered by Omega's calibre 500/501 or 550/552 movements. Modern versions feature Omega's Co-Axial escapement on the calibre 2500, 3603, 8400 and most recently, the 8800. Watches in the series carrying the Master Chronometer designation are certified by COSC/METAS and guaranteed by Omega to deliver the reported accuracy, anti-magnetism and water resistance claims. For pre-owned Seamaster buyers, this means your timepiece will provide unparalleled reliability and require less servicing than other watches. Some models include a manually operated helium escape valve, a feature frequently discussed and debated by Omega enthusiasts.
Watch Value and What to Look For

Stainless steel Seamaster 300 watches produced from the late '50s until the line was discontinued in 1969 are prized by vintage watch enthusiasts. Depending on model and condition, expect to pay from a few thousand dollars up to $10,000 for a vintage Seamaster. Modern models like the 300M are extremely desirable and the market for these watches is strong. New Seamasters start around $4,000, but used Seamaster watches can be found for considerably less. Keep an eye out for rare and unique examples like the Soccer, Bullhead, Banana and Memomatic, especially if you are drawn to unusual styles and shapes.

Be on the lookout for these features to ensure that you are acquiring an authentic Omega Seamaster:

Open loops on the 6 and 9 markers
A white box around the date window
The Omega logo etched on the underside of the crystal
Fun Fact: The James Bond Connection
Just as the Omega Speedmaster is known as the "Moonwatch," the Seamaster is forever linked to James Bond. The Seamaster's legacy with the British RAF led to its association with James Bond. Before joining MI6, 007 was first a Commander in the Royal Navy. The first Bond watch—a Seamaster 300M Quartz— appeared in 1995's Goldeneye. Every James Bond film since has featured a Seamaster. Beyond Bond, Seamasters can be found on the wrists of George Clooney, Eddie Redmayne, Sergio Garcia, the US Ryder cup team, Michael Phelps and Daniel Craig.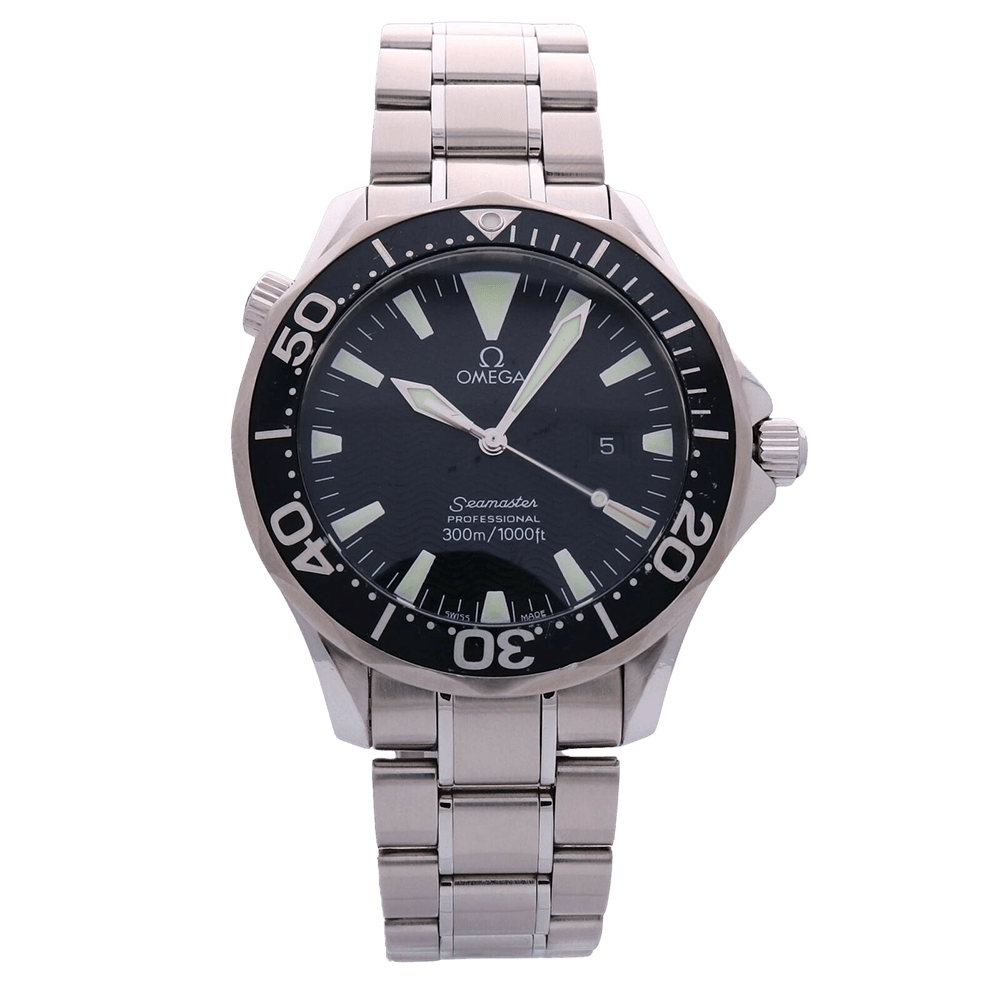 Omega Seamaster: Watchmaker's Perspective

A dive watch should be big and heavy, right? This is certainly what we are used to, and for the most part it makes sense. But there is one special model of the Omega Seamaster that throws these preconceived notions out the window: the Omega Seamaster Aqua Terra Ultra Light.

The case, caseback and crown of the Seamaster Aqua Terra Ultra Light are made from a sophisticated alloy called Gamma Titanium. This brings the weight of the watch down to a svelte 55 grams, while maintaining an impressive water resistance to 150 meters. Even the dial is manufactured in a thinner fashion than normal in an effort to save weight. The Seamaster Aqua Terra Ultra Light also includes a retractable crown, which protects the watch from accidental knocks to one of its most sensitive parts. A simple push allows the crown to pop out, allowing the time to be set. Even the movement is made from titanium, which is a notoriously difficult metal to machine, especially at the micro level needed for a watch movement. This commitment from Omega to manufacture one of the lightest mechanical diving watches available is remarkable.