Introducing Nike Air Force 1: an Evolution of Color and Style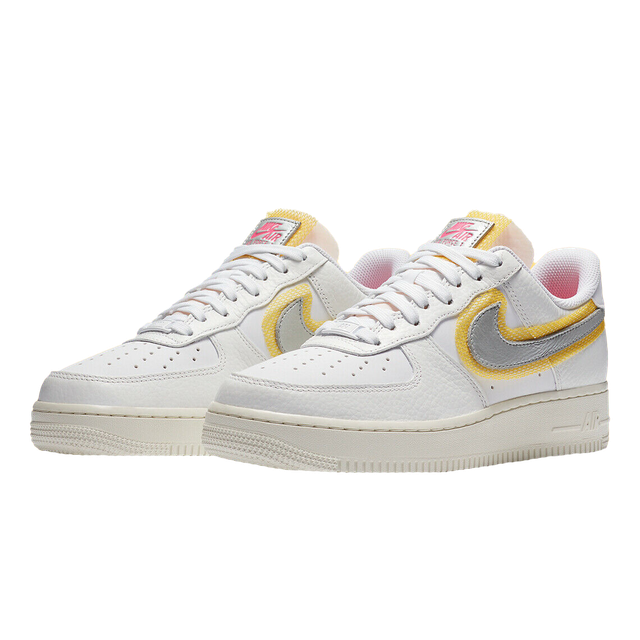 The Nike Air Force 1 basketball shoe debuted in 1982. The first version of the sneaker was a high-top with an ankle strap that was popular among big men in the NBA at the time. A low-top version of the sneaker was released a year later. Nike originally planned to discontinue the sneaker, but local sneaker shops in Baltimore, Maryland, encouraged the brand to make new colorways through a "Color of the Month" club, which reinvigorated the sneaker's popularity. In the mid-'90s, Nike released a mid-top version of the sneaker that featured a strap. Women's sizing for the Nike Air Force 1 was introduced in 2001. Since 2010, the silhouette has evolved, using premium materials such as Nike Foamposite and Flyknit. The Nike Air Force 1 also became a canvas for numerous collaborations and customizations. The silhouette is known as one of Nikeís best-selling sneakers.
Nike Air Force 1 Takes Its Design Up in the "Air"

Designed by Bruce Kilgore, the Nike Air Force 1 was the first Nike sneaker to feature "Air" technology. The silhouette's distinct features include its perforated toebox, variable width lacing options on the eyelets and concentric circle patterns on the outsole. Famous for its simple design, most wearers purchase the Nike Air Force 1 half a size smaller than usual because it runs slightly big in leather.

In the '90s, a variation of the sneaker with a jewel Swoosh logo was introduced, replacing the standard broad Swoosh. Over the years, the silhouette has been adapted for various purposes, including an all-weather version that can act as a snow boot and an updated basketball performance model called the Air Force 25.
Nike Air Force 1 Cultural Moments and Celebrity Status

The NBA's Rasheed Wallace was known for wearing the high-top version of the sneaker in the '00s. His PE versions featured his silhouette logo on the heel and several versions of the sneaker released at retail.

Away from the basketball court, all white-on-white Air Forces have become a staple among sneaker collectors and entertainers. Rapper Fat Joe famously showed off a case of white-on-white Air Force 1 lows on an episode of MTV Cribs. Producer and rapper Dr. Dre claimed he wears a new pair of white Nike Air Force 1s every day and showcased his closet full of the sneaker on the Internet. The sneaker even received its own anthem when Nelly created a song called "Air Force Ones" in 2002, which peaked at number 3 on the Billboard Hot 100. Collaboration partners on the Nike Air Force 1 have included Travis Scott, Roc-A-Fella records, PlayStation, G-Dragon and more.

The sneaker's all-white base made it ripe for customization, which boosted its popularity. Not only were artists coloring up their own pairs at home, but Nike also made it available on its customization platform, Nike By You (formerly known as NikeID).
Nike Air Force 1 Women's
The Nike Air Force 1 has been reinvented as a women's lifestyle sneaker through different variations of the shoe. The Air Force 1 Shadow features a layered design with double branding and an exaggerated midsole. The Air Force 1 Sage Low has a platform midsole and altered shape to more ergonomically fit a woman's foot.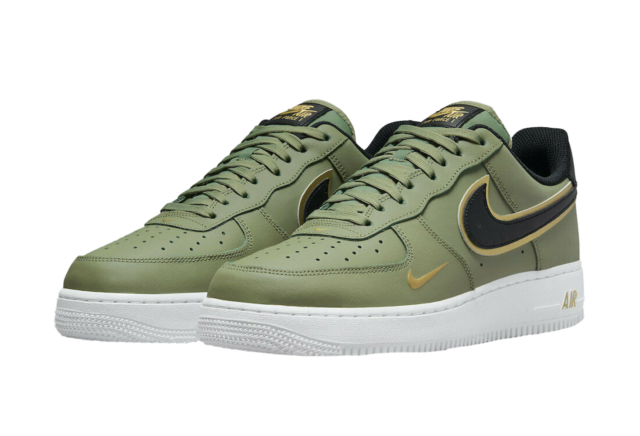 Nike Air Force 1 Colorways and Collectibility

Aside from the monochromatic all-white and all-black colorways of the Nike Air Force 1, which have become sneaker staples, there have been several highly valued Nike Air Force 1 collaborations over the years.

Streetwear brand Supreme has put its spin on different versions of the sneaker ó from high to low to mid. In 2014, Supreme released a high-top leather version in three colorways: Red/White (698696-610), White/Black (698696-100) and Black/White (698696-010). Each version had "Supreme" spelled out on the back and the words "World Famous" across the ankle strap. Pairs have been spotted on eBay selling for upwards of $1,000, with one offered for nearly $2,800.

A Supreme collab on the Air Force 1 Mid in 2018 came in two colorways: Black/Black (AQ8017-001) and White/White (AQ8017-100). This version of the sneaker featured NBA team logos all over and the word "Supreme" across the front of the ankle strap. It retailed for $165, and specific colorways and sizes resale for much higher.

Supreme also created more subtle versions of the Air Force 1. In 2012, the streetwear brand released three versions of the shoe with canvas uppers in Cargo Khaki/Baroque Brown (573488-330), Black (573488-330) and Olive (573488-300). This collection featured white midsoles, a red Supreme box logo tag and gum bottoms. Resale value for this collab can range anywhere from $600 to $1,500, depending on the size and colorway. In 2020, Supreme revisited the Air Force 1 by releasing an all-white and all-black colorway with a red Supreme box logo on the heel.

Virgil Abloh has also created some of the most valuable Air Force 1 collabs to date through his streetwear label Off-White. As part of Abloh's "The Ten" collection, the Off-White Air Force 1s feature a deconstructed look with exposed padding and mesh in the upper. These versions came in three colorways: Volt, Black and White. Their resale values can run into the thousands, and certain colorways have been seen on eBay for as high as $20,000.

Even more rare and valuable than these are Abloh's Air Force 1s, created for Nike's AF100 program, MOMA and his exhibit at Chicago's Museum of Contemporary Art. Unlike the Air Force 1s for "The Ten" collection, these versions were created in standard leather and featured silver Swooshes. The MCA version came in a University Blue colorway (CI1173-400), while the AF100 came in White/Sail (AO4297-100). Collectors will find MCAs in various sizes on eBay for over $1,000 to upwards of $4,000.
Nike Air Release Dates, News and Articles
If you're a fan of Nike sneakers, you won't want to miss out on the latest Nike Air guides, news and releases that are available on the eBay Sneaker Hub. Read more about classic designs like the Air Max and Air Force 1 to new drops and collaborations.
Nike Air Force 1 Sneakers for Men - FAQs

What is the history behind the Nike Air Force 1 sneaker?

Nike introduced the Nike Air Force 1 in 1982. It was the first basketball shoe to feature Nike's Air cushioning technology. The lightweight membrane provides light cushioning and impact absorption for enhanced comfort. The sneakers are named after the aircraft that the president travels in, Air Force One.

What are the different variations of Nike Air Force 1 sneakers for men?

Nike offers several variations of the Air Force 1, including the Low, High, and Mid cuts. Some special editions include the UltraForce and Special Field versions. The Air Force 1 Low Popcorn has a leather upper with a buttery colorway; however, the iconic AF1 is available in almost unlimited colorways.

What is the origin of the term Uptown, often associated with Nike Air Force 1 sneakers?

Nike Air Force 1 sneakers gained popularity in the Harlem neighborhood, which is in Uptown Manhattan, leading to the nickname Uptowns for these sneakers. The early hip-hop and streetwear culture further exemplified this terminology. Popular rapper Jay-Z specifically mentioned the all-white Air Force 1s in one of his songs, and mentions from other artists such as The Diplomats and Nelly solidified this Nike sneaker's place in popular culture.
Content provided for informational purposes only. eBay is not affiliated with or endorsed by Nike.