About Lenovo ThinkPad 2
Showing slide {CURRENT_SLIDE} of {TOTAL_SLIDES}
The tablet you've been waiting for.

The ThinkPad Tablet 2 with up to Windows 8 Pro and full Microsoft Office support redefines your expectations for mobile computing. The thin and light design, all-day battery life, and smooth convenience are the promises it delivers on.

Extreme mobility.

The 10.1-inchThinkPad Tablet 2 features an IPS display for nearly 180-degree viewing angles and has 10 hours of battery life. Thin and light, it's less than 10 mm thick, and weighs a scant 1.3 lbs.

Powered for productivity and fun.

The ThinkPad Tablet 2 includes visually rich, single-purpose Windows 8-style touch apps including games, news, weather, and entertainment. Compatibility with Windows drivers makes for easy hook-up and expanded interaction.

Touch. Write. Draw. Type.

The finely honed multitouch display on the ThinkPad Tablet 2 gives you greater accuracy and control. The optional ThinkPad Tablet 2 Digitizer & Pen offers a precision tip with pressure sensitivity.
eBay has provided more information about this product above and is not affiliated with or endorsed by Lenovo.
Compare Similar Models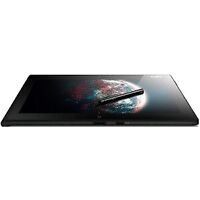 Lenovo ThinkPad Tablet 2
Processor
1.8 GHz dual-core
Operating System
Windows 8
Showing slide {CURRENT_SLIDE} of {TOTAL_SLIDES}
Top 5 High ratings
Top 5 Low ratings
Ultra Portable with long battery life plus more..

The ThinkPad Tab 2 is good for anone who is always on the move..very lightweight. It offers full windows with a full USB port to plug in any flash for data transfer. One thing to note though, high power external hard disk may not work. The HD screen has deep blacks and good brightness levels. It offers 4G and SD Card slots. With WiFi on and moderate brightness streaming music on youtube it comfortably lasts around 6 hours. I was surprised. Charging takes a bit long, Id recommend leaving it overnight since it takes around 9 hours from low battery to a full charge. If lightly used and turned off when unused.. it can last 2-3 days. It has NFC and decent front and back camera. The wacom stylus has a dock that you can slip in. Pen input is great for artist and comes with pre-installed software for on screen drawing and sketching. It uses the normal micro USB for charging so its easy to charge with your phone charger. It fits well in a handbag or small backpack

Verified purchase: Yes

Lenovo Tablet

I received them today. Pleased and excited about the tablets. They came with their own charger and cable. Plugged then up, turned on right away in seconds. Beautiful clean bright screen. I love love love my purchase!!! Will continue to do business with you in the future. Thank you so very much!

Verified purchase: Yes

Amaizing Tablet

I consider all you can do with it is just like carrying your home PC with a small version color is great speakers are not so bad with a little base on it will improve the sound working on direct sun light will help is they improve the screen light. I really enjoy it since I am not an expertise on computer but I learning how to use it with the experts on You tube . Beside those details on which I can consider minimum this is a great tablet to be with you at all times and beside do not hurt to carry it is very light I really love it and I will love it more when I learn to get the best of it.

Verified purchase: Yes

A nice Thinkpad tablet

I bought this tablet because I needed a large touchscreen tablet to tether my digital camera to. There are newer, faster tablets out there, but the only ones out there with a full-sized USB port didn't have resolution any better than this tablet. Took some time to upgrade to Windows 10 (couldn't cleat enough space on the SSD). The UEFI appears to be locked out, so that you cannot change the boot order; if you're going to upgrade using a USB, either get the dock for this tablet or get a USB hub so that you can plug in a keyboard. I found a new rear base to replace the original, so it looks like new. Otherwise, it's a Lenovo Thinkpad, so it's tough.

Verified purchase: Yes

Pleasant surprise

Marvelous tablet. Works well excellent internet access. Videos sometime stutter in Chrome, use Edge for Netflix otherwise no problems. Micro SD slot easy to use. 64 GB fast stable. On screen keyboard easy touch stable and does not bleed into letters. Good tool as casual substitute for PC. Win 10 operates fast stable and looks great. Sound quality about average.

Verified purchase: Yes
Tell us what you think

- opens in new window or tab