Heelys: Skate Shoes for Women
Half roller skate, half skate shoe, Heelys are a style of their own. They are classified as roller skate sneakers. You can walk or glide in them, depending on how you position your feet.
What styles do
Heelys come in?

Heelys come in a variety of colors and fun prints. The general style of wheeled sneakers for women are similar to those for men: they have a rounded toe, supportive body, and solid heel to accommodate the skate wheel. Once in a while, Heelys works with other companies to produce limited-edition lines. Collaborations with Vans, Reebok, Alyx, JoJo Siwa, MTV, and Mija have created unique colorways and prints. You can find both high-top and low-top shoes with wheels for women. Many of the shoes have the Heelys logo displayed prominently on the sides.

Styles are based on the build of shoe and come in many different colorways and limited-edition collaborations. They include:

Pro 20 : This style has a canvas upper and laces. It's a revamp of the Pro 19.
Voyager : These are synthetic leather (nubuck) Heelys with embroidered and embossed logos. They use laces.
Premium 1 Lo : This style offers a synthetic leather upper and a translucent sole. Color-changing lights are embedded in the sole and allow you to choose between 10 different 4-minute color displays. Simply plug them in to recharge.
Motion : This style offers a metallic outsole and upper, large embroidered logo, and a series of bright colorways to.
What if you don't want to
skate in Heelys?
The design of the shoe makes it easy to switch from skating to hanging out with friends. If you are in a situation where skating is undesirable, you can simply take the wheels out and use the wheeled shoes for women as regular sneakers. Two-wheeled Heelys are also available for better balance.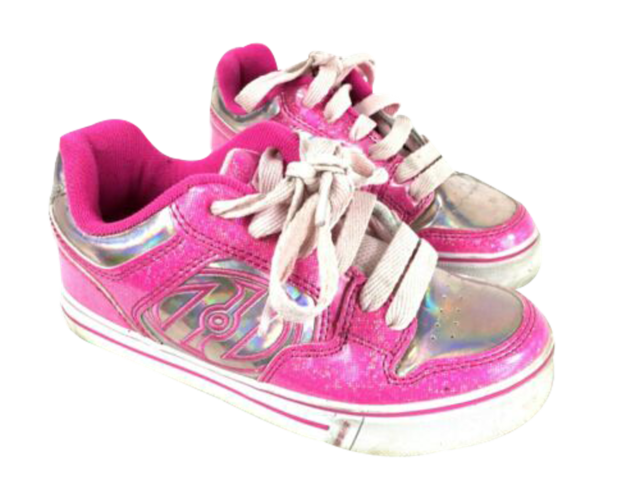 Content provided for informational purposes only. eBay is not affiliated with or endorsed by Heelys, Alyx, Mija, MTV, Reebok, JoJo Siwa or Vans.