About DJI Mavic Pro
Fly further.

Inside the Mavic's pocket-sized remote controller is DJI's OcuSync transmission technology, with a range of 4.3mi (7km), HD 720p long range and Full HD 1080p short range video streaming.

No bumps and scrapes.

An unprotected drone could hit obstacles during flight in Return to Home mode. The Mavic uses FlightAutonomy to sense obstacles up to 49 ft (15 m) away and bypasses them, brakes, or hovers.

Stay flying longer.

The Mavic flies much longer than you would expect from its compact size. It can reach a maximum flight time of 27 minutes and a maximum distance of 8 mi (13 km) due to its powerful, high-efficiency motors.

4K Ultra HD Video.

Mavic supports 4K video at 30fps. No Electronic Image Stabilization is used, ensuring all footage is 4K. It uses a miniaturized, ultra precise 3-axis gimbal, stabilizing the camera during high-speed motion.
eBay has provided more information about this product above and is not affiliated with or endorsed by DJI.
Price Trends
DJI Mavic Pro - Price New and Used
New Price*
from $20 to $1085
Used Price*
from $171 to $575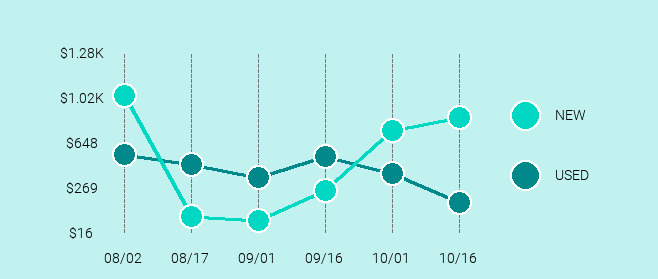 *The average sold price is calculated based on "Buy It Now" items sold within the 90 day period described above (excluding shipping and handling). Each interval represents a 15 day period. There is no guarantee that items will always be listed at a price within the provided range.
Compare Similar Models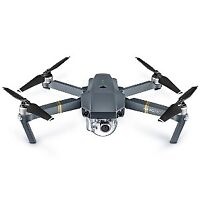 DJI Mavic Pro
Camera Type
Fixed Camera Drone
Video
4K@24fps, UHD@30fps, 1080p@96fps, 720p@120fps
Image Stabilization
3-axis Gimbal
Maximum Video Bitrate
60 MBPs
Weight
743g (with gimbal cover)
Top 10 High ratings
Top 2 Low ratings
Can't give enough praise about this drone! Extremely satisfied with the Mavic 2 Zoom!

The Mavic 2 Zoom is a great drone. Although, it is expensive, you get what you pay for! It is very easy to learn how to fly a drone with this model, it has great picture and the zoom allows for closeups that you can't get from other drones. I use it for work to view areas on buildings, when otherwise I would need a long ladder. It is extremely fun to fly and there are a lot of videos that have tutorials on how to use it at your disposal on the internet, which is extremely helpful. If you have the money to get the Mavic 2 Zoom, get one, i recommend it. Be sure to get additional batteries when you do. The Fly More kit is worth the additional money, and all of the accessories that come with it make it a good value. I typically get about 26 to 28 minutes of flying time when I am flying because I fly on sports mode and this mode will use up more of the battery due to the speeds and the maneuvering. Tripod mode will get the 31 minutes of fly time as it is advertised. The are so many features on the drone that, if you are interested in one, you should look up videos online to see what all this machine can do. Far too many to list!

Verified purchase: Yes

Professional Features and Functions in a light weight and small Aircraft

The DJI Mavic Pro has lived up to all the accolades that I have heard and read about it. Easy to fly right out of the box at a beginners level. A few hours of piloting and some tutorials will enable most owners to pilot this drone with a lot of control and confidence. I certainly hope that when the Mavic Pro 2 comes out later this year that DJI does something to better protect the camera/gimble. Those are the most costly and delicate components on the aircraft and the first to need repair if the aircraft crashes. Rear obstacle avoidance should be added as well to protect the drone when flying backward. With all that said, I can't wait to take it up one more time! Its a wonderful past time that enables you to enjoy both flying and Cinematography. I love to edit together many of the 4k video recordings I have shot of mountains, lakes, oceans, and sunsets. Then add some great music, sit back and truly enjoy watching the videos over and over again that this high tech marvel can capture.

Verified purchase: Yes

Drone Professional Excellent

The DJI Mavic 2 Zoom drone is an excellent drone. The features built into it such as crash avoidance makes the drone more safe to operate. While it take a little time to load and update the controller and drone, the DJI Assistance App helps you through the whole process. I was fortunate enough to also have a son-in-law who also owned the same drone and had demonstrated it many times before to me. I was so impressed with it, that I had to own one myself. The camera provides excellent pictures, as does the zoom feature that provides a more close-up view. I do not use a cell phone, so I ordered the accessories along with the drone that provided a harness for the 10 inch tablet plus an extra battery and other support requirements. I would recommend using a tablet instead of a cell phone to give you a much better perspective of your flight. All in all, this drone is tops in my book.

Verified purchase: Yes

Full of Features & Easy to Fly

Purchased this drone for work, real estate photography. I've been getting as much flight time in as I can before I begin using it for work. It has been a blast! It is much easier to fly than I thought it would be. I recommend getting one of the kits where you get multiple batteries. The DJI battery is reported to have some of the best battery time in the air, you'll find that two is better and three is great. I'm still getting use to the camera. I'm finding that I edit the photos a lot (via Photoshop) to get the images composition and the quality I need. That may be the way it is, but I thought it would be able to bet 'better' images straight off the camera (SD card). Only had it a short time, but I'd recommend it to anyone who needs a reliable drone for shooting aerial photographs.

Verified purchase: Yes

Great Drone with a well thought out bundle package!

I like the features of the Mavic Pro 2 Zoom. The quality of the images/video and the features of the app to control the camera are what a commercial photographer would expect to have. Great bundle! It comes with all of the most relevant accessories that you need enjoy this drone. The carrying case is sturdy, protective, and seems to seal completely. I only wish that it were large enough to hold more of the accessories. The drone w/battery, 2 extra batteries, the controller, the AC adapter and its chord, and a few small items fit in it. Most of the rest of the smaller items fit in the drone vest, but the larger accessories still need a third party carrying case.

Verified purchase: Yes

Nice easy to fly drone

I like it. First time drone user and the Mavic is full of easy to use advanced features. I was amazed that after setting the return home feature and flying 200 ft high and 1000 ft from my start point I hit the return home button and the drone returned and landed in the same orientation and within 1/2" from the launch point. OK, I'm a nube, but that was amazing to me. Also the videos are excellent and NO shake or wobble - rock steady and smooth. I'm very happy with the Mavic Pro.

Verified purchase: Yes

Oldie but a goodie.

If you're looking for an affordable drone that packs a lot of great features, this is the drone for you. The Fly More Combo includes a couple extra batteries, so there's no need to worry about running low on flying time. The range of the Mavic Pro is incredible at nearly 5 miles, though it is recommended to keep it within eye's view. My only complaint is that the remote controller won't take an iPhone with a protective case, so your phone might be exposed while flying. Overall, this drone is EXCELLENT for most anybody.

Verified purchase: Yes

Greatest fun money can buy!

Simply amazing what the mavic pro can do! Folds up to fit in my camera case, & with features I'm still learning 10 days after receiving it like tracking, spot light & camera gimbal settings etc., got a slight learning curve but it's a very stable drone! You're not at all fighting with it to keep it airborne at all and with return to home if signal is lost, gives you some of mind! Durable yes photo shows mavic pro with grass in blades but it still flew!!

Verified purchase: Yes

An excellent drone and works great

The product on a whole is excellent, except that one of the batteries came completely dead and will not take a charge. When I called where it was ordered from they said I had to go direct to DJI. When I got in contact with DJI they told me to contact where I ordered from. What a run around and still nothing settled. Guess I will have to purchase a battery and forget that the batteries have only a 6 month warranty. Only had the drone one month.

Verified purchase: Yes

Gr8 drone!

Before purchasing, I read many negative comments about purchasing a refurbished drone. However, once I flew my Mavic Pro for the first time, all of my doubts were set aside. I am a phantom 3 4K user that needed to upgrade. This drone ,even referbished, was like going from driving your mom's station wagon to a finely-tuned Supercar. Despite being refurbished, my drone performs above my expectations and I cannot wait to explore its many features and versatile manner further.

Verified purchase: Yes