Attend an Indian Wedding Donning Lehenga Choli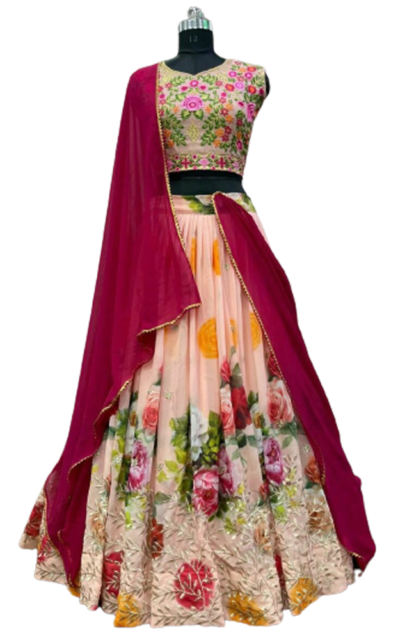 When you think of Indian and Pakistani women's clothing, probably the first thing that may come to your mind is Lehenga Choli. A choli is a colorful blouse worn with a long traditional skirt, and the attire is completed with a dupatta. A choli can be styled in various ways depending on your choice and comfort. If you are looking for lehengas online, eBay's got you covered. eBay has a variety of lehenga cholis that might spark your interest. You can find these clothes in various sizes starting from XS to XL, so you can choose the one that suits your liking. Banarasi lehenga, Bandhani lehenga, Bollywood lehenga, and Indo-Western lehenga are some of the types of lehengas you can find on eBay.
Various Types of Lehenga Choli Worn by Women

If you've received invites for an Indian or Pakistani wedding, you ought to dress the part. Indian weddings are like festivals, and there are various fun events and rituals that you get to be a part of. These events are incomplete without an elaborate and colorful costume. When you think of an Indian costume, you can't miss out on a lehenga. If you are a bride-to-be or a bridesmaid, shopping for a lehenga would be a top priority for you. A bridal lehenga is heavily embroidered and made using fabrics, such as silk, velvet, brocade, or georgette. It is adorned with gold jewelry and accessories like bangles, earrings, nose pins, and anklets. You can complete your look with matching footwear and a studded clutch in metallic hues.

There is also an array of bridesmaid lehengas that you can check out on eBay. They are available in bright shades of pink, red, violet, and gold. You can also find lehengas suitable for Indian festivities, including Diwali and Dussehra. For a minimal look, consider picking up a Chikankari lehenga and make heads turn as you tread. There are also various lehenga-style saris you can check out on eBay. These lehengas come with a dupatta, worn over the shoulder and pinned to the choli. There is a range oflehenga cholis for girls that may be worth checking out on eBay. Pick the color your girl loves and accessorize it with cute jewelry that complements her attire. You can browse through all the new and pre-owned options available on eBay before making a purchase.