About ASUS Transformer Book
Showing slide {CURRENT_SLIDE} of {TOTAL_SLIDES}
The ultraportable transformed.

Transformer Book T100 combines the productivity features of a laptop with the easy portability of a tablet. At just 1.07kg, T100 has a 10.1-inch display that detaches from the keyboard, becoming an equally lightweight multi-touch tablet.

High-performance productivity.

The Intel® Atom™ Z3740 quad-core processor balances performance and energy efficiency. With up to 11 hours battery life, T100 can last for a full working day before charging. Save and launch files quickly with 32/64 GB eMMC storage, too.

Stay unplugged for longer.

With exclusive ASUS Super Hybrid Engine II technology, enjoy extended standby times of up to two weeks with near-instant wake-up times. Data backs up automatically when the battery level drops to 5% in standby mode.

The dock that rocks.

Transformer Book T100 also functions fully as a laptop. Precision-engineered keys with ample travel make for comfortable typing, with USB 3.0 and HD TV connectivity, and the touchpad complements the multi-touch display.
eBay has provided more information about this product above and is not affiliated with or endorsed by ASUS.
Price Trends
ASUS Transformer Book - Price Used
Used Price*
from $51 to $124
*The average sold price is calculated based on "Buy It Now" items sold within the 90 day period described above (excluding shipping and handling). Each interval represents a 15 day period. There is no guarantee that items will always be listed at a price within the provided range.
Compare Similar Models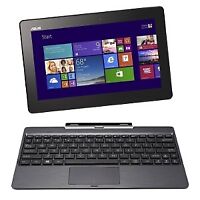 Asus Transformer Book T100TA
Screen Resolution
1366x768 pixels
Operating System
Windows 8.1
Weight
Tablet: 1.2 lbs\nDock: 1.3 lbs
Battery Life
12 hours 28 minutes
Showing slide {CURRENT_SLIDE} of {TOTAL_SLIDES}
Top 5 High ratings
Top 3 Low ratings
Still a great portable device

A few years ago, I would have rated this 5 stars, but technology is constantly improving. This is still an excellent purchase because you can pretty much install most programs on the device. An external hard drive is a must for storing a lot of files, but these are pretty easy to come by. Look for a Windows 10 system if you can - it's so much easier to use than Windows 8.

Verified purchase: Yes

I love this tablet

I love this tablet - it does everything I want. I had an Android tablet at one point that was junk, this is awesome, and I like no apps to install etc and it just runs Windows. I like the keyboard, although I don't use it much, the option is great, particularly when traveling - it's a good option for setting up to a hotel TV with a HDMI cable to stream shows. Speed and performance gives me what I need, but I'm not a gamer or anything, but I do stream a lot of video.

Verified purchase: Yes

2nd time is the charm

I got one of these off of another site and it had a wifi probem that apparently is pretty common with these machines. I liked it so much apart from that so I looked on ebay for one. The one I got works great. One caveat, however. It really needs the correct power cable and transformer to charge correctly. Once you have those, it's golden. I hope it lasts.

Verified purchase: Yes

ASUS Transformer Book 64GB WI-FI, 2GB, Quad Core 1.46GHz

A lot of people are looking for fast machines with a lot of bells and whistles but none of that matters to me because what I really needed was a portable all inclusive office computer and this machine fills my entire bucket list., It's my perfect office on the go and everything I bought (mouse, digital pen, headset, micro SD card etc, etc, etc,) connected to it without any problems., , Its light, portable, easy to use, has a detachable tablet to take meeting notes or scoll, small sized keyboard (not so good for big hands) with Windows, Word and Excel., , The only negative thing is that I wish there were 2 cameras so that I can take pictures but unfortunately it only has 1 facing for video conferencing., , Comparatively this ebay purchase was 150$ to 200$ less than the local stores in my area., And during shopping I came across many computer specialists that recommended I buy a note book for my bucket wish list that would have cost $1,500.00 plus tax. This ASUS computer does everything I need and cost me 1/8th the price., , Nicole, Montreal Canada

Verified purchase: Yes

Love the transformer!

These little guys are fast, efficient, and have a beautiful screen. Well worth the money! I now have two, one for my hubby and one for me. The atom processor with 2G RAM is awesome. And not to mention you can take it anywhere! I use it for school. When I need to read my online book, I detach the keyboard and voilà! If you are considering this tablet, buy it. You won't regret it.

Verified purchase: Yes
Tell us what you think

- opens in new window or tab