About Google Nexus 7 (1st Generation)
Showing slide {CURRENT_SLIDE} of {TOTAL_SLIDES}
Stunning 7-inch display.

With a stunning 7-inch display, all day battery life, even more storage, and mobile data to keep you connected, Nexus 7 is the perfect travel or commute companion.

Designed with gaming in mind.

Nexus 7 was designed with gaming in mind. With heart pounding quad-core performance, a vibrant 1280 by 800 high-resolution display, and sensors like a gyroscope and accelerometer, giving you access to explore over 700,000 apps and games.

Made for Google Play.

Nexus 7 puts all the entertainment you love right in your hand: download eBooks, songs, movies and TV shows, and the latest magazines – plus the apps and games you love.

No wires, no hassle.

Forget about cables and syncing. Store all your digital content in the cloud so it's instantly available and you can pick up right where you left off.
eBay has provided more information about this product above and is not affiliated with or endorsed by ASUS.
Price Trends
ASUS Google Nexus 7 (1st Generation) - Price Used
Used Price*
from $24 to $30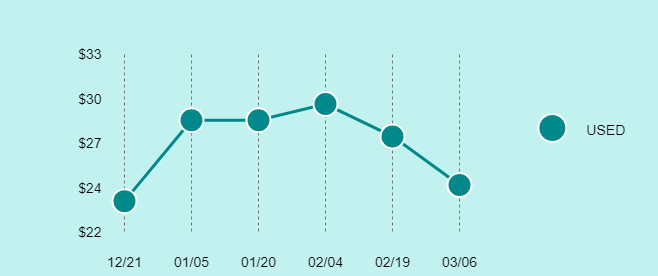 *The average sold price is calculated based on "Buy It Now" items sold within the 90 day period described above (excluding shipping and handling). Each interval represents a 15 day period. There is no guarantee that items will always be listed at a price within the provided range.
Compare Similar Models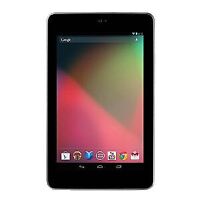 Asus Google Nexus 7 1st Gen
Screen Resolution
1280x800 pixels
Storage Options
8, 16, 32 GB
Operating System
Android 4.1
Showing slide {CURRENT_SLIDE} of {TOTAL_SLIDES}
Top 5 High ratings
Top 3 Low ratings
Good but slow with Android 5.1

An oldie but goodie -- except -- this specific one was upgraded to 5.1.1 Lollipop, I have read a lot of stuff online that this makes the tablet very slow and I agree. I am deciding whether to roll back to Android 4, upgrade to Android 7 or go with Ubuntu Touch., , So if you buy this particular config on Android 5.x be ready to unlock it, flash a new firmware and OS to it., , Having said that, I am very happy overall with this purchase/product at the sub-$50 price point.

Verified purchase: Yes

Nice screen but slow

This tablet has a very nice screen quality and it is easy to use. It is quite slow, however and runs Android 5.11 only so it is not a high performer. It does work if you only want to do limited things on it and if you are patient. That's not all that surprising considering the age of the tablet, and I think the low cost reflects that. Web browsing seems very slow but it runs applications like Kindle or eBay as long as you only use one at a time. The 2nd Generation Nexus 7 is much faster, as are the newer tablets.

Verified purchase: Yes

Good tablet still in 2017 but must know this

After the updates to the latest Android available version it gets almost impossible to use it is very slow. But I figured out what the problem is. It is necessary and mandatory to uninstall Google app and Google keyboard or Gboard. First install a third party keyboard like Swift key then uninstall the two Google apps, that will solve the problem that make it slow, also you can disable any other app you do not use. Then you will be able to use the tablet with some glitches now and then but definitely usable. I will keep looking for more possible apps or configuration for this problem. Hope this helps.

Verified purchase: Yes

Look No Further

If you are looking for a stable and dependable tablet, look no further. The Google Nexus is the best and has a record of good service and performance. This is my second unit, mind you my first one which I've had for some 5 years is still running but I wanted to upgrade to more memory. I will continue to use the older unit when I forget to charge the battery on this one. You can't go wrong with this tablet while some others I won't mention will give you nothing but a major headache. If you are looking for reliability and endurance, look no further.

Verified purchase: Yes

Google Nexus 7 2012 First Generation Tablet

Way back in 2012 the Google Nexus 7 Tablet truly set the bar for providing users with speed, portability, reliability, and unprecedented graphics at the time of its release, and still competes very well three years later. As we all know, today's tablet is yesterdays tablet in as little as a couple months. Tech advances move at lightening speed for all these neet personal media devices we all love. The Google Nexus 7 tablet made people realize a 7 inch tablet is easier to take along and hold on too than a 10 inch tablet. The Nexus 7 was considered the top Android tablet for 2012, 2013, 2014. Other manufacturers had to scramble, trying to copy what Asus had accomplished with the Nexus 7 2012 and 2013., , The Google Nexus 7 Tablet 2012 offers the Nvidia Tegra 3 processor for amazing graphics coupled with a CPU Quad-core 1.2 GHz Cortex-A9 with the GP ULP GeForce CPU. What all this tech info means is a fast tablet with amazing graphics for video playback with the ability to handle High end 3D gaming including modern game titles., , If you are looking for a 7 inch tablet for face book, gaming, work, etc. with a great price, the Nexus 7 2012 will fit the bill. The Nexus 7 2012 is selling from around $55,00 to $125.00. The average price around $75.00 as of October 2015., , The Nexus 7 2012 got some bad press recently (Summer 2015) with the Android Lollipop upgrades. Google said the Nex 7 hardware was having problems with the new operating system. All this really meant was the newer versions of the processor, and even the Tegra processor where deigned to work directly with Googles new operating system. It is good to be Google/God in the tech world. Many phones from other manufacturers had similar problems as the Nex 7. Google released several fixes for the Nexus tablets up to Android 5.0.2 that fixed the issues the Nex 7 was having, and the fixes worked., , If you can find a Nexus 7 2012 tablet for sale already running 5.0.2, you will have no worries. If you can find a Nex 7 tablet running Android 4.4.4 or earlier to upgrade to 4.4.4 or Android 5.0.2, you will be getting a great deal. The 2012 Nexus 7 tablet sings with KitKat 4.4.4. Many phones are still running Kitkat. The Nexus 7 2013 tablet works very well running either, and the Nexus 7 2013 tablet is slatted to get the Marshmallow upgrade. (2015), , The Asus/Google Nexus 7 2012 tablet is a fantastic tablet with a great price getting better by the day. The Nexus 7 2013 tablet has a bit newer hardware tweaked to Googles new operating systems. In my opinion, you can't go wrong with either tablet!

Verified purchase: Yes
Tell us what you think

- opens in new window or tab