The Mondo Cane Collection (DVD, 2003, 8-Disc Set, Limited Edition s)
---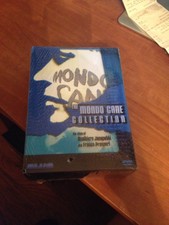 Top Selling in DVDs & Blu-ray Discs
Great Prices on DVDs & Blu-ray Discs
About this product
Additional Details
Genre:

Education/General Interest

Format:

DVD

Display Format:

Limited Edition 10,000 individually numbered sets
Most relevant reviews
by

A very rare collection for connoisseurs

A limited edition of DVDs about the most important couple of directors of mondomovies.
The people who kickstarted a film genre that shocked the world.
This is the best product of a kind, with lots of extras and uncensored versions of the same film.

Verified purchase: Yes | Condition: Used

by

The Mondo Cane Collection (2003, DVD)

I bought the Mondo Cane Collection (2003, DVD)few weeks ago and was immediately impressed about this collection. it's amazing i recomend to many more people to see all this movies... and compare with this world, the today's world...