Blueberry Handmade Electric Guitar
This beautiful hand-carved Blueberry Electric Guitar features gorgeous Floral motif carvings and inlays. It was completed on January 5th 2014 The serial number is EG1104011.
Blueberry Guitars come with Gotoh Tuners and D'Addario medium gauge strings. Your guitar will be delivered in a high quality custom  hardshell case with a lifetime warranty.
Listen to the sound of this guitar: (requires Flash Player)
             
Detailed description
The body is Mahogany, fretboard is ebony and the pickups are Seymour Duncan. The inlays on the back, fretboard and headstock are a combination of crushed stones, maple and Balinese White Angel wood
Customization options
         
WOULD YOU LIKE STRAP PINS INSTALLED?            

We will install 2 Strap pins upon request for $60.00. If you would like to have both the LR BAGGS Active iBeam Pickup and one extra Strap pin installed, the cost is $230.00 (note that the plug for the pickup acts as a strap pin).



           
HOW WOULD YOU LIKE US TO SET THE ACTION ON YOUR GUITAR?            

We are happy to set the action on your guitar to your specifications. If you do not have any specific action requirements, we will set the action to Medium/Low.



                     
NOTE TO LEFT HANDED PLAYERS            

We can convert this guitar to left handed at no extra cost. The conversion to "lefty" will add 2 weeks to the delivery time.

             

         
CUSTOM ORDERS            

We can work with you to create a very special and personal guitar. Custom projects typically take from 12-16 weeks from conception to delivery. Payment is 50% at the beginning of each project and the balance payable just before delivery. We will provide artists drawings and photographs of the guitar's progress as it is being built.



         
IF YOU HAVE ANY QUESTIONS, PLEASE WRITE TO US            

We have three Luthiers on hand at all times to answer your questions and we are always happy to hear from you.

         
       
                 Payment Policy
We currently accept PayPal and credit cards by phone.
Canadian customers will be charged GST. Quebec residents will also be charged QST.
Shipping Policy
We ship worldwide. Shipping insurance is included.
FedEx tracking number will be provided once the guitar is shipped.
Shipping and handling costs:

Please note that we are a Canadian seller. Our shipping rates include brokerage fees
and duties not applicable to US sellers.
Guarantee
Every Blueberry Guitar is covered by a lifetime warranty, see this page for more details.
We offer a seven day "no questions asked" full refund policy.
Review our excellent feedback and bid with confidence - your satisfaction is guaranteed!
Note to all Blueberry guitar owners: If you would like to trade in your existing Blueberry guitar and use the credit towards a new one, please let  us know. We will make you a fair offer as we are able to extend the warranties on used Blueberries to their new owners.
About us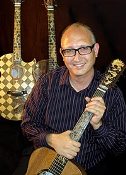 Blueberry Guitars is the inspiration of Montreal businessman and musician Danny Fonfeder who conceived the idea of marrying outstanding craftsmanship to extraordinary art. American luthier and educator, George Morris, and Balinese woodcarver, Wayan Tuges, brought together two great craft traditions, combining the best of Western technology with the best woodcarvers in the world.
Each guitar is handmade and unique in detail and materials. Each is a work of art worthy of the finest musicians. A special group of craftsmen add their exceptional skills to every guitar before it is tested and judged ready to be called a Blueberry Instrument. Blueberry Guitars embody a marriage of East and West. They celebrate the joining of mind and spirit, functionality and artful reverence. No two are alike. All meet the exacting standards demanded by great musicianship and art connoisseurs and can satisfy even those who demand perfection.