I have a lot of ergo baby carriers for sale and since I love this product and use it myself, I love the chance to share these with other moms at a reasonable price. The carriers I have to sell are brand new and in their original boxes along with their manuals. They are discontinued styles that are no longer available for purchase through authorized dealers. I am happy to offer these popular yet hard to find carriers.
Recently, I was accused of selling a fake carrier to a buyer on eBay. This really upset me because my product is genuine and as a mom myself, I would never sell a counterfeit product to another mother that may put her baby in any jeopardy. So I researched this and thought I would add this guide. Here's what I found.
Here are some detailed photos to help:
The biggest give-away is the location of the warning label. On a genuine carrier, the label is on the inside of the waist band and it offers a warning in several languages. On a FAKE carrier, there is just a washing instructions label on the inside of the body of the carrier.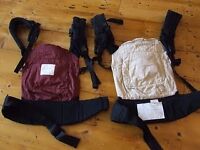 Also, check out the logo. They look a little different: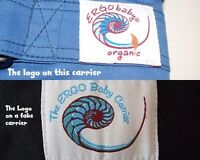 Next, look at the zipper pull (not all styles have a zipper pull).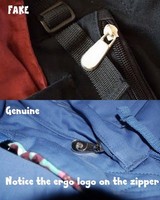 On a genuine ergo carrier, there is a logo on the zipper pull. On the fake, the zipper pull is solid.
There is a difference between the big waist buckle. On a genuine ergo carrier, the buckle is made by STEALTH and has this printed on it. It also has an exra bit of safety plastic.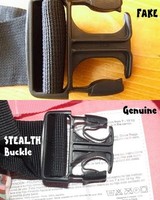 On the inside hood pocket, there is a label. On a genuine carrier, the serial number of the product is printed along with the country of origin. Ergo carriers are manufactured in India and China. On a fake, you'll just see "MADE IN CHINA." No serial number.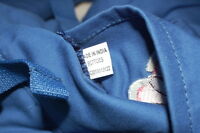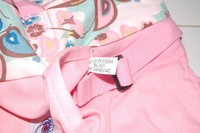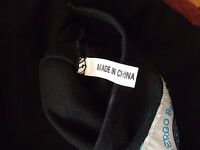 Lastly, there is a difference between the hood straps. On a genuine carrier, there are 5 snaps and the straps are pretty short. On a fake, the straps are longer, have more snaps and attach to a D-ring on the shoulder straps instead of snapping on.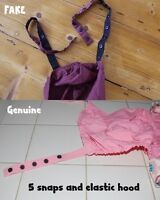 Also, on a genuine carrier, there is elastic on the sides of the hood.
Please note that there is a distinction between counterfeit carriers, ergo baby "style" carriers and genuine ergo baby carriers that are not sold through an authorized dealer. Here are the differences:
1) A counterfeit ergo baby carrier has been made to look like an ergo carrier to dupe unsuspecting buyers into thinking they are buying the real thing. The quality of the materials and the safety buckles have not been rigorously tested and the carrier will have little resell value. It may come with a manual and a CD. The manual and CD are copies of the original manual information sent with ergo baby carriers. In my experience, it is VERY easy to spot a counterfeit carrier because the manual is not good quality and neither are the materials used for the carrier itself. It is obvious in person.
2) Ergo Baby "Style" carriers are made in the same style as ergo carriers. They do not have the ergo label. They work the same way as an ergo carrier does. They are not as rigorously tested for safety as ergo baby carriers. They typically have inferior safety buckles and warning labels. The majority of carriers sold on eBay are ergo "style" carriers and most of these listings will be clear on the fact that they are not actual ergo carriers.
3) Genuine carriers sold by unauthorized dealers is the tricky grey area. These carriers have made their way outside the ergo baby distribution channel and are sold direct from the manufacturer to Chinese wholesalers. The laws in China are very different than the US and are not regulated. If you purchased an ergo carrier from an unauthorized reseller, you will not be able to return your carrier to the company or be eligible for the manufacturer warranty. These carriers will look and perform exactly like a genuine carrier purchased from an authorized dealer. They will most likely not have a serial tag but sometimes they do depending on which channel they were originally distributed through.
I hope you find this guide helpful. Thanks! Socalbaby