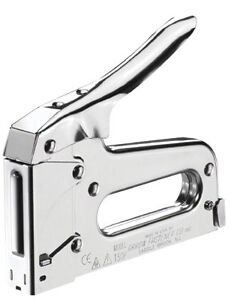 A staple gun is a handy, all-around tool that homeowners can use for plenty of household repairs. Tacking a loose corner of fabric on the sofa, replacing kitchen chair seat covers, and installing sheets of insulation are all easier with a staple gun in hand. Various crafts and home decorating projects also call for staple guns. With so many models on the market designed for different projects, choosing a fastening tool can be confusing. However, by doing some research online and investigating the various options, buying a staple gun becomes a more straightforward task.
Staple Gun Basics
Staple guns belong to one of three basic categories: manually powered, electric, and pneumatic. Their primary purpose is to drive metal fasteners into wood, plastic, and other materials. Workers in many industries consider the staple gun an indispensable tool. In the health care field, practitioners use specially adapted staple guns to close incisions after surgery. Manufacturers, from boat makers to food packagers, put these fastening tools to use in various production processes.
Stapler or Staple Gun?
Classroom and office staplers designed to clip papers together differ from staple guns. Desktop staplers have strike plates that crimp the ends of the staples while staple guns do not. Unlike an office stapler, a manual staple gun has a spring-loaded mechanism. Squeezing the handle compresses a spring that quickly recoils, releasing tension bars that drive the staple. This design enhances the ability of the tool to insert staples into hard surfaces in single thrusts. In contrast, a desk stapler requires only hand pressure alone to push the fastener through a sheaf of papers.
Manually Powered Staple Guns
Manual staple guns are the tool of choice for most home projects. They are easy to find in several styles and relatively inexpensive to purchase. Most manual staple guns require operators to squeeze the handle each time they want to insert a staple. A manual staple gun is best suited to smaller jobs that do not require any significant repetitive squeezing.
Manual staple guns include all-purpose staplers, carton staplers, hammer tackers, long-nosed staple guns for reaching tight spaces, staple guns for installing cable and wire, and plier-style models.
Before buying a manual stapler, test out a few to make sure they are easy to operate with one hand. The other hand must secure the materials to be stapled. When shopping online, read the seller's description to find an easy-to-use model. If in doubt, email a question to the seller.
| Manual Staple Gun: Pros | Manual Staple Gun: Cons |
| --- | --- |
| Many styles available | Can cause muscle fatigue |
| Needs no external power source | Requires grip strength |
| Easy to load | Staples may jam easily |
Electric Staple Guns
Electric staple guns run on battery power or plug into an electric outlet. Rather than channeling the required energy to drive staples from a squeeze lever, electric models have triggers that require only light pressure to operate. Some electric staplers accept tacking nails as well as staples and are adjustable to accommodate the fastener length. Electric models are generally more expensive than manual guns, but shoppers can find affordable used electric staplers on eBay.
These fastening tools are able to drive several staples per minute, but the operator must squeeze the trigger to drive each staple. This allows time to reposition the gun between shots. Electric stapling tools drive staples more uniformly than manual models because the pressure behind the driver does not vary.
Some people, however, dislike power-driven staple guns, worrying that a badly-aimed staple could cause an injury. While this is true of any type of stapler, most electric guns do have safety triggers that won't fire unless the gun is placed and pressed properly.
Electric staple guns come in different styles according to their intended usage. Completing such projects as tacking screening on doors or window frames, affixing carpeting, and stretching canvas for artworks is easier with this type of tool.
| Electric Staple Gun: Pros | Electric Staple Gun: Cons |
| --- | --- |
| Easy to operate | Needs a power source |
| Ideal for larger projects | Can be dangerous |
| Accepts tacks or staples | More expensive than most manual models |
| Safety switch prevents misfires | Due to ease of operation, must be kept out of children's reach |
Pneumatic Staple Guns
Designed for industrial and professional uses, a pneumatic staple gun works under the power of compressed air. These tools drive staples, tacks, and nails. Most people do not buy pneumatic staple guns for simple household tasks. They are best for larger, more demanding fastening jobs.
Furniture manufacturers, professional carpet and flooring installers, electricians, and construction workers have many uses for pneumatic staple guns. While not a substitute for a nail gun on construction projects, a pneumatic stapler has the versatility and power to accomplish many heavy duty fastening functions, such as affixing roofing felt and installing carpeting.
Some of these types of tools accept continuous rounds, or magazines, of staples, so operators waste little time reloading. Due to their external power source, the hand-held units are lightweight and easy to use for long periods, dispensing fasteners with the press of a trigger. Most models have a safety function that prevents misfiring.
| Pneumatic Staple Gun: Pros | Pneumatic Staple Gun: Cons |
| --- | --- |
| Most powerful type of stapler tool | Requires air compressor power |
| Accepts more kinds of fasteners than manual or electric staplers | Due to power and larger fastener size, more dangerous than electric or manual staple guns |
| Lightweight and easy to operate | Noisy |
| Built for durable, heavy duty utility | More expensive than manual models |
Buying the Right Staple Gun for Your Needs
How well the stapling tool matches its intended usage is the most important consideration in making the right purchase. The staple gun should be easy to operate but must have the capacity to supply the size and type of fasteners the job demands.
| Recommended Uses | Manual Staple Gun | Electric Staple Gun | Pneumatic Staple Gun |
| --- | --- | --- | --- |
| Light duty crafts, small household jobs | X | | |
| Home decorating: fabric tacking, drapery cornices, light repair | X | X | |
| Door and window screens | X | X | |
| Upholstery | X | X | X |
| Insulation installation | X | X | X |
| Larger household projects/repetitive stapling | | X | X |
| Carpeting and flooring installation/repair | | X | X |
| Manufacturing and construction | | | X |
Selecting a Staple Gun by Staple Size
Another decisive factor in buying a staple gun is the size of fasteners it will accept. Especially when shopping for a tool that will be put to several uses, a stapler's versatility determines its practical value. The more sizes and types of staples it can process, the better. Staple sizes in inches or millimeters express the height of the tines, and the crown measurement is the width of the flat or rounded top of the staple.
Flat-crowned staples are intended for all-purpose use when fastening one surface to another. Staples for cable installation, electric wiring, and telephone wiring are sometimes arced so that the staple crown does not crimp the wire.
In general, the staple gun styles below can use the listed fasteners. The fasteners should interface well with the project materials, or problems may result. For example, heavy staples would destroy a delicate picture frame, and small, lightweight staples would be ineffective on laminate flooring.
| Style of Staple Gun | Type of Fastener | Size of Fasteners |
| --- | --- | --- |
| Multipurpose manual | Flat crown staples | 3/8" (10 mm); 7/16 (11 mm); 9/16 (14 mm) |
| Light duty manual | Flat crown staples, light gauge | 1/4" (6 mm); 5/16" (8 mm); 3/8" (10 mm); 7/16 (11 mm) |
| Medium duty manual | Flat crown staples, medium gauge | 3/8"(10 mm); 1/2" (13 mm); 9/16 (14 mm) |
| Heavy duty manual</p | Flat crown staples, heavy gauge | 5/16" (8 mm); 3/8" (10 mm); 17/32" (13.5 mm) |
| Plier-style stapler, manual | Round crown staples | 1/4"(6 mm); 5/16" (8 mm) |
| Heavy duty plier-style stapler, manual | Round crown staples | 1/4" (6 mm); 3/8" (10 mm) |
| Professional hammer tacker, manual | Flat crown staples | 1/4"(6mm); 5/16"(8 mm); 3/8" (10 mm) |
| All-purpose electric staple gun | Flat and round crown staples, brads | 5/16" (8 mm); 3/8" (10 mm); 7/16"(11 mm); 5/8"(16 mm) brad nails |
| Deluxe electric stapler and nail gun | Flat and round crown staples, brads, and nails | 3/8" (10 mm) ; 1/2" (13 mm); 5/8"(16 mm) brad nails; |
| Pneumatic carton closure stapler | 1/2-inch crown | 3/8" (10 mm) to 5/8"(16 mm) |
| Pneumatic flooring stapler | 18-guage | 7/16" (11 mm); 1/2" (13 mm); 5/8" (16 mm) |
| Pneumatic roofing stapler | 16-gauge wide crown | 1/2" (13 mm) to 1 1/2" (38 mm) |
More Staple Gun Purchase Considerations
Most stapling tools have warranties, but some are more complete than others. Read the fine print on an eBay seller's page before buying a staple gun to check the warranty. Less expensive manual models typically offer short-term, limited fixes while more expensive power tools may provide lifetime repairs. If deciding between two staple guns with equivalent features, choose the model with the best warranty.
Because even manual staple guns shoot sharp objects with considerable force, safety while stapling is a must. Protective eyewear and gloves can prevent injuries if a staple misfires. Also, operators should not wear loose or oversize clothing while operating a stapling tool because they could inadvertently staple it to the project.
How to Find a Staple Gun on Ebay
eBay is a top online source for staple guns due to its extensive selection of types, styles, and prices on new and used models. Just log onto eBay's home page to get started. To sample the entire selection of stapling tools currently available, simply type in "staple guns" in the blank search box at the top of the page, leave All Categories in the box to the right, and then click the search button.
If desired, narrow the search by selecting a sub-category from the menu to the left of the page, such as Home Improvement, and a streamlined list of results will come up. Hone in on the right tool by selecting a price range, condition, or buying format from the menu on the left side of the screen. In just a few minutes, buyers can locate the right staple gun for their needs on eBay.
Conclusion
Staple guns are versatile fastening tools that are essential to the well-provisioned home workshop or craft room. Home hobbyists, backyard builders, and professional installers alike can shop eBay to find the stapler that effectively gets the job done.