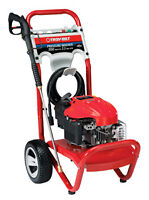 I've writtten a guide on the concerns of 'what's in a name' and this is my most recent learning experience concerning 'what's in a name' for the Troy-Bilt 2550 PSIG Pressure Washer (Model 020293).
First of all, Troy-Bilt is no longer. The name was purchased by MTD Products and MTD owns a lot of other names (Huskee, Yard-man, etc). When I was looking for a Pressure Washer, I expected to find the MTD product line for this particular unit. I made the purchase and brought it home to only discover something even more interesting. There is a paragraph in the owner's manual that states, "Troy-Bilt(R) is a registered trademark of MTD Products, Inc. and is used under license to Briggs and Stratton Power Products. Briggs and Stratton Power Products Group, LLC will repair or replace, free of charge, any part(s) of the pressure washer that is defective......" OK, OK, you get the drift. This is a Briggs and Stratton Pressure Washer.

My intent is not to bang on Troy-Bilt, MTD or Briggs and Stratton for a poor product. My intent is to inform future purchasers (customers) that they may not always buy what they think they are buying. Troy-Bilt (original company is long gone) has nothing to do with this product. MTD Products basically lent the name to Briggs and Stratton (B&S). B&S gets to produce a product under a time-honored name and make a few dollars. Think about it - would you rather buy a B&S or Troy-Bilt product if the price is same?
OK, with that said about the product name, let's get into the pressure washer review. First of all the unit performs very well with little or no trouble. The B&S engine is easy to start and maintain. I appreciate that there is an oil drain at the bottom of the engine. I like removing the drain as compared to tilting the entire unit over and draining used motor oil out of the fill tube. That can be just a real pain.
The pump (2.3 gallons per minute at 2,550 psig) appears to be a common pump that is used throughout the industry line. The axial cam type pump allows water to recirculate in the pump system (for about 3 to 5 minutes) until the water temperature is about 125 to 155 degrees. At this point, the pressure discharge from the pump occurs and fresh cool water enters the pump. This high temperature discharge protects the pump from over heating.
The manual states there is no pump maintenance required to refresh the pump oil. Yet, there is a black plastic plug to do just that. Other pressure washers indicate that in their owner's manual. I plan to perform my own maintenance and I'll keep you updated on such. Also, a 'pump saver' liquid is recommended for storage at 30 days and above. Usually, these are small cans (filled with aerosol) that attach to the pump and discharge into the pump system. Normally, prices range from $5.00 to $9.00 for a 'pump saver' can.
Thus far, the unit works like any normal pressure washer. I have not had any problems with it. The B&S Engine runs normally. The pressure pump is working normally. I plan to turn this into a long term test and keep you informed of problems as they happen.
If you have any questions, give me a shout. If this guide/review provided any assistance or help to you, please rate it.
Thanks,
Terry