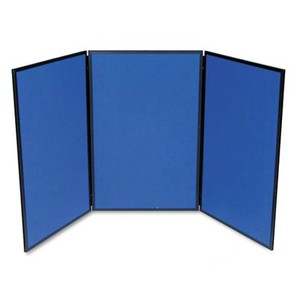 Trade shows are where businesses go to directly target relevant buyers in an industry. It is important, then, to make a statement at the trade show that will rise above the roar of neighboring booths. One tool to aid in the making of that statement, a trade show display offers a cost-effective way to convey a message forcefully and effectively in the few seconds that potential clients spend passing by the booth.
Whether the intent is to create leads, generate sales, educate potential clients, publicize a business or particular products, or build a company image; a travel-friendly and easy-to-assemble trade show display can help to meet that goal.
Every booth at a trade show has two common goals; to attract traffic and convey a message. With each booth vying for attention, it is often the ones with well put-together displays that get it. There are several things to keep in mind when choosing a trade show display.
These displays come in several types, including pop-up, panel, modular, frame-less, and tabletop. Each type has its own benefits. Regardless of which type is used, trade show displays require some thought in how to put together a display that will attract the most traffic. Because they represent such value for the business, care for these displays also deserves some attention.

Discover Trade Show Displays
Choosing the type of trade show display can depend on a number of variables. Large trade show displays will often provide the most dynamic display, providing some seclusion and a wall for presenting eye-catching graphics along with large text messages to visitors. Others that may not be as large can be just as dramatic when used effectively.
There is quite a selection of trade show displays, with each type differing in terms of portability, price, and ease of assembly. Whether used on their own, or combined with a larger display, even the smaller scale options can be very attractive, bringing in just as much traffic.
Pop-up Trade Show Displays
Perhaps one of the most effective trade show displays, a pop-up trade show display is fairly lightweight and compact. A 10-foot display can fold into one or two cases, each about the size of a large golf bag, and weighing less than 70 pounds. They can also often be set up by just one person.
These displays are fairly easy to set up, but offer little in the way of size flexibility. Their frames must be fully open to remain stable, so they cannot be adjusted to fit into smaller or larger spaces. Pop-up trade show displays will also require either relatively small graphics or ones that can be applied directly to its flexible curved surfaces.
Panel Trade Show Displays
Among the most versatile, panel trade show displays are composed of many separate folding panels that can be arranged in different configurations. This functionality allows for the use of the same trade show display for exhibition spaces of varying sizes and shapes. Also, panel trade show displays can support large, flat images. This makes them very versatile and adaptable for a business' changing needs.
However, these typically require more than one person to assemble. This should be factored in when coming to a decision about which trade show display to purchase.
Modular Trade Show Displays
Modular trade show displays are also particularly convenient if your spatial requirements change regularly. These can generally be configured in a variety of ways depending on the need.
When a complete custom trade show display is desired but not in the budget, modular trade show displays can be combined with custom display components to create impressive trade show displays at a lower cost than buying entire custom-designed units.
Frame-less Trade Show Displays
Frame-less trade show displays are constructed of a plastic panel that is bent so that the ends meet to create a standing structure. The side of the structure that contains graphics faces out for display.
Weighing only about 28 pounds, frame-less trade show displays combine the convenience of a lightweight package, which translates into much lower shipping costs, with the ease of one-person setup. Frame-less trade show displays work well as backdrops, but its construction means that you cant rest items on the display itself.
Pipe and Drape Trade Show Displays
An attractive choice, a pipe and drape trade show display is constructed by attaching a fabric drape onto pipes. Pipe and drape displays can be useful as backdrops or as skirts for the front of tables. Heavy graphics and other display elements will require additional trade show display equipment because pipe and drape trade show displays cannot directly support weight.
These can be versatile, however, in that the drape can be changed to coordinate with any event. Many can also adjust for different area sizes.
Tabletop Trade Show Displays
Sometimes a whole area display is not needed, or it may not be cost effective. This is when a tabletop trade show display, which is a smaller version of pop-up trade show displays and panel trade show displays, may meet the need for a smaller display. These can quickly be set up and disassembled, making them travel-friendly trade show displays.
Briefcase trade show displays, a form of tabletop trade show display, offer even more convenience for frequent travelers. Keep in mind that the size of some smaller tabletop displays, such as briefcase displays, may limit the extent to which it will stand out in the crowd.
Depending on the type of display chosen, a variety of materials can often be used to cover trade show displays, including plastic and fabric. When choosing a fabric covering, it is a good idea to remember that heavier fabric tends to withstand wear better than smooth, lightweight fabrics. Another way to vary a display is to use only one part of it, or fold panels in or out to fit smaller or larger spaces.

Designing a Trade Show Display
Once the type of trade show display has been decided, it is time to consider its design and setup. The average visitor spends less than three seconds looking at the trade show display, so the design must be able to grab attention quickly. Graphics should be eye-catching and text should be large with a clear and concise message.
The main purpose is to let trade show visitors know who the company is, what it does, and how the company can help them. Avoid complex explanations or elaborate descriptions of the company, though. Instead, focus on messages that will prompt visitors to stop at the booth for more information.
When working on the design of the display, remember that some systems can be equipped with shelving to display products that the company manufactures or sells, or promotional products that provide publicity.
The overall impact of the trade show display hinges on the different elements of the design, including graphics, sample products, promotional products, business cards, brochures, and lead cards. Put together in just the right way, these elements will work together to drive the flow of traffic at any trade show.
Text and Graphics
Trade show displays should feature both text and images meant to catch the interest of those passing by. Mount graphics using Velcro, which can then attach to fabric-covered trade show displays, and incorporate text and images into the trade show display surface - typically by applying large photo-murals to the display.
It is a good idea to begin shopping for trade show display graphics about two months before a trade show to allow the time needed to create the proper artwork. Often, the seller who the display was purchased from sells graphics for it, and there are also graphic designers who specialize in producing artwork for trade show displays.
Sample Products
Trade shows are notorious for their sample products. Visitors to a booth will be both drawn to it by sample products and stick around longer because of the sample products. Select sample products that are easy to travel with and display, and those that give the booth visitors a good idea of what the company sells.
Demonstrations, if possible, always attract booth traffic.
Promotional Products
Even more than sample products, which everyone might not need, promotional products can draw a crowd as well. Think about useful, small, and unique items when choosing promotional products.
Also, consider keeping higher-end promotional products tucked away so they can be given to potential customers who show genuine interest. Leaving a basket full of lesser promotional products in front of a trade show display will generate a large amount of booth traffic. While most people will initially come only for the gift, many will stay to check things out, especially when they have been given something for free.
Business Cards
It is a good practice to always keep business cards handy. If the business relies on them for leads, try to find ways to make them really stand out next to the other booths handing out business cards.
Some people focus on presenting great graphics on their cards and others choose interesting colors. To really be unique, consider an unusual size, shape, texture, or edge cut of the card.
Brochures and Other Literature
The majority of literature handed out at trade shows ends up on the floor or in the garbage. If the plan is to hand out literature to every person who passes by, use simpler, less expensive fliers or brochures. Save more in-depth literature printed on nicer paper for genuinely interested visitors who have questions.
Lead Cards
Lead cards are the best means for collecting information about potential clients. While establishing contact with potential customers, keep in mind that they want to know that a company is genuinely interested in satisfying their needs. Find out what they are looking for first, then ask for mailing information.
Be sure to contact leads within a few days after the show. Even the best impressions will only last so long without follow-up.
On top of the basic trade show display cost, expect to pay an additional cost for these necessary graphics and accessories.

Care for Trade Show Displays
Trade show displays receive a lot of rough treatment from shippers, customers, and those setting them up. To ensure a longer life for the display, make sure that it can be securely packed. Look for trade show displays with cases that have separate spaces for each display component and avoid tucking non-display components into trade show display cases.
Portable trade show displays fit into cases that can check onto airlines or be transported via standard ground shipping services. This portability allows for one person to bring in and set up the display, avoiding the added complexity and expense of professional movers and builders.
Remember to consider airplane, ground shipping, and personal car requirements when determining the overall cost of a particular display system.
Know the Warranty Options
Some sellers offer trade show display warranties. Pop-up trade show display frames typically have a lifetime warranty while the warranties on panel trade show displays vary a bit more, lasting anywhere from two to five years.
Be sure to read the fine print. Some manufacturers require you to send a trade show display back to them if it breaks, which could take more time and put a freeze on trade show attendance. Others, however, can be fixed in the field or at a distributor.

Find Trade Show Displays on eBay
While trade show displays can be purchased in a variety of ways, in today's connected world, many are purchased online. There are several online companies that offer trade show displays, and many are available on eBay.
Once the type of trade show display needed has been selected, go to the Business and Industrial category portal. Scroll down and click the Trade Show Displays link listed under the Office heading, and start searching for trade show displays and accessories on eBay.
Categories
It is likely that many trade show displays will be listed, perhaps making the choices seem overwhelming. The Categories list on the left side of each page will help to narrow down listings by item type. By clicking through the categories, the search can quickly be narrowed to links for Banner Systems and Signage, Pop - Up and Booth Displays, Tabletop and Portable Displays, Trade Show Display Accessories, and Other Trade Show Displays.
Keyword Search
Search eBay listing titles for specific words to bring up the most effective list of items. For example, if you want to find pop-up trade show displays, type "pop up display" (without quotation marks) into the Search box.
Visit eBays Tips for better searching page for more tips on searching with keywords. If the search does not bring up the desired item, try shopping eBay Stores. You can also tell the eBay Community what is desired by creating a post on Want It Now, or save a search on My eBay and eBay will email you when a match becomes available.

Buy Trade Show Displays With Confidence
The hundreds of trade show displays listed on eBay in the Business and Industrial category offer a large selection. When selecting the right trade show display, look carefully at each item, research the seller, and understand how eBay and PayPal protect the buyer.
Many sellers put a lot of time into creating their listings, making an effort to ensure they include all the information buyers need. Carefully read the details in listings for the trade show display being considered and carefully review available photos. Before placing a bid or buying an item, be sure to get answers to all possible questions.
Get Answers
If there are still questions after reading the listing and reviewing the photos, contact the seller using links in the Seller information box in the top right corner of every item listing. Clicking on the seller's user name brings up contact information as well as feedback information and other items offered by the seller.
You can also request additional photos of the trade show display from a particular angle that is not shown in the photos included in the listing.
Do not forget to calculate and include delivery costs into your final price.
Complete a Transaction on eBay
Always complete transactions on eBay with a bid, Buy It Now, or Best Offer. Transactions conducted outside of eBay are not covered by eBay and PayPal protection programs (see Buyer protection below for more details).
Never pay for an eBay item using instant cash wire transfer services such as Western Union or MoneyGram. These payment methods are unsafe when paying someone you do not know. Instead, pay with PayPal for amounts less than $2,000 (including deposits), a money order, or direct bank-to-bank fund transfer.
All legitimate Second Chance Offer messages will come through the My Messages system on eBay and not to a personal email address alone. Always contact the seller before accepting a Second Chance Offer, and never respond to any request to send money via Western Union or other instant cash transfer service.
Track Items With the eBay Toolbar
Use the free eBay Toolbar to track bids and items to watch. The toolbar includes Account Guard, a feature that indicates when a website is a verified eBay or PayPal website. It also warns when an eBay password is entered on an unverified site, even if it looks like it is eBay or PayPal.
Know the Seller
Just as important as researching the trade show display purchase is getting to know the seller. Take time to research the seller to feel positive and secure about every transaction. Key things to look for when evaluating a seller are:
Positive Feedback
Find out how long the seller has been a registered eBay user and look at the types of items a seller typically offers.
Look at the seller's feedback.
Find out how many transactions the seller has completed.
Look to see the percentage of positive responses from other buyers.
Check out the comments left by other buyers.
Specifically look for comments of praise or ones that reflect poor behavior.
Positive feedback and the sellers eBay experience can instill the confidence that this is the right purchase.
Terms and Conditions
Sometimes a seller might have stellar feedback because of the great terms and conditions they offer. Understand the terms and conditions of this sale. Sellers typically set terms and conditions, but the buyer has to agree to them. If they are not agreeable, find another seller/trade show display or contact the seller to find out if he/she is open to suggestions.
Buyer Protection
Online purchases can make some buyers hesitate. The uncertainty is a good reason to stick with reputable companies like eBay that have a good history of offering safe transactions. eBay covers its buyers. In the unlikely event that an item is not received or it is not as described, eBay Buyer Protection will cover the purchase price plus original shipping.

Conclusion
Trade shows are important for many businesses. Open binders on a table with a candy jar won't cut it in a competitive market. It is important to take care in designing a trade show display, care in purchasing the display, and care in tending to it and setting it up.
An effective trade show display can mean a boon for business, and the preparation of the presentation should be taken seriously. Done well, with the right elements, a trade show display can mean a successful trade show that meets each desired goal.