Slips can be a vital part of a woman's wardrobe. A slip is a lightweight undergarment that is designed to be completely covered by regular clothing. However, while a slip is not visible, it has many benefits. Many women wear slips with light skirts to make sure that an otherwise see-through fabric does not reveal anything. Slips can also smooth over lines and bumps under skirts that fit snugly. In dry weather, slips help reduce static while the wearer has a skirt on, preventing the skirt from clinging. Slips have slippery fabric that also keeps skirts from riding up or bunching, no matter how much the wearer has to move throughout the day. Fortunately, a woman only needs a handful of slips that will work for any type of skirt or occasion.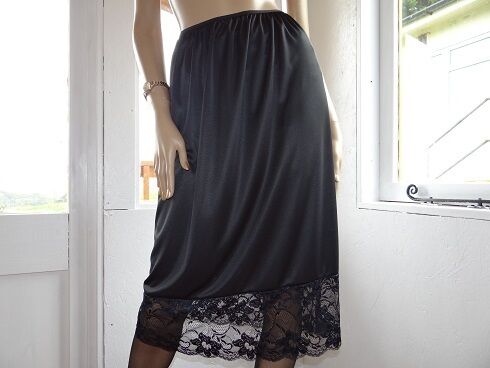 A half slip covers from the waist to the knee although longer and shorter half-slip lengths are available. Generally, a woman should choose a half slip that is an inch or so shorter than the skirt she plans to wear to prevent the slip from protruding out from under the skirt. However, slips that are significantly shorter than the skirt will still help the skirt sit smoothly. Many women also adjust a slip's length by wearing it higher or lower on their waist or rolling the waistband over a few times. Half slips have an elasticized waist band, so sizing is not exactly like skirt sizes may be. In fact, it is usually not necessary to try on a half slip for fit. Half slips are extremely forgiving for the wearer.
---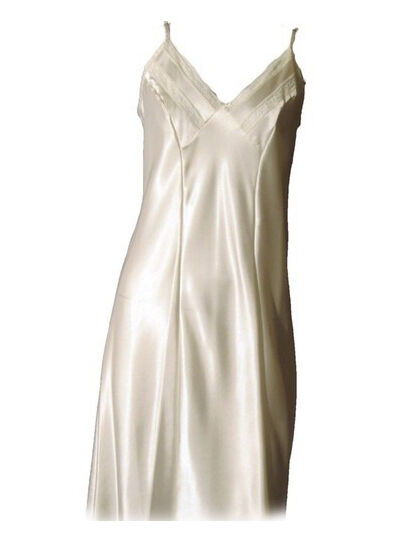 Full slips are more like a full dress with a skirt part and a top that resembles a camisole or tank top. Full slips do not have any shaping in the waist, so, like half slips, sizing is forgiving. A full slip should not be tight but should move smoothly over the body. Full slips often have adjustable straps for a custom fit. While most women wear full slips under dresses, they are a great idea under skirts as well, especially if an outfit includes a button-up or work top that would be layered over a camisole anyways. A full slip will prevent any midriff skin from peeking out between a skirt and a top, and it will help a skirt and top move smoothly together. Many women also wear full slips as nightgowns or sleepwear because they are so light and soft.
---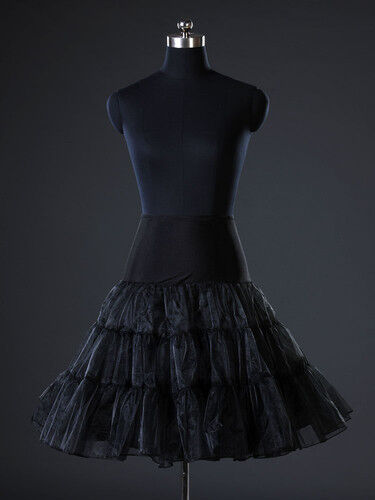 A petticoat is a very specific type of half slip that is designed to add volume to a skirt. Because of this, petticoats are best with skirts that have a lot of fabric, such as circle skirts. Petticoats are made up of an elasticized waist section a few inches wide. Attached to that are multiple layers of tulle or another stiff but lightweight fabric. While many petticoats are plain white, these slips are available in almost any color. Unlike other slips, petticoats are generally worn so that the decorative hem can be seen under the skirt. Because petticoats are so full, they are popular with women who plan on moving around a lot, like dancers. The casual and flirty look of a shorter skirt with petticoats is great for parties, and a longer skirt with a little extra volume can be a fun way to liven up a drab office outfit. Petticoats are also popular with skirts for special occasions.
---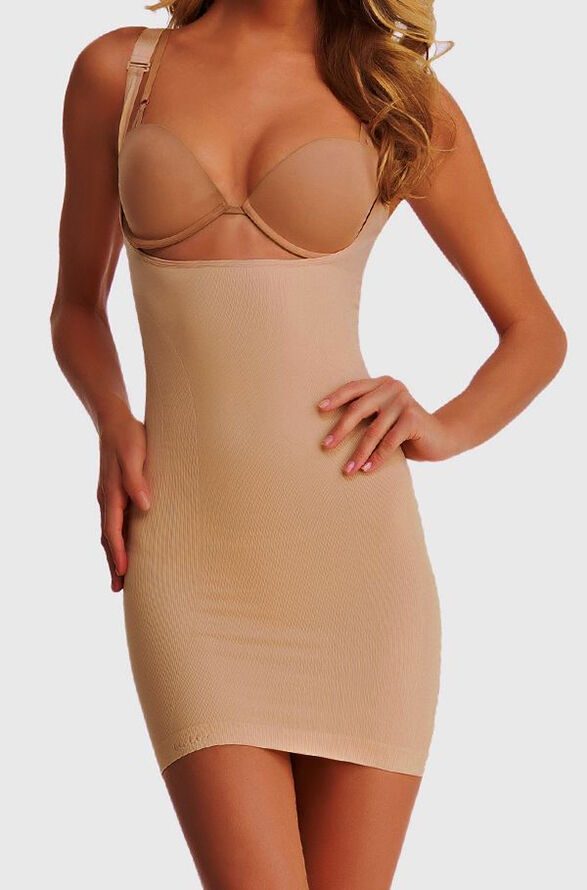 Shapewear is a popular slip option for many women. This type of slip is available in full- or half-slip styles. Some styles also extend over the waist but stop under the bust. Unlike traditional slips, shapewear slips fit very tightly. The fabric is thicker, and specially designed elastic panels hug a woman's body to smooth out bulges and slim the waist, hips, and thighs. Shapewear slips, like traditional slips, are generally made with very slippery fabric so that skirts can move over them smoothly. Shapewear slips tend to cost more than traditional slips, but they generally last longer as well because they are thicker.
---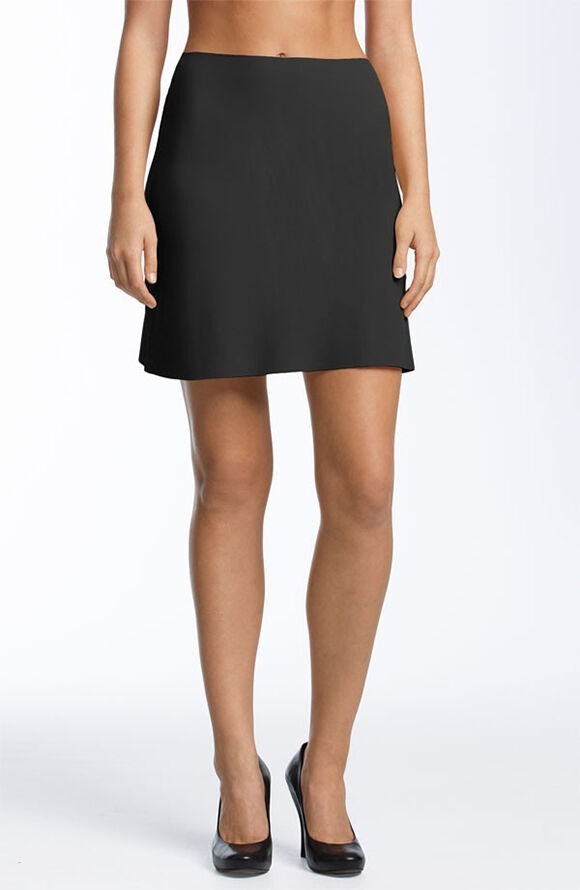 Most basic slips are readily available in white, black, and nude colors. These colors will work with most skirts that a woman wears. However, if a woman is concerned about a slip showing, she can find slips that are much closer to her skirt's color. Colo red slips are also a great fashion choice with skirts that are made from lace, crochet, or other openwork fabric. Since the slip's color is visible through these fabrics, a woman can change the look of the skirt simply by choosing a different-colored slip. Colored slips that match a skirt's color are also a good idea for special occasions or other times when a visible slip hem will be very noticeable. If a woman wants to show a little bit of her slip, a red slip can add drama to an outfit.
---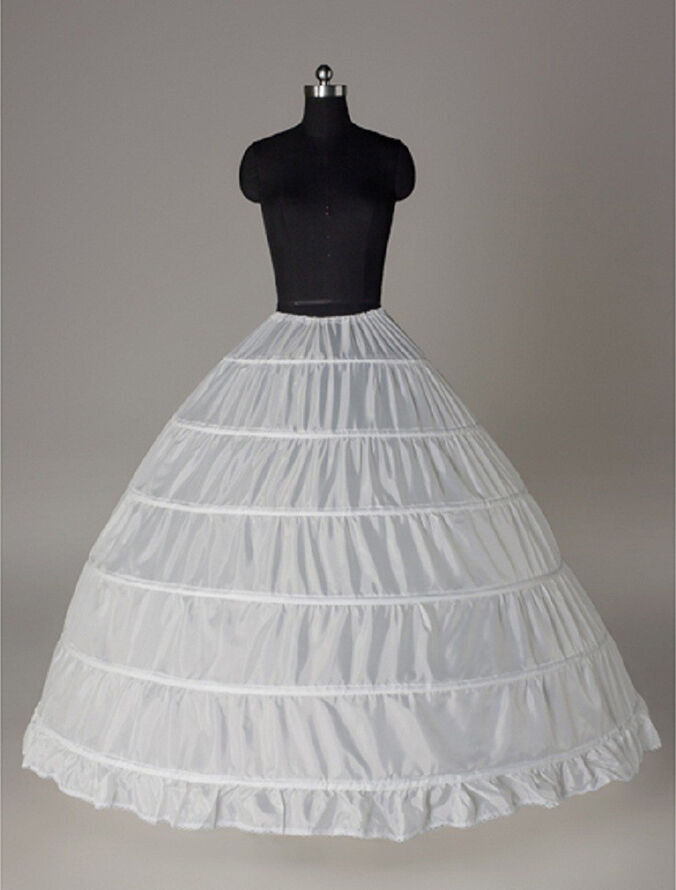 Like petticoats, hoop skirt slips are designed to add volume to a skirt. However, hoops are used for floor-length skirts or dresses, and they have a much larger volume than petticoats. Hoop skirt slips are floor-length slips with structured wire or plastic hoops sewn into the fabric. These hoops hold a skirt out in an elegant bell shape. This style is most often seen for special occasions like a wedding, prom, or other formal dance. Some hoop slips also have layers of fabric, like a petticoat, to add more volume and to keep the sharp lines of the hoops from showing through the skirt.
---
Finding Slips for Skirts on eBay
eBay has a large selection of
slips
for skirts. To browse slips, navigate to eBay's main fashion page. Then, select the link on the left for
women's fashion items
. Click on the category link for
Intimates & Sleep
, and from that page, select the link for the slips category. From here, shoppers can easily use eBay's navigation menu on the left of the page to narrow down results by brand, size, and other options. Shoppers can also use the search bar at the top of the page to look for items with specific keywords in their title or item description. While
new slips
will be in better condition, many women prefer the style and feel of vintage slips, which will be listed as
preowned
.

Conclusion
Every woman should own a slip or two for special occasions and to wear with unlined skirts. While there are many options when buying slips, it is best to start with basic whole or half slips in a neutral color. Then, a woman can purchase more slips as she encounters specific needs with certain skirts and outfits. Any woman who has been annoyed with skirts bunching, pulling, or showing too much will be glad to know that all of these problems can be solved with slips. So before throwing out a skirt that does not fit well, try to wear it with a slip. Since basic slips are so affordable, it can cost so little to make skirts and dresses so much easier to wear.