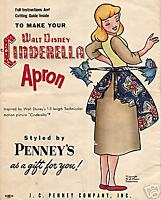 The apron came about because of practical necessity. In years
gone by, people didn't have the luxury of owning a large
wardrobe. Washing and drying clothing was not done on a
frequent basis, so aprons served a practical purpose of
covering up the dress underneath to project it from soiling.
This made washing much easier. The apron would be washed
every couple of days but the dress or clothing underneath
did not have to be washed as much, perhaps maybe once a week.
Later they began serving as decorative purpose. Not just
housewives wore aprons; school teachers, children, shop-keepers,
and secretaries wore different styles of aprons over their
clothing every day.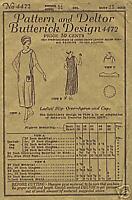 In the 1920's and '30's aprons followed the silhouette of the dress - long, with no waist line. By the 1940's, aprons gained a cinched waistline, and were often gaily trimmed with rick-rack, buttons, and pockets of contrasting color. Many aprons were made from feed cloth. Feed cloth was a heavier fabric and was used as a sack to put seed or four in that farmers used.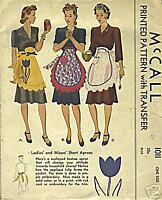 There was no wasting back then, when the sacks were empty,. the feedsack fabric was used for quilts and aprons. In fact, when the apron had seen its day and was ready to be tossed, the best parts were cut out and used for quilts.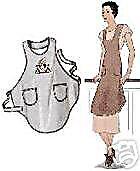 Magazines from the 1940s and 50s feature apron-adorned women in nearly every advertisement that is related to housework or cooking. It was a standard uniform that, at the time, was not frowned upon. Aprons were a selling feature for irons, kitchen appliances, food products and more.

The 1950's brought out the half-aprons of highly starched cotton,
feedsack and sheer fabric trimmed with lace for special occasions. Two piece aprons and short smocks of bright cotton prints for every day use were popular.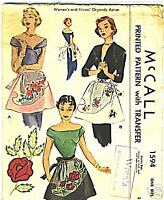 At one point, aprons were a serious fashion element, not just
a mere cover-up. Today, the more rugged utilitarian
aprons are still in use. The old-fashioned pretty cotton ones
are hard to find. The modern aprons are available in both printed
and hand stitched designs in a bouquet of appealing color.
Message aprons first appeared in the late 1960s. Kiss the Cook
and For This I Went to College were some of the most popular
messages embossed on the once-again-popular full-length aprons.
These messages were a reflection of the Feminist Movement that
was starting to pick up steam at this time.
While the decorated kitchen apron has passed in and out of
popularity, it seems to be coming back into fashion, if only
for a relatively small population. The rest of America will
always have a place in its heart for them and the memories
tied to each of us, whether that recollection is of a mother,
grandmother, servant or June Cleaver.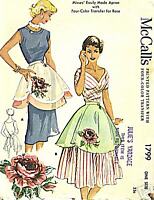 While everyday women were using kitchen aprons for a variety of tasks, television shows mirrored this by featuring women wearing aprons in nearly every episode of family favorites. Over the past four decades, many of these shows have been in re-runs allowing later generations to have a peek into life in the 1950s. Naturally, it
was not as idyllic as portrayed on television, but the shows have
helped develop a stereotype of both the 1950s, in general, and kitchen aprons.
The kitchen apron remained a common fixture in homes for more than a century until the late 70s and into the 1980s. By then, primarily food service workers and weekend barbecues were using the apron. While there are many kitchens in America that are apron-less, it is experiencing resurgence in popularity for many women. According to Antiques and Collectibles magazine, aprons of the 1950s have been experiencing a revival. Younger generations are looking back to what their grandmothers
had and emulating it in a new way. Retro housewives clubs are popping up in large cities and over the internet looking back to the past for inspiration and style.
Today, vintage aprons can be found in antique stores, flea markets and on Ebay. Patterns to make reproductions of these classics are readily available in the craft and sewing stores and on the internet. With the availability of vintage-look 30's themed fabrics on the market today, it is very easy to replicate the aprons from long ago and bring them into today's society.