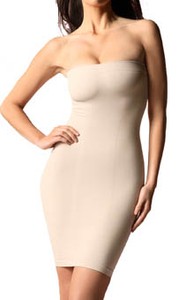 Shapewear declined in popularity during the freewheeling 1970s but has come back strong and is better than ever. Gone are the iron and whalebone corsets that crushed ribs and internal organs, interfered with breathing, and caused women to faint. Also gone are the latex girdles and cone-shaped bras of earlier generations. Today's body shapers are comfortable, effective, and give a natural-looking shape. They are not just for those who wear a plus size; shapewear can simply smooth out the silhouette underneath clingy materials, which is helpful for women of all sizes.

There is much to be said about choosing and wearing modern shapewear, but the easiest way to process all of the information is by considering a list of dos and don'ts.
Shapewear Do's
The following points list all of the "dos" when it comes to buying and wearing shapewear, along with the reasons for doing so.
Do Learn How to Put on Shapewear Correctly
One of the primary reasons that women avoid shapewear is that they find it too difficult to put on. Many funny stories have been told about having one's arms trapped or falling over in the struggle to pull on a spandex garment. Most of these women have not been educated in how to put a body shaper on in the right way and end up forfeiting benefits of these garments.

Always step into shapewear, even camisoles, and pull the garment up over the hips to avoid trapping the head and arms in the shaper. Also, bunch up the shaper like pantyhose and pull it on while gradually releasing the fabric. Do not try to put it on like a regular piece of clothing. Leave crotches hooked or snapped, as it can be difficult to get these fastened once the shaper is on. More complicated pieces should come with instructions. The trick is to go slowly and be patient. Wearing a shaper takes a bit more effort than throwing on a pair of jeans and a T-shirt, but the effort is worth it.
Do Try On Shapewear Before Committing to Buy
Every woman has a different body and different preferences, and just because a friend raves about her control briefs does not mean it is great for everyone. The only way to be sure a body shaper works is to put it on and see how it looks underneath clothing. Most women find that they need to try on bras when they switch to a different brand or style, even if they think they know their size; similarly, same-sized shapers fit and shape differently.
Shapers most commonly come in neutral colors, like black, white, beige, and pink, because those colors work best for the majority of skin tones underneath various garments. If looking for a shapewear item to wear under a specific article of clothing, bring it with you in order to see which style and color of shaper works best for that outfit.

Because so many people buy clothes online or through mail-order catalogs and have the items shipped directly to them, "committing to buy" in those instances means removing all tags and sanitary liners and discarding plastic bags with bar codes, hangers, paperwork, and so on. Returns are usually only accepted if the item is in sellable condition with all of the original packaging included.
Do Know How Often the Garment Is Worn
Many different styles, designs, and levels of control are offered for each type of body shaping garment. If tummy support is desired for a special occasion under a slinky dress, a woman may be able to tolerate a much higher level of support for a few hours than if she were looking for an everyday, all-day shaper.
Do Know Which Shapers Help Which Body Parts
All shapewear is not created equal. Each type of garment serves specific functions, and most do not provide all-over slimming. The following table briefly outlines the major categories of body shapers and how they help with certain figure concerns.
| Shaper Type | Areas Shaped |
| --- | --- |
| Minimizer bra | Bust, upper back |
| Control brief | Abdomen, rear, hips; sometimes waist if extends upward and thighs if extends downward |
| Slip shaper | Abdomen, rear, hips, thighs |
| Shaping top | Upper and lower back, stomach; waist if long enough and bust if bra is included |
| Waist cincher | Waist, abdomen if extends downward |
| Thigh slimmer | Abdomen, rear, hips, thighs |
| Bodysuit | All-over shaping for upper and lower back, waist, abdomen, rear, hips, and thighs; bust included if the shaper has a built-in bra |
The key to comfort is going with the least coverage possible. A woman who wants to whittle her waist does not need a full-body shaper and is most likely unhappy wearing one. Conversely, if a woman who has curves all over invests in a waist cincher, she is probably disappointed with the results. For a true hourglass figure, a waist training corset may do the trick, where a high-waist panty lifts and enhances the bottom. Always assess each body part, even if it was not a factor that originally prompted the decision to buy shapewear, and determine if it should be included in the body shaper or not.
This is where understanding body types comes in handy. Pear-shaped women want to focus on slip shapers, bike shorts, or capri leggings with control. Apple-shaped women should shop for briefs, shaping tops, minimizer bras, or bodysuits.
Do Decide How Much Control Is Needed
If two women are looking for a thigh shaper, one woman may simply want to disguise cellulite show-through and keep her inner thighs from rubbing together, while the other woman may wish to actually reduce the apparent size of her thighs. The first woman needs a light or moderate control garment, while the second woman should focus on firm or extra firm support. All shapewear comes in different support levels, so always check tags and item descriptions before trying an item; otherwise, it may be a waste of time.
Do Pay Attention to Care Instructions
Washing instructions are there to teach people how to maintain the quality of the item while keeping it clean; they are not put there as an afterthought or a nicety. Laundering is known to be hard on clothes, and heat causes rubber, silicone, and spandex to break down, so hand washing and line drying where indicated or following other specifications help ensure that a body shaper retains its effectiveness and lasts for a long time.
Do Wash New Pieces Before Wearing
This is a rule that should be followed for all clothing, regardless of whether the item is an undergarment, innerwear, or outerwear. Fabrics are not only made out of chemicals themselves, such as polyester, nylon, and spandex, but are also treated with other chemicals. Garments are also handled by many people during packing, shipping, and displaying and are sometimes dropped on the floor, sneezed on, or put through other interesting situations. Take the time to swish a new body shaper in soapy water, following the care instructions closely.
Shapewear Don'ts
The next section points out the "don'ts" of shapewear selection and wear, with the reasons given as well.
Don't Buy Shapewear That Is Too Small
Shapewear that is smaller does not provide more support; it simply does not fit and is uncomfortable. A body shaper that is too tight pinches, binds, cuts off circulation, and creates unsightly rolls and bulges where the shapewear ends. Instead of going smaller, find shapewear with firmer support in the correct size.
Don't Buy Shapewear That Is Too Large
It is a fallacy to think that shapewear a size larger is more comfortable. A body shaper that is too big moves around, gapes, wrinkles, bunches, or twists when it is worn. Moreover, it does not provide the correct level of support, so in essence it acts as an extra layer of clothing that serves no purpose. Sizes are not visible on the outside, so go with what fits and do not worry about the difference between 1X and 2X.
Don't Be Afraid of Seams
A lot of women refuse to wear bras with seamed cups because they tend to show through today's casual knits. Unfortunately, this is sometimes true with bras, but because shapers are generally worn around the waist and bottom, seams are usually covered by structured pants or skirts. Even with knit garments, many shapewear seams are hardly noticeable due to improved technology. The only way to know is to try it on, so do not discount an item before doing so just because it is seamless.
Don't Make a Purchase Based on Before-and-After Photos
Many women today are savvy enough to know that many marketing photos are digitally altered or retouched to make a product appear amazingly effective. Do not believe the photos; try on the shaper. Even if the pictures are accurate, what works for one woman may not work on another.
Don't Give Up on Diet and Exercise
A body shaper is no substitute for the health benefits of good nutrition and regular activity. Besides, shapewear is useless on the beach and in the bedroom. Healthful eating increases energy and reduces the risk of many diseases. Working out, whether in the form of a gym membership, yoga classes, or regular walks in the neighborhood, increases confidence, boosts energy, improves posture, and helps people sleep better.
Where to Find Shapewear
Shapewear is available at all major department stores, lingerie shops, specialty boutiques, and discount stores. Style, color, and size options will vary from one venue to the next.
How to Buy Shapewear on eBay
It is easy to shop for shapewear on eBay. Simply type a few keywords into the search bar on any page. Start with terms like "bodysuits", "waist cinchers" or "slip shapers" and browse the results. With just a few more quick clicks, you can narrow your selections down to everything in your desired size, color, brand, and even price range.
Conclusion
There are many helpful dos and don'ts to wearing shapewear, but this volume of information should not discourage anyone or leave the impression that shapewear is complicated. These are guidelines to increase the satisfaction that women get from their shapers. The information should be reviewed in detail but can be boiled down to a few essential points: know what the desired end results are; know the products, how they work, and how to take good care of them; and try shapewear on before keeping it. A few well-spent minutes researching shapewear means a more pleasant shopping experience and a more pleasant shapewear wearing experience.