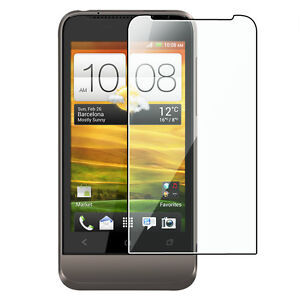 Cell phones and smartphones are expensive devices, and it can be heartbreaking to find a huge scratch across the screen of something so costly. A large scratch may even affect the usability of a smartphone's touchscreen. A screen protector is a thin piece of transparent film that is affixed to the screen of an electronic device, either by static or with an adhesive, to protect the screen from abrasions, wear, and scratches. Screen protectors are relatively inexpensive when compared to cost of replacing a smartphone or cell phone and are a great way to prevent unsightly scratches, as well as protect screens from fingerprints and dust.

Protect Your Investment from Scratches and Fingerprints
Cell phone and smartphone owners whose devices spend a lot of time in pockets or purses should consider the benefits of screen protectors. Available in numerous brands and design styles, screen protectors help prevent damage in the event a phone is tossed into a bag with

sharp objects, such as keys, or possibly even if the phone is dropped. Screen protectors are generally easy for consumers to install, but some retailers offer installation for certain brands that require a more precise application.

Choices in Screen Protectors
Though there are countless manufacturers of screen protectors, the protectors themselves vary only slightly in their design and function. The biggest difference is whether a screen protector comes pre-cut to fit a particular model of phone or is a universal screen protector designed to be cut-to-fit by the consumer. Custom-fit or model-specific screen protectors are available to fit a large number of cell phones and smartphones. These protectors are cut by the manufacturer to fit a specific screen size and design, and are labeled accordingly. Universal screen protectors are a great option for less-common phone models that may not have a good selection of custom-fit protectors available.
While all screen protectors are made from essentially the same type of protective film, there are a few different design styles available. The most basic style screen protector is a simple, transparent film that is roughly 3 millimeters thick. Referred to as "invisible protection," this is generally the most widely available and economical type of screen protector. Mirror screen protectors, though invisible when a device is on, turn a phone screen into a mirror when the device is asleep or off. Anti-glare screen protectors have a matte finish to cut down on screen glare, especially when outdoors. Privacy screen protectors are nearly 8 millimeters thick, and are designed to darken a screen when viewed at an angle to ensure privacy for the user. The added thickness also offers extra protection.
Tips for Applying a Screen Protector
Most screen protectors come with detailed instructions, but a few extra tips can help make the installation process easier. Begin by washing hands, and then find a clean, dust-free environment away from drafts and fans. Some consumers recommend applying screen protectors in a steamy bathroom since the humidity will reduce the amount of dust in the air. Also, latex or rubber gloves can be worn to keep fingerprints from getting on the screen or screen protector during the installation.
Thoroughly clean the screen using a recommended solvent and a clean microfiber cloth. Scotch tape or a lint roller works well to pick up dust that settles back onto the screen while applying the protector. Align the protector either at the top or bottom of the device, and make sure the corners are even before pushing down. With adhesive protectors, the key is to use a smooth, steady pace. If small bubbles form, use either an applicator card or a credit card to push them to the edge. If dust or large bubbles form, use more tape to gently lift a corner of the protector. Remove the dust from the screen or the underside of the protector using tape or a lint roller, and try again.

Popular Cell Phone and Smartphone Screen Protectors
The earliest screen protectors were very thin sheets of film that, despite offering sufficient protection to the phone screen, peeled and scratched easily and needed to be replaced often. Newer screen protectors are made from more durable urethane-based films, and when properly installed, can often last as long as the device itself.
Anyone shopping for a screen protector for a cell phone or smartphone can easily become overwhelmed by the large selection of choices available, but the following list of seven of the most popular brands should aid in the decision-making process.
Type 1: invisibleSHIELD by ZAGG
invisibleSHIELD by ZAGG is made from a patented film equipped with nano-memory technology. This technology imparts a subtle texture to the film, but also provides it with greater pliability and flexibility, self-healing capabilities, and improved grip. invisibleSHIELD comes in three levels of protection, offering coverage for the screen, the back of the device, or the entire device. The invisibleSHIELD screen protector should not wear or scratch, and if it does, the company will replace the protector for free. Every invisibleSHIELD is precision-cut, and can be removed easily without leaving behind a sticky residue.
Type 2: Clear Protector
Clear Protector screen protectors offer the protection of thicker films in a formula that is only 2 millimeters thick. These screen protectors are applied using a soap-and-water method which alleviates some of the issues of application, such as bubbles forming under the film. Clear Protectors are available in screen-only versions and in an extended protection version for whole-device coverage. Designed to resist yellowing, they are scratch-proof and virtually invisible. Clear Protectors leave behind no sticky residue if removed and come with a lifetime guarantee.
Type 3: XO Skins
XO Skins produces protective polyurethane coverings that not only protect screens, but are said to improve the look of worn screens by filling in a number of existing scratches. Custom-cut for a perfect fit, XO Skins are not only affordable and durable, but are nearly invisible when applied properly.
Type 4: ScreenGuardz by BodyGuardz
ScreenGuardz screen protectors, manufactured by BodyGuardz, are known for being durable and easy to apply. Their economically priced Classic Clear protectors adhere statically to a screen and last up to three months. Their line also includes Privacy Protectors, which use special technology that blackens the screen when viewing it from angles greater than 30 degrees. BodyGuardz HD Anti-Glare/Anti-Fingerprint Screen Protectors reduce glare and make it easier to view a screen in direct sunlight or under bright lights. BodyGuardz also has a line of thicker, more durable protectors called UltraTough, which are applied using a spray gel and are treated with an antimicrobial agent.
Type 5: MediaDevil Magicscreen
MediaDevil, formerly known as PhoneDevil, opened for business in 2009 and quickly became one of the top sellers of screen protectors. Their Magicscreens are available in four editions: Crystal Clear, Matte Clear, Mirror, and Privacy. Crystal Clear provides invisible protection and does not alter the glossy appearance of the device screen. Matte Clear reduces glare and hides fingerprints. Mirror provides the same level of protection as the other editions, but turns the screen into a mirror when the device is off or asleep. Anyone concerned about wandering eyes while using a smartphone should consider their Privacy edition, which is made from a two-way privacy material that makes the screen appear black if viewed from an angle other than head-on.
Type 6: SkinPea Premium Screen Protectors
SkinPea-brand screen protectors use a heavy duty, 8-millimeter film that is resistant to rippling and "orange peeling," i.e., a change in texture which distorts the reflection of the light against the screen. The protectors are UV-resistant to prevent yellowing and are available in kits to provide protection for the front, back, and sides of a device. SkinPea Premium Screen Guards are treated with antimicrobial agents and come with a lifetime warranty, which offers full replacement if the screen protector is torn or damaged under normal use.
Type 7: ArmorSuit MilitaryShield
The ArmorSuit MilitaryShield line of screen protectors offers protection from impact, moisture, and abrasions. MilitaryShield is made from an anti-yellowing, transparent film that uses a self-healing technology to eliminate any small scratches that may develop on the film over time. MilitaryShield screen protectors are easy to remove and come with a lifetime replacement warranty.

Buy Cell Phone and Smartphone Screen Protectors on eBay
Cell phone and smartphone owners can go to eBay to find an enormous collection of screen protectors for sale by numerous worldwide sellers. Offering an unmatched level of selection and convenience, competitive prices, and easy-to-use search tools, eBay gives shoppers an experience that is rarely offered by local retailers.
After deciding which of the top screen protectors is desired for a particular cell phone or smartphone, the owner can begin searching for that protection by navigating to eBay and going to the Electronics portal under the "All Categories" heading. From there, click on Cell Phones and Accessories, and then select Screen Protectors to begin shopping for the most popular screen protectors for cell phones and smartphones. Results can be narrowed either with the categories list or through a keyword search.
Categories
The Categories list is an easy way to narrow down a search. Quickly find the right screen protector by selecting certain brands of protectors or by choosing those that are compatible with specific brands of phones.
Keyword Search
Shoppers can also narrow down listings with a keyword search. For example, if you are shopping for invisibleSHIELD, simply enter "ZAGG" or "invisibleSHIELD" (without quotations) into the search field. Tips on searching with keywords can be found on eBay's Search Tips page. For more specific items, shoppers can try searching eBay Stores.

Conclusion
As smartphone and cell phone manufacturers continue to advertise the use of more durable, scratch-resistant glass in their equipment, some users are opting to forgo the application of screen protectors on their devices. But for many consumers, the added security and reassurance screen protectors offer is well-worth any additional cost and installation hassles. Numerous brands and styles of screen protectors are available at department stores, specialty electronics retailers, and online marketplaces. Top-selling brands like ZAGG, Clear Protector, and BodyGuardz have a reputation for durability and dependability. Guard smartphones and cell phones against unwanted scratches and scuffs by applying any of the top seven most popular screen protectors, and keep your equipment looking new for years to come.