Sony Ericsson MW600 is the most comprehensive Bluetooth headset at the most competitive price on earth nowadays! It features call conversation in general, A2DP music streaming from mobile phone or Bluetooth enabled music play, game devices, etc. Built-in caller ID display and FM radio.

Available in Black and Silver White colors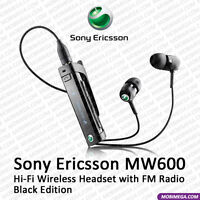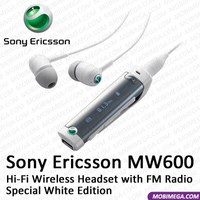 Watch the impressive promotion video and learn how it is competitive in MobiMega's eBay Store.
Features
Caller ID Display
MW600 equips an OLED display for operational information and the most important is caller ID display, which the calling number is displayed while its dial-in, you don't have to take out your phone any more to see who's calling. The calling number is displayed in general instead of the name from your phone's contact, this is due to the limitation of Bluetooth technology which the transmission of contact is not supported on all phones and between the headset.

A2DP Music Streaming / AVRCP Remote Control

You can play stereo music and audio from your phone or any Bluetooth enabled device on MW600 since it supports A2DP music streaming protocol, you can also move to next track, previous track, play and pause with dedicated buttons on MW600.
FM Radio
Bluetooth technology doesn't allow transmission of FM radio means you cannot listen to the radio from your phone with Bluetooth headset in general. However MW600 built-in a individual FM radio unit allows you to listen to radio without connecting to any devices.
3.5mm Earphone Jack
A stereo earphones is bundled with MW600 but you can also use your favorite earphones / headphones thanks to the standard 3.5mm earphones jack.
Multipoint
Connect to 2 Bluetooth enabled devices at the same time.
*** Note: one mobile phone and one music player or game device which it can switch between calls and music or game; connecting to two mobile phones at the same time requires manual switching between calls from two different phones)
Convenient Micro USB Charging
Simply charge the MW600 with the bundled AC charger or any USB powered connection (Micro USB cable bought separately) and it will full around 2.5-hr.
*** Note: To maintain a good battery / product life, NEVER overcharge your device (over 3-hr) and keep using and charging on a timely basis (at least twice a week) to maintain the battery is active.
Maintenance and Troubleshooting
You may want to reset your MW600 to factory default condition while there is unexpected connection or operational problem:
Turn off your headset
Press and hold the power button until you see a rotating arrow (pairing mode), then release the power button
Press and hold the power button again with the call button until the MW600 switch off (without the Sony Ericsson slide out)
Your MW600 is now reset to factory default and please remove and pair with your mobile phone again
WARNING: Due to the popularity of this product (Sony Ericsson MW600 Bluetooth Headset), we notice there are counterfeit aka fake version on the market which is not come in full retail packing, bad audio quality, dis-connection issue, etc
This guide was written by MobiMega - "Your Genuine Gadget Web Store".
If you think this guide helpful, we appreciate if you could vote "YES" for this!
About MobiMega - MobiMaxx
We sell premium GENUINE gadgets for mobile phones and tablets as well as PC peripherals, all items are in 100% NEW IN BOX and well packed for fast air mail with tracking to worldwide. Top selling includes accessories for iPhone, iPad, Samsung Galaxy, Bluetooth Headsets, Car Mount Holders, etc. Worldwide retail and wholesale orders are welcomed.
Visit MobiMega's eBay Store for more excitement.