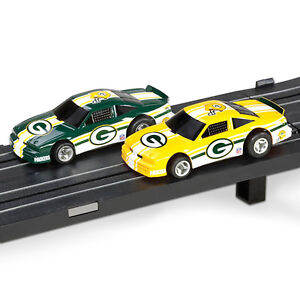 As a relatively inexpensive hobby, slot cars satisfy the model builder and inner speed demon in all of us, with some clocking in at more than 700 scale miles per hour! eBay is a great place to find complete slot car sets for beginners. Or, enthusiasts can find loose car parts and spare lengths of track, so they can build the slot car racetrack of their dreams. This buying guide includes information on the different slot car scales, manufactures, accessories and performance parts, as well as how to get started collecting slot cars.

Discover Slot Cars
Slot car racing has been around for over 40 years. It consists of racing model cars with electric motors around a wooden or plastic track. Slot car tracks can be of almost any design, but long ovals with a handful of switchbacks are the most popular. Along the center of each lane is a deep groove called a slot. The slot car's engine gets power from electric lines on either side of the slot.
The slot cars are made of a body, engine, gears, tires, shocks, and often magnets. The magnets apply a downward pressure to help in cornering, but if you use too many, you can sacrifice performance or burn out your motor. Slot cars are only held in the slot by gravity (and maybe a light magnet), so if a slot car goes too fast it can can de-slot, which means it will lose power. And that is the secret to slot car racing: go as fast as possible without de-slotting.
The strategy in slot car racing is to go as fast as possible on the straightaways, but then slow down in the corners to keep cars from de-slotting. It is legal to bump the car in the next lane when cornering in hopes of de-slotting an opponent. Many beginners try this tactic, and while it works occasionally, most experts think focusing on your own race and getting into a rhythm are more successful long-term tactics.

Slot Car Scales Manufacturers
Scale determines the size of the slot cars and the track. The three most popular slot cars scales are: 1/64, 1/32, and 1/24.
1/64 Scale Slot Cars
1/64 scale slot cars, also known as HO slot cars, are the smallest size, which makes them a great companion for model trains. The 1/64 scale size also means you can have a larger track with the same amount of space and it is generally less expensive than other scales of slot cars.
1/32 Scale Slot Cars
1/32 scale slot cars are the most common. There is the widest range of ready-to-go cars in this scale and a wide assortment of 1/32 slot car tracks and accessories.
1/24 Scale Slot Cars
1/24 scale slot cars are the largest size slot cars available. These cars come in amazing detail and are highly customizable. However, the large size means they will need more room for tracks.

Slot Car Manufacturers
Artin slot cars, Carrera slot cars, Ninco slot cars, Fly slot cars, Monogram slot cars, Johnny Lightning slot cars, and Scalextric slot cars are some of the most popular slot car brands available.
Artin Slot Cars
Artin slot cars and tracks are among the most affordable today. Hard plastic track and durable cars also make Artin a good brand for beginners. They are upgradeable too, so if you find that you like the hobby, they can grow with you.
Carrera Slot Cars
Carrera makes the only slot car tracks in 1/24 scale. These large plastic tracks provide an excellent racing surface, but the large scale will take up more space than a 1/32 scale track.
Ninco Slot Cars
Ninco slot car tracks are wide, flexible and the transformers provide ample power. Ninco also makes some of the most detailed slot cars in the business.
Scalextric Slot Cars
Scalextric has a thinner 1/32 scale slot car track. It is made of a flexible plastic and offers a wide range of specialty slot car tracks.
Monogram Slot Cars
Venerable hobby manufacturer Monogram/Revell has been in the slot car business since the early days, and on eBay buyers will find both vintage and modern slot cars in 1/32 and 1/24 scale.
Fly Slot Cars
Fly makes higher-end slot cars in both 1/32 scale and 1/24 scale.
Johnny Lightning Slot Cars
Johnny Lightning slot cars are offered in HO scale.

Race and Collect Slot Cars
It is easy to get started in slot car racing. All the major manufacturers offer slot car sets that include everything a beginner needs to build their own track. Whether looking for modern slot cars (1970-Now), vintage slot cars (pre-1970), or slot car accessories, collectors will find everything they need to stay on track, online.
Get Essential Slot Car Gear
Cars, track, transformers, controllers, and any other accessories needed come prepackaged in a beginners slot car set. Sets range from simple two-lane setups to grand four-lane tracks with crisscrosses. The main thing to determine when getting started is how much a beginner is willing to spend, and how much room they have at home to build a slot car track. Whichever set they buy, it is recommended that it has at least one 6-foot straightaway. This length of track will really let the slot cars get up to speed. It will also require the user to carefully judge when they are going to need to let off the throttle to safely make the turn.
Collect Vintage Slot Cars
Slot car racing has been around since the 1960s and many of those who enjoyed it back then are discovering slot cars all over again. The earliest cars were home-made from electric train parts, and the bodies were often carved from wood. Lionel, of model train fame, actually made some of the first slot cars. These vintage slot cars come in the same scales as modern slot cars: 1/64, 1/32, and 1/24. That means many can be raced on comparable tracks today. The other great thing is that the technology really has not changed that much since the 1960s, so a tuned-out vintage slot car can still race along with some of the newest slot cars available today
Slot Car Accessories
Once a collector gets up to speed, so to speak, they will discover that there is a world of accessories to choose from. Possibly the widest variety of slot car accessories is to be found on eBay, including slot car cases, slot car cabinets and displays, lap counters, specialty tracks, Chicanes (squeezes) and crisscrosses, landscaping and trees, figures, buildings, grandstands, spare wheels and tires, slot tape, throttles and controllers..
Slot Car Performance Parts
Once a more experienced collector has become more accustomed to their slot car, and learned to control it well, they may want to start competing in slot car racing competitions or simply test their skills by driving a faster slot car. Many performance parts are available for most popular makes and models of slot cars. Electric motors with higher wattage ratings provide more power and more speed.
Gear Ratios
Collectors may also want to switch final drive gear ratios. A final drive gear ratio that has a higher first number, 4.75:1 for example, will provide faster acceleration and shorter braking distances, but a lower top speed. These gear ratios are considered "short." A final drive gear ratio that has a lower first number, 3.75:1 for example, will provide slower acceleration and longer stopping distances, but a higher top speed. These gear ratios are considered "tall." Many slot car enthusiasts own a few different final drive gear sets so that they can adjust their slot car setup according to the track they are driving on. For example, on a large slot car track with very long straight sections and only a couple of long turns, the driver will want to use tall gears because they will spend more time near or at top speed. On a slot car track with very short straight sections and many tight, twisting turns, a driver will want to use short gears because they will spend a majority of the time accelerating, slowing down, and accelerating again.
Wheel and Tire Combination
An enthusiast will also find that changing wheels and tires can help adjust the performance characteristics of their slot car. For example, changes in the height of the wheel and tire combination can have similar effects to changing gear ratios. For example, a taller wheel and tire combination will increase top speed, increase stopping distances, and slow acceleration. Likewise, a shorter wheel and tire combination will decrease top speed, lower stopping distances, and improve acceleration. Lightweight wheels and tires will improve top speed, shorten stopping distances, and increase acceleration so long as the height of the wheel and tire combination is not changed. Changes in tire compound (or material) can also affect performance. Tires that have more grip and traction are sometimes referred to as "sticky." They can decrease stopping distances, improve acceleration, improve cornering speeds, and decrease top speed slightly. Tires that have less grip and traction increase stopping distances, slow acceleration, reduce cornering speeds, and increase top speed slightly. In most cases, stickier tires are better than tires with less grip and traction.
Public Slot Car Tracks
Although many slot car hobbyists enjoy their slot cars in the privacy of their own home, others prefer to race their slot cars at a public slot car track. Even though public slot car tracks are becoming increasingly rare, there are still quite a few in operation. They are typically part of a general hobby shop and located in separate room from the store's retail operations. There, enthusiasts will find fellow slot car drivers racing each other, helping each other with repairs and modifications, and simply talking about their hobby. If you want to race your slot car at a public slot car track, find out what scale of slot cars you can use on the track(s). You may also want to find out whether your local slot car track hosts any competitive slot car events and, if so, what racing classes and rules might apply to the slot car you are interested in.

Find Slot Cars on eBay
Once you know what type of slot cars you want, go to the Toys and Hobbies portal, click Slot Cars, and start searching for item listings on eBay.
eBay Categories
The Categories list on the left side of each page will help you narrow down your listings by item type. You will find links for Modern, Vintage, and Other. As you dig deeper into the site you will also be able to narrow down your choice by brand.
eBay Keyword Search
Search eBay listing titles for specific words. For example, if you want to find 1/24 scale slot cars, type "1/24 1:24 slot cars" (without quotation marks) into the Search box. Click Search Title and Description to expand your results. Visit eBay's Search Tips page for more tips on searching with keywords. If you can't find exactly what you want, try shopping eBay Stores,, tell the eBay Community what you want by creating a post on Want It Now,, or save a search on My eBay and eBay will email you when a match becomes available.

Buy Slot Cars With Confidence
Before making your purchase, make sure you know exactly what you're buying, research your seller, and understand how eBay and PayPal protect you.
Know Your Purchase
Carefully read the details in item listings. Figure delivery costs into your final price. If you spend a lot of money, make sure the seller will insure the item when it ships. If you want more information, ask by clicking the Contact Member link in the seller's profile. Always make sure to complete your transaction on eBay (with a Bid, Buy It Now, or Best Offer). Transactions conducted outside of eBay are not covered by eBay protection programs. Never pay for your eBay item using instant cash wire transfer services through Western Union or MoneyGram. These payment methods are unsafe when paying someone you do not know.
Know Your Seller
Research your seller so you feel positive and secure about every transaction. What is the seller's feedback rating? How many transactions have they completed? What percentage of positive responses do they have? What do buyers say in their feedback? Did the seller receive praise? Most top eBay sellers operate like retail stores and have return policies. Do they offer a money-back guarantee? What are the terms and conditions?
Buyer Protection
In the unlikely event that you do not receive your item or it is not as described, eBay Buyer Protection will cover your purchase price plus original shipping.

Conclusion
The slot car racing hobby is great for people of all ages, shapes, and sizes. It is fairly inexpensive to become involved in slot car racing, especially when compared to other forms of racing or other types of remotely-controlled vehicles. It also does not require advanced mechanical knowledge nor does it require great physical talent or exertion. Remember to make sure that your equipment is compatible when you are shopping for slot cars and slot car accessories.